March 2012- Oh wow! I had totally forgotten about this page. I gave it a quick once over but I'll have to really update it someday. Look at all this fun stuff!
Interested in viewing my resume? My life is my resume and it's all right here on CamHughes.com.
These are the past, present and future projects I've worked on, am working on or hope to work on shortly. Right now this page is a formatting nightmare. All of a sudden the HTML went bonkers. I'll try to get it sorted out someday. The best part is that the "Visual" view and the "HTML" view in Word Press seem to have nothing to do with each other (and of course neither mirror browser based reality).
Current Projects:
Survival Knives .com
Custom Knives .com
---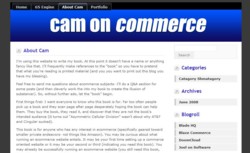 Cam on Commerce: Originally my business blog (now integrated into this website). I really wanted to see a blog on commerce so I made one. Hopefully something I say will make sense to someone. A lofty goal, I know.
---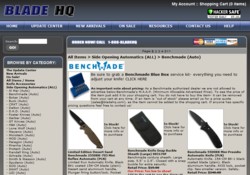 BladeHQ: This is my baby. The Internet front for my knife shop. We have all the good stuff here like Benchmade, Microtech, Protech, Spyderco, Boker, Kershaw and more. We also sell Flashlights (Fenix, LED Lenser, Surfire, etc).
---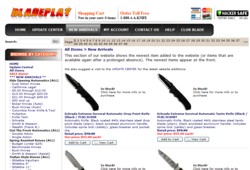 Blade Play: This is my other Internet knife store. This shop doesn't have a real store front, it's an online business only. This is lower end collectible knives. Gateway stuff 😉
---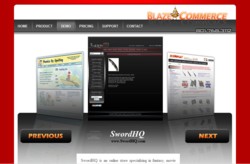 Blaze Commerce: This is an ecommerce company that Jim and I own. Blaze is the ecommerce software that my other business endeavors run on. I'm a bit bias, but I think the software is exceptional. We hope to commercially release it one day.
---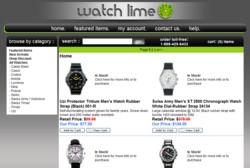 Watch Lime: We like knives and watches so we thought that maybe other people like knives and watches too. Sourcing has been hard so we haven't given this site the attention is deserves.
---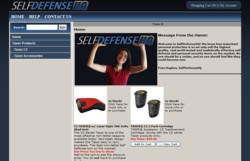 Self DefenseHQ: I set this up for my wife. The self defense market seems pretty big, especially if we market to women. Who better to market to a woman than a woman. My wife loves her Taser. CLOSED!
---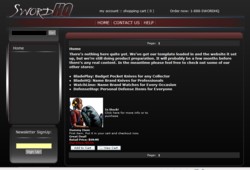 Sword HQ: This will be a fun one. I don't know how popular swords, daggers and the like are so we're going to try a drop ship system. In the works! CLOSED! 
---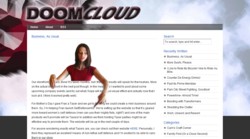 Doom Cloud: This is my personal blog. Anything could get posted here. I leave it open to the public so they can see how amazing (eccentric) I am.
---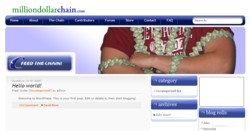 Milliondollar Chain: This was such a good idea. I haven't completely given up on it, but we ran into tax problems with regard to stringing a million bucks together. I consider myself the inventor of the money chain.
---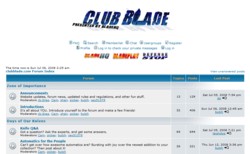 Club Blade: This was supposed to be a venue for knife enthusiasts. I was hoping it would be an active forum, blog and discount club. It needed more TLC than could give it. We ended up closing it down. But it had a good run.
---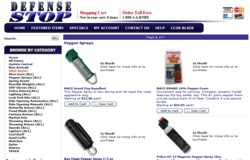 Defense Stop: This was a website we set up for Tom. It's 100% his now. CLOSED!
---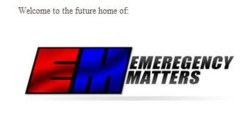 Emergency Matters: We have an Emergency Essentials store here in Utah. Emergency preparedness is big business, so I thought it might be nice to jump on the train. One day I'll get a local store set up and this will be the name we'll use (the website belongs to us as well).
---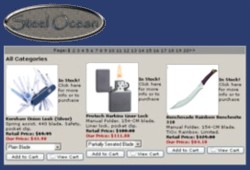 Steel Ocean: This was my first experiment with drop shipping. It was a hacked together mess that caused me nothing but headaches. It was shut down within a year of it's release. No plans to bring it back. I like the name (I wanted to use it for a line of watches) but no one else seems to like it. CLOSED!
---
Powerlime.com : This one is going to be fun. Maybe it will be a new lime flavored caffeine laced beverage. Maybe it's a website dedicated to venture capitalism? It could be be a new venue for business exchange. Who knows?! This will manifest one day! 
StoryHelpers.com: A website to sell items aimed at story telling. Puppets, flannel boards, magnet boards, you name it. Anything to help tell a story. We never had time to pursue this venture and let the domain name lapse. 
KnifeStop.com : A website that encompasses all of our product lines (one big conglomerate). In addition to knifestop.com we also own bladestop.com- got all the bases covered on this one. We want to sell kitchen knives and this seems like it might be a good venue one day. MORE INFO COMING SOON
ZoobaBean.com: Zooba and Bean are actually characters from a series of children's' books I wrote. One of these days I'm going to see about getting it published. It's really cute. MORE INFO COMING SOON
DraftCraft.com: Initially I wanted this to be a online community driven venue to promote the creation of literature (although "literature" probably wouldn't be as forthcoming as I'd like). Lack of capital forced me to abandon the idea. I had also hoped that in the future it might have become a vanity publishing company. I eventually let the domain expire.
NetworkHQ.com: I wanted this to be a hub around which all my HQ businesses could revolve. Some have suggested that the name is to generic and not well suited for my intended application. I don't agree, but I've held off on a consolidation effort until more of our stores are established. Currently for sale on Sedo.com
Skill Set:
Exceptional organization and leadership skills. Built and managed a company with nearly fifty employees. Maintained multimillion dollar yearly revenues.
Professional writer and blogger specializing in technical, persuasive and non-fiction compositions.
Proficient in Photoshop CS5
Set up and maintained over one hundred WordPress websites. Ability to utilize advanced templating, feature integration, customizations and server-end management via C-panel.
Word & Excel
Familiar with all Windows-based platforms
Able to leap small buildings with a single sound (usually a scream of some kind).
Discontinued Projects: