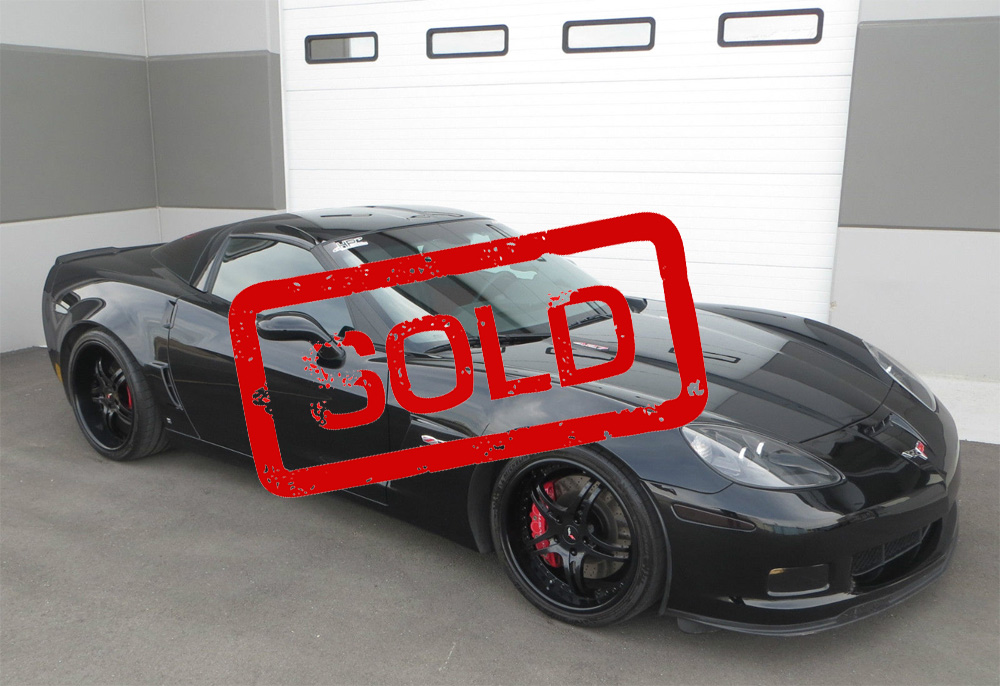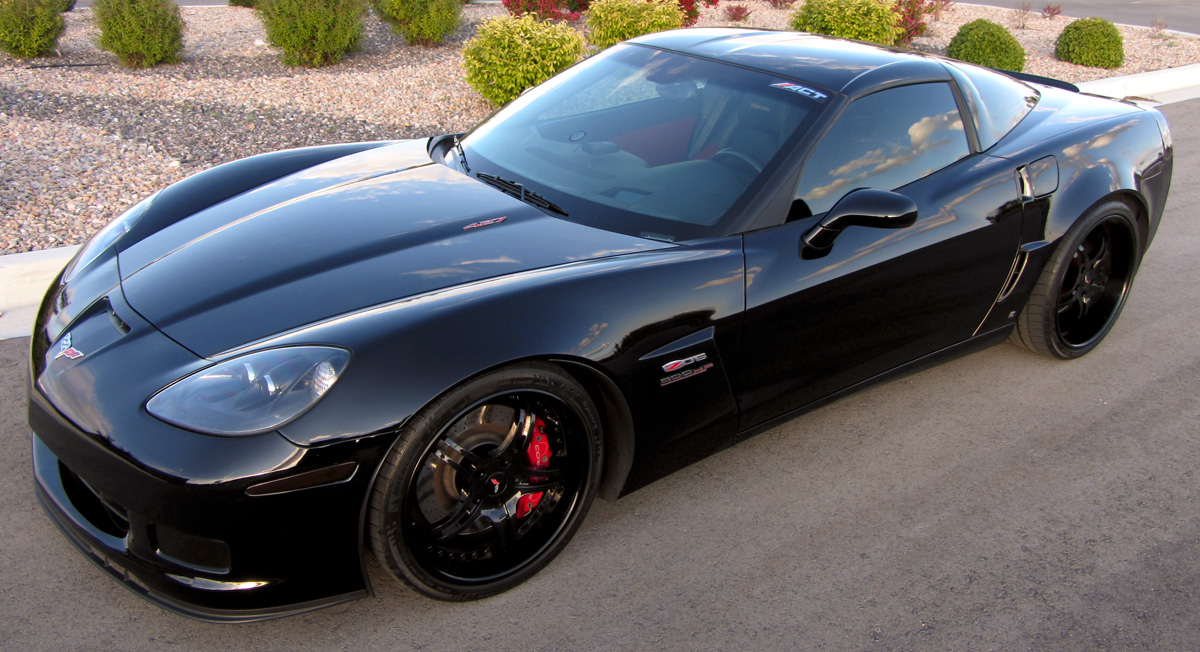 Current Power: 1024 RWHP & 944 Ft Lbs Torque
Black 2007 2LZ Z06 Corvette
LME 427 LSX Forced Induction Engine


• Callies Dragon Slayer Crank Shaft


• Callies Ultra Billet Rods


• Wiseco Forged Pistons


• LSX 6 Bolt CNC Ported Heads


• REV Titanium Intake & Inconell Exhaust valves


• Cam Motion Custom LSX Turbo Camshaft
Liquid Cooled Garrett GT3582R Turbochargers w/


Custom Comp Turbo 64mm Billet Inducer Upgrade
RPM Level VII TR6060 Transmission
RPM Level IV C6 Z06 Quaife Differential
Driveshaft Shop 1000HP Driveshaft
C5 Heavy Duty Axles
PFADT Featherlight Single Adjust Coilover Suspension
PFADT C6 Z06 Racing Sway Bars
TPS C6 Z06 Cross Drilled Rotors
Tick Clutch Master Cylinder
McLeod RXT Twin Disc Clutch w/ Aluminum Flywheel
Injector Dynamics ID1000 Injectors
APS 1000 HP Twin Pump Fuel System
APS Intercooler & Oil Cooler
B&B Fusion Exhaust w/ Quad 4″ Round Tips
Mild 2 Wild Wireless Controller
STSTurbo Methanol Injection System
AMS-1000 Boost Controller
DCPower 300 Amp SPX Alternator
Dewitts A05AE Aluminum Radiator & Spal Dual 11″ Fans
Holley Black Valve Covers
B&M Precision Sport Shifter
Innovate LC-1 Wideband
Beltronics STi-R Plus Radar Detector
Autometer ES Series Fuel Pressure & Boost Gauges
AGT LED Interior / Exterior Lights
Custom JL Audio Based Stereo:


• Pioneer AVIC-Z150BH Navigation Receiver


• JL Audio ZR650-C Si Speakers (Front)


• JL Audio ZR525 C Si Speakers (Rear)


• JL Audio HD750/1 Amp (Mids)


• JL Audio W6 10″ Subwoofer


• JL Audio HD600/4 Amp (Sub)


• PAC Steering Wheel Control Interface


• Monster RCA Cables


• Pioneer Backup Camera
ClearBra on front and sides
West Coast Corvette (Asanti) Forged 956 EXT Rims
Extra set of black OEM rims w/ Michelin Super sport (front) & Hoosier R6 (rear)
ZR1 Color Matched Spoiler
Custom Ebony & Cobalt Red Interior
Lots 'O Cosmetic Enhancements (Venair red silicone engine hoses, emblems, stickers, interior accents, Lloyd's floormats, ceramic tinting, blacked out lights, etc).
Build is finished. Currently breaking in the car. A lot of the info below is outdated at this point and I've been too lazy to update it.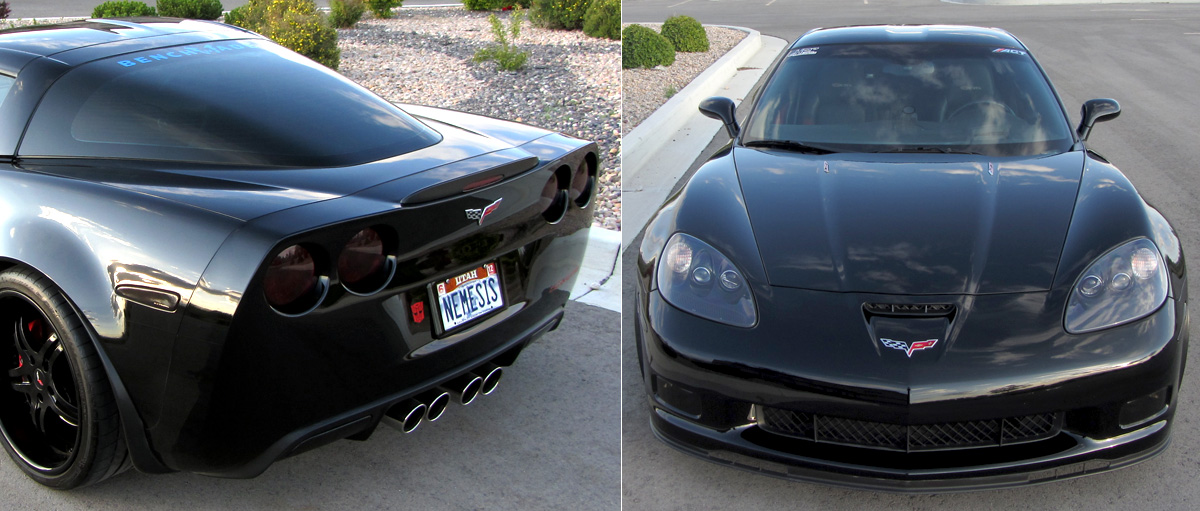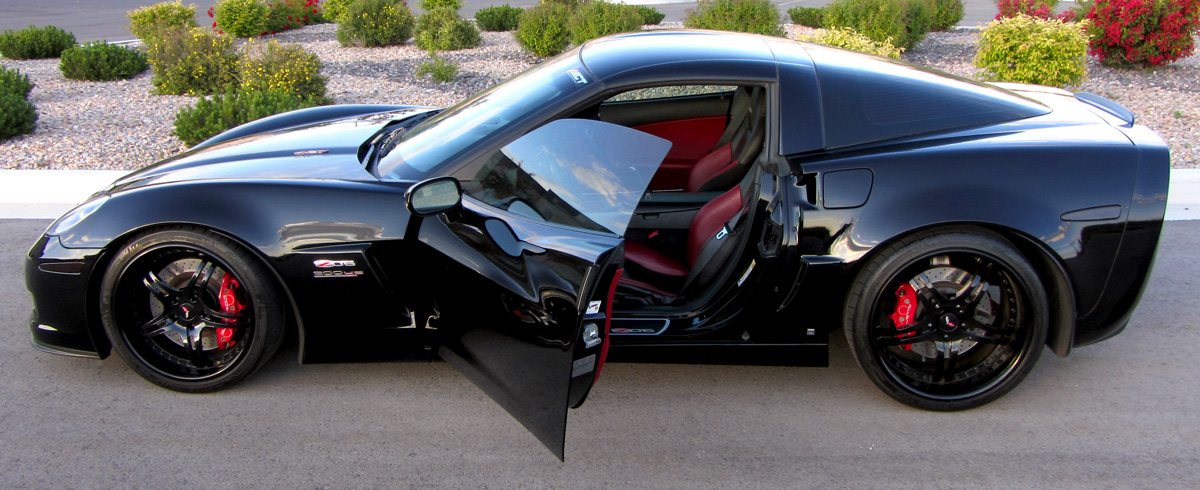 Accessories
I haven't done too much in this area. Most noticeable are the rims. They are Asanti manufactured West Coast Corvette forged 956 EXT rims (275-30×19 front & 345-25×20). I think they are stunning, especially with the deep lips (4″ in the rear!).
I have peppered the exterior with some custom emblems (I'm obsessed with emblems & stickers- I have a whole post on them). I've also blacked out most of the exterior lights to achieve a more sinister look. This car has also has ceramic tinting.
The engine bay has got a Z06 hood liner, custom hood light and Venair red silicone hoses. Custom painted reservoir caps and a few more emblems round out the ornamental madness.
The interior has been redone with red trim panels (similar to the Ron Fellows interior color scheme) and a red shift knob. The interior also has a custom mounted Belltronics radar detector (it's wired right into the dash on the accessory circuit so it doesn't take up a cigarette lighter spot- neato). There's a three gauge pillar (Autometer Fuel Pressure & boost and an Innovate A/F gauge), chrome pedals, Z06 floor mats, seat covers, custom console cover and billet door sill plates.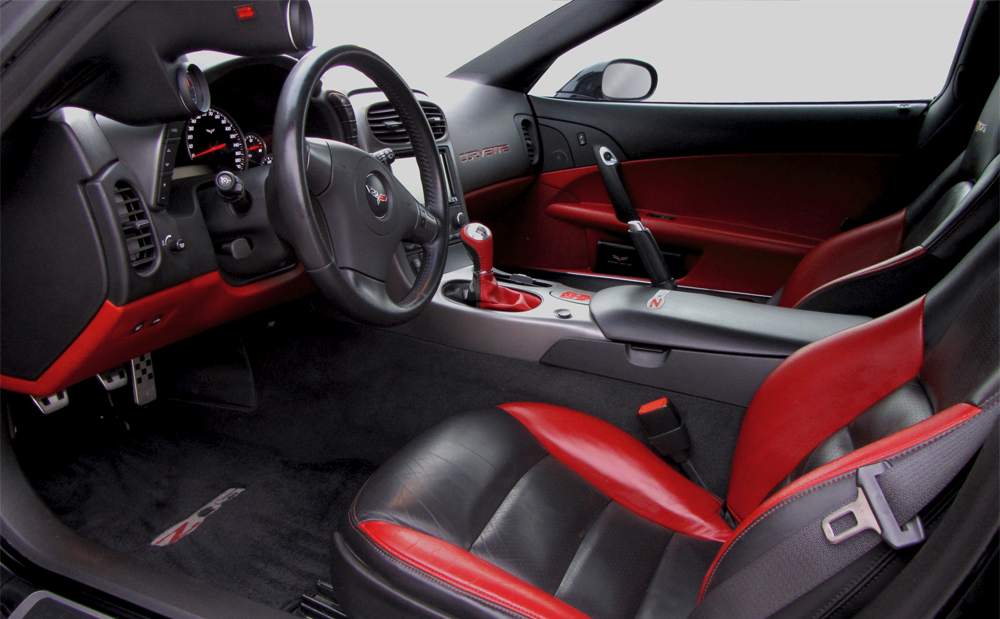 Stereo
I hardly ever see modified cars with nice stereos (there seems to be kind of a "gut it" mentality). For me a car should be upgraded everywhere. I have put a small fortune and more than 60 hours into this system. It won't blast your head off but I put a lot of thought into it. The audio is very clear and the 10″ sub 10W6 gets the job done.

• Pioneer Avic Z1 head unit with the Sirus/XM radio, blue tooth and iPod modules
• JL Audio ZR component speakers: 650CSI in front and 52sCSI in back (I made custom front speaker plates & did the install).
• JL Audio HD600/4 amp for the mids & tweeters and a JL Audio HD750/1 amp for the sub woofer (custom amp rack by J-Wise Audio & me and install by me).
• JL Audio W6 10″ sub (custom sub box by J-Wise Audio & me and install by me)
• Lightning Audio RCA cables & speaker wire
• PAC Steering wheel control interface so the steering wheel controls can be used.
I'm planning to add a new head unit (Pioneer AVIC-Z150BH), run new RCA cables, and install a back up camera sometime in the next month or so.
Engine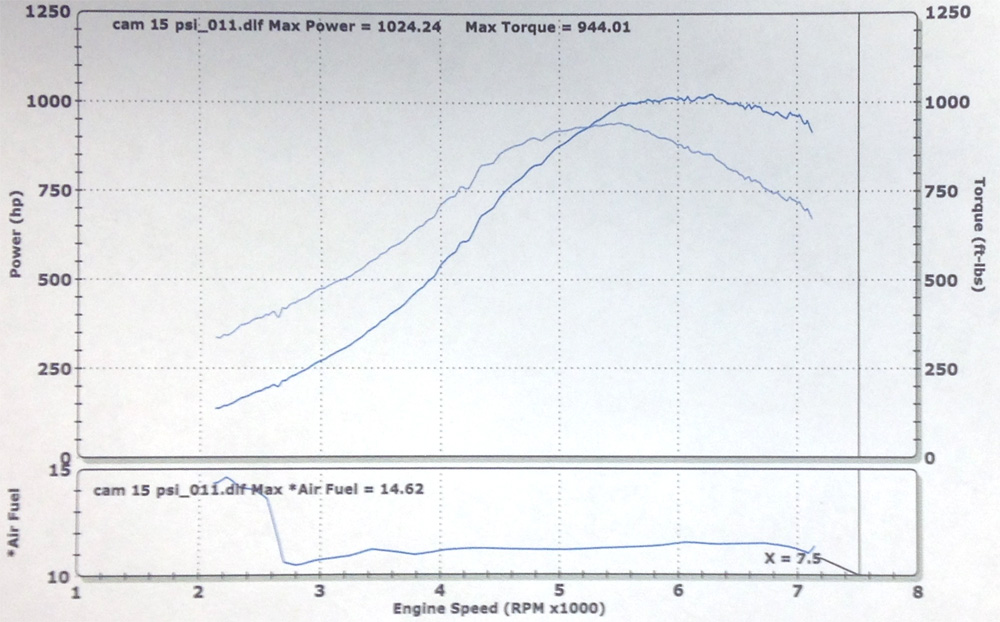 The engine was custom built my LME (Late Model Engines). The specs are all above so I won't go into much detail here. Suffice it to say the engine was designed to handle 1200 rwhp.
My forced induction kit is from APS (Air Power Systems). COMP rebuilt the turbos with 64 mm billet inducer wheels for added boost. I'm also using the APS intercoolers & fuel system.
At just 6 PSI of boost the car puts down over 700 horses to the rear wheel. For high boost I've got an STS Methanol injection system and the car makes over 1000 RWHP at 16PSI.
To manage all that delicious boost I've got an AMS-1000.
To facilitate cooling I replaced the stock radiator with a Dewitt aluminum radiator and Spal dual 11″ fans.
To make sure I've got plenty of electrical  power I installed a DC Power Engineering SPX 300 amp alternator.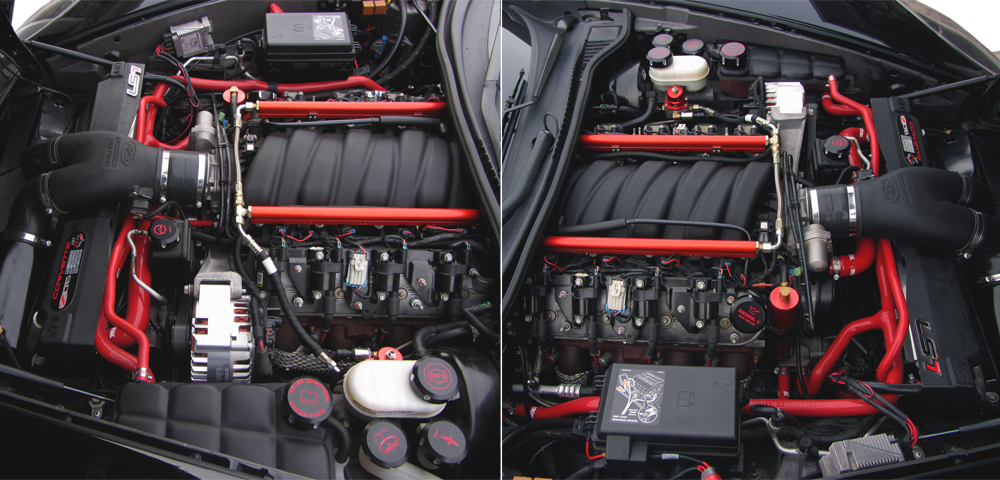 The Tune
Right now the car is using a MAF tune. Unusual for a car with this horsepower, but this ensure OBDII compliance and no error codes of any kind. I might change the car over to speed density tune at some point next year. The car is tuned for 91 octane and midwestern altitudes (I run 91 octane w/ an octane booster).
The car was tuned with HP Tuners. The OBDII interface cable is always ready to be plugged in (it's run permanently) and the USB cable is located conveniently in the glove box. I have a mini HP laptop with HP Tuners that I keep right in the glove box. I've installed an Innovate Motorsports wideband too. I can view the A/F ration on the gauge and I've also run all the cables from the wideband into the glove box.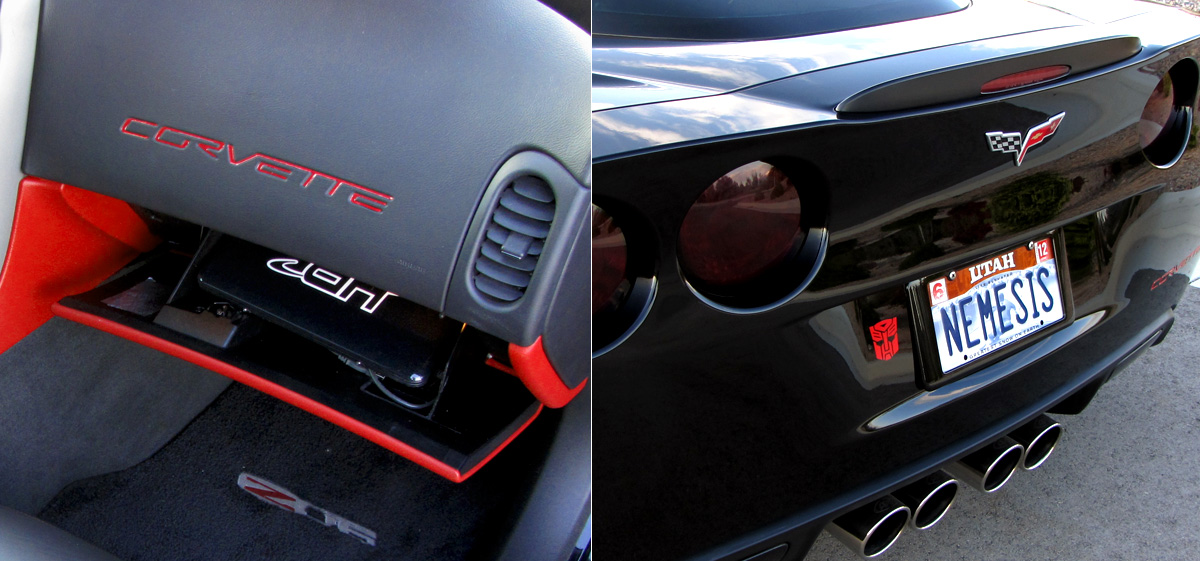 And yes, I have a custom vanity plate that says "Nemesis." Nemesis is the goddess of revenge and divine retribution (there's a lot of good mythology behind the name). She wreaks havoc on those who are slow…

Older Car Pics: