I think in general when someone gets a car they do something to make it theirs. Maybe it's a few stickers, some seat covers, a new shift knob or all of the above. I already mentioned that I got some floor mats, put on a couple stickers and added a sub woofer. Here are my other mods to the car so far.
Upgraded exhaust: I added the OEM GMPP axel back exhaust (made by Borla). With regard to the stock exhaust, I thought the tips were okay I really disliked how the stock mufflers looked under the car. The upgraded exhaust is less constrictive and gives the car a nice growl. Sure, there are better exhaust options, but I wanted the warranty (for now)

Interior Accent Lightning: This was a splurge, plain and simple. I had added some accent lighting in the Vette and I really liked the idea of having something like that in the Camaro. This factory option has lights that shine out of the cup holders and in both footwells. The coolest part is that a toggle switch allows you to switch between red and blue.
Fuel Door: I looked at some aftermarket offerings for the fuel door, but really liked the design of the OEM upgrade. My plan is to powdercoat it black at some point.

Custom Chevy Bowtie Emblems: I'm not a big fan of the gold colored bowties so I got this custom painted set (I picked the colors).  I had originally wanted to do all red, but I did a mock-up in Photoshop and decided all red looked like a clown nose. After playing with different color combinations I thought the contrast of the pinstripes looked best.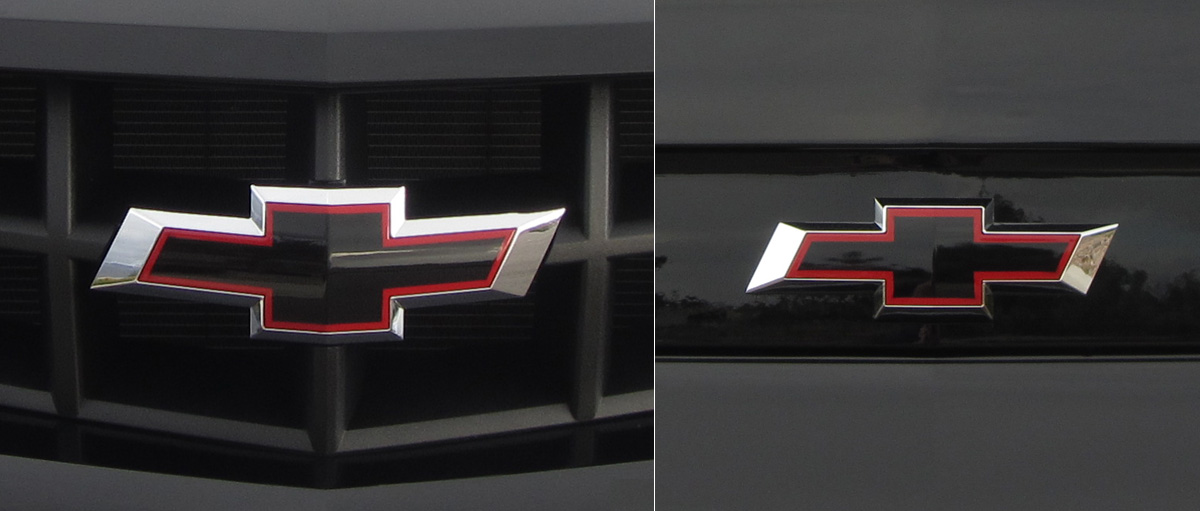 Tinting: I had ceramic tinting added to the windows. I stuck with legal tinting on the two side windows (I don't know why, in retrospect) and then 20% on the rear sides and back. I also had the taillights blacked out (I think it makes the car look more menacing).
Also, if you're local I can recommend Tint & Clear Bra Specialists in Midvale for any tinting needs. I have used them several times and they have been excellent.

Powercoated Rims: At first the silver wheels grew on me; I thought they added a nice contrast. But before long I knew I wanted to get black rims. I shopped around a bit, but I couldn't find any rims I liked better than the 20″ OEM's. LA Wheel offers a wheel exchange program so I decided to try it out. They sent me a pair of black powercoated OEM wheels and once I got them I shipped back my silver ones. Compared to buying new rims it was fairly inexpensive.
The rims are 40% gloss which makes them much less shiny that the body of the car. I think it provides a nice contrast while still giving the car a more aggressive look. You can see below that I've already dinged the wheel (in a car wash- don't go through car washes with any car you care about).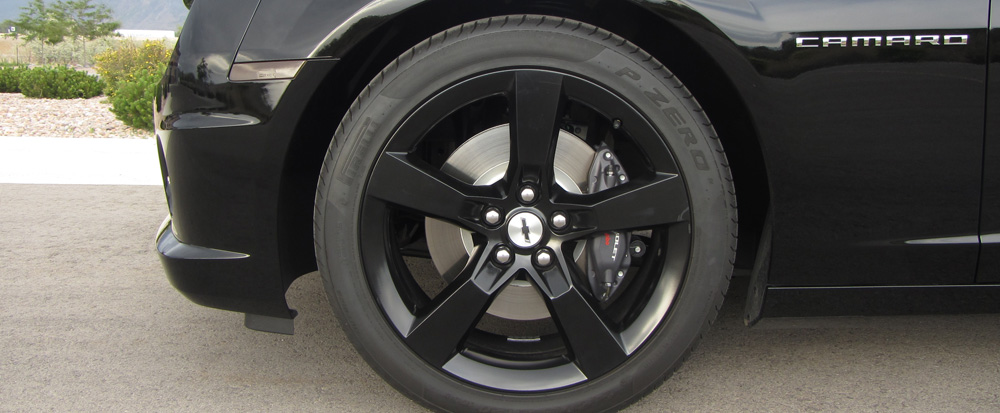 In the coming months I may have the opportunity to have a prototype turbo kit installed on my car (kit at cost w/ a free install) so I'm considering that. I'm also considering trying out a supercharger (Whipple of Kenne Bell?). My goal is to have my Camaro more powerful than a stock ZL1 by May of next year. But I digress –  that's mechanical stuff, and this post was meant to be about cosmetic mods.
The only other cosmetic additions I'm considering for now are a body kit and some racing stripes. I just need to find a reliable dealer to who can do these right.