Fran loves the outdoors- you know, "nature." She's always trying to get me to go on camping trips with her family. Sometimes I give in and go. But when I finally make it back to civilization my question is always the same: "Why?!" And to this day I don't quite get it. You have a nice comfy home but inexplicably decide that you need to go sleep somewhere uncomfortable, in the middle of nowhere in a pretend house. But before you go you have to pack up things that will make your trip more comfortable, you know… more like the home you just left. And then when you get back you have to unload and clean everything and you utter that timeless and possibly ironic phrase, "It's so good to be home." But it was all worth it because you saw nature! But like I said, Fran loves it.
She has wanted an RV for a long time. One of her favorite Disney cartoons is Mickey's Trailer (I love it too). When I watch the cartoon I can almost see the appeal. We've gone to the RV shows up in Sandy (she even went by herself w/ the kids once- this is a serious woman) and I have to admit that it's pretty fun to walk through them. She's rented RVs and taken trips too (I think in preparation for owning one).

Well a few weeks ago Fran decided that instead of an RV it would be more practical and less expensive to get an RV trailer (remember it is Mickey's Trailer). That bee flew so deep into her bonnet I didn't think we'd ever get it out. Day and night Fran obsessed over trailers ceaselessly encouraged by her enthusiastic sister. After weeks of searching Fran finally found one that was perfect: The Flagstaff Microlite 23LB. And when we find something perfect we jump on it (this often causes it to break and we feel silly).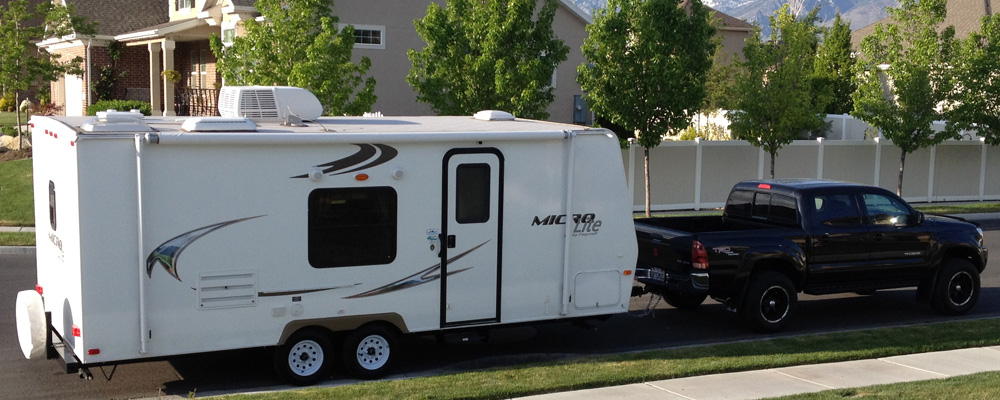 Fran found the trailer while visiting Access RV, down in Salt Lake City. They were very helpful, never pushy and they gave her an excellent deal. I would recommend them without hesitation if you're looking for an RV or trailer RV.
The floor plan is, in my opinion, very well thought out (nothing feels cramped) and he trailer can comfortably (well you know, "comfortably") sleep our entire family. The build quality seems good and my initial impressions of the trailer are very positive. No, it's not a mega RV with water beds and a theater, but you could almost call it practical and I think that's part of the appeal.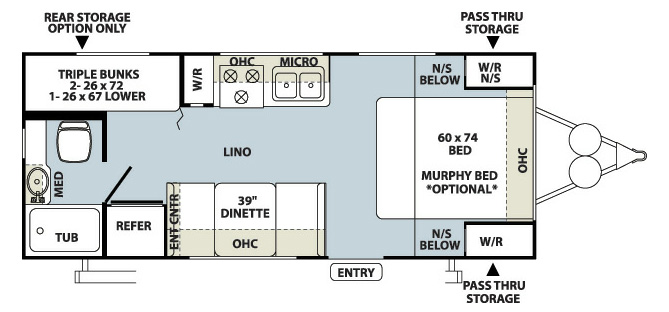 Here are a few pictures of the interior. On the left you can see the bathroom in the back, part of the kitchen, the dinette and TV. The trailer has heating, air conditioning, full plumbing, and the entertainment center even comes with surround sound. On the right you can see the bed and some of the cabinetry.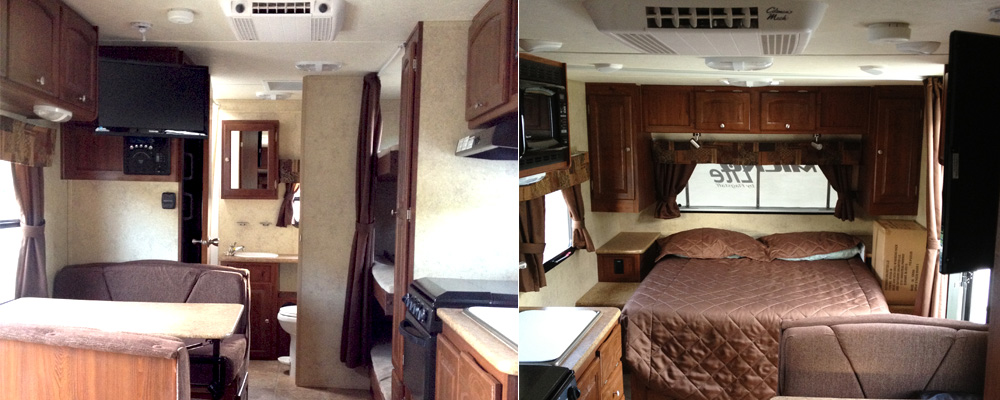 Here's a better shot of the bathroom, the three bunk beads and the kitchen (I would feel like I was playing house if I cooked there- oh wait, I totally would be!).
After we brought the trailer home we drove it over to work  (where we could plug it in) and camped in it overnight with the kids. Boy were they excited!  We ate pizza, drank Martinelli's and watched – wait for it – Mickey's Trailer (and The Three Amigos). It was a lot of fun, but four kids in the trailer can be a little challenging.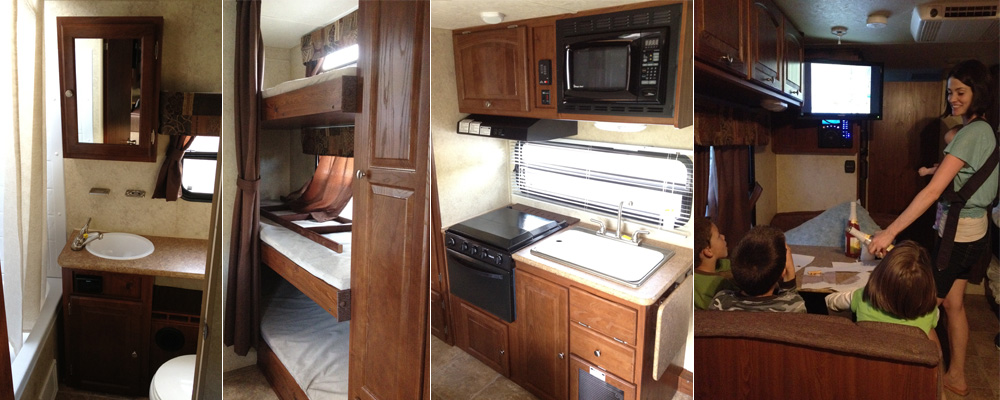 And speaking of challenging:  Initially we had some trouble figuring out where to keep the trailer. Prior to our purchase we had rented a storage unit but the trailer ended up being too tall.  That was for the best though- it would have been impossible to back in.  Fran ended up finding a storage place right off Orem Center Street with covered pull through parking which has been really nice. There was a lot to learn at first too and that was a little daunting. But now I think Fran's got everything under control now and I'm really excited for her.
I still think camping is funny and I think it's even  funnier to go "camping" in an RV. The tent wasn't comfortable enough but it's so important to be in the great outdoors that you bought a little rolling house. And it has a bathroom and a kitchen and a TV to make your trip a little more bearable. And then maybe when you get home you can say, "Well, that wasn't so bad. Maybe we'll do that again." But you know what, if it makes my wife happy then it makes me happy. I expect that the family will have a lot of fun in Mommy's Trailer. And maybe, maybe, one day I'll go trailer camping with the family and I'll find myself enjoying it too.
---
Posted by Cam, May 23, 2012