Over two years ago I caved in and got an extra screen to hook up to my laptop (here's my old setup). Now I have caved in again and gotten a desktop with two larger screens. All I can say is, "Wow. Why did I wait so long?" For two years I hunched over staring at a 13″ 1080p screen or sat with my head perpetually turned left to look at my larger monitor (I was developing neck problems). Salvation is here!
Originally I didn't care what kind of a desktop I got. After shopping around for a bit I discovered that I could purchase a computer from the well regarded MainGear.com for nearly the same price as a comparable Dell system. I know some very happy MainGear owners so I decided to join their ranks.
MainGear.com is easy to use- nice and straightforward. Lots of flexibility with regard to hardware options. The wait for my computer was a little more than three weeks (on par for custom builds). The system is beautifully constructed (check out those colors!) and super quiet. I'm really happy with it.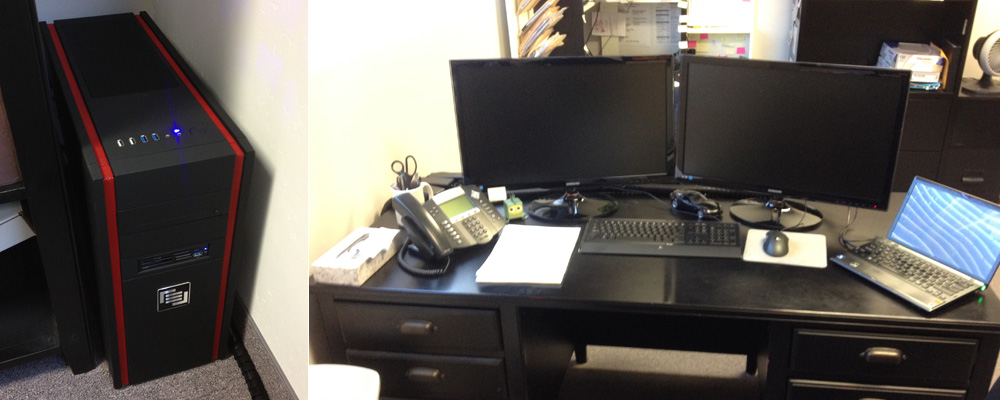 I have had one issue with the computer- I've gotten a blue screen twice in the last week. It appears to be a problem related to the video card. I updated the driver and so far no crashes in the last few days. Fingers crossed. I'm worried it might be a power supply issue.  But I'm sure if there are any further issues MainGear will take care of it.
Setting up a new computer always takes some time. There's lots of software to install, lots of programs to customize and configure, and gigs of files to transfer. And then there's the hardware side. I picked out a Logitech keyboard & mouse and two P2770HD 27″ Samsung monitors. When it was all set up I decided that I had to do something about the cables so I got Monster's Cable-It and spent a good portion of a day organizing things (check it out!). Finally I decided that I had to use the integrated speakers on the P2777's… no easy task.
Each monitor has a left and right speaker with a 1/8″ stereo input jack on the back. I wanted both speakers on the left monitor to be the left channel and both speakers on the right monitor to be the right channel. Off I went to Radio Shack. This is the monstrosity that I rigged up to get me what I needed (this was the best option, since I wanted the bulk of the mess to be behind the computer). For the amount of money I spent on these adapters and cables I could have gotten some pretty nice speakers (the ones on the monitors are so-so). But I'm still really pleased as it eliminates additional clutter on my desk and makes me feel cool.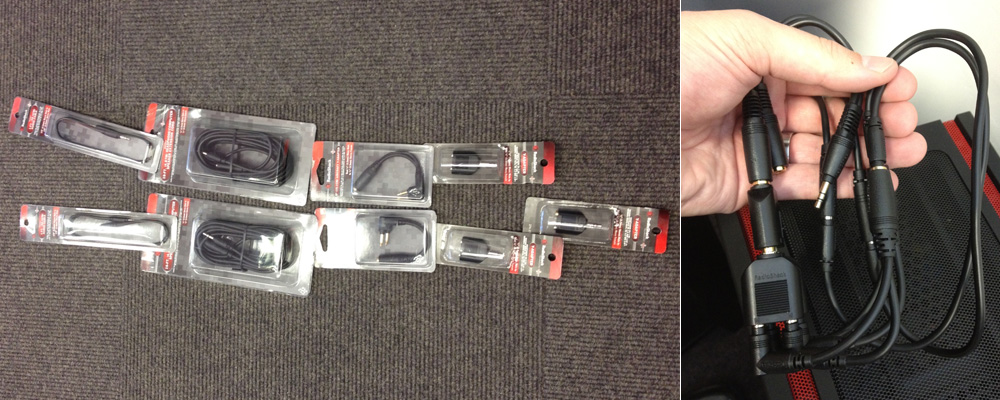 Overall I'm really happy with the new setup. Getting work done is much easier on my back, neck and eyes (both physically and aesthetically). If you're working on a sub-par setup then change it! I know the temptation is to wait, but I wish I had done this right from the get-go.
For anyone curious (and my own reference) here are the specs of my build:
∙ Chassis: Vybe 2012 Chassis – Red on Black Color
∙ Motherboard: Asus® P8Z77-V LK Featuring Lucid Virtu MVP, CrossFire and SLI
∙ Processor: Intel® Core™ i7 3770 3.4GHz/3.8GHz Turbo 8MB L3 Cache HD 4000
∙ Processor Cooling: Coolermaster Hyper TX3 Heatpipe Cooler
∙ Memory: 16GB Kingston HyperX DDR3-1600 (4x4GB)
∙ Graphics and GPGPU Accelerator: AMD® Radeon HD 7850 2GB GDDR5 w/EyeFinity 3D
∙ Power Supply: 600W Seasonic® 80+ Certified Power Supply ROHS
∙ Hard Drive Bay One: 256GB Crucial® M4 SATA 6G (w/TRIM) [500MB/s Reads]
∙ Optical Drive One: 24X Dual Layer DVD RW Drive w/ LightScribe Technology
∙ Audio: 7.1 Channel High Definition Surround Sound Supporting S/DIF Optical Out
∙ Memory Card Reader: USB 3.0 SuperSpeed Memory Card Reader (CF, MS, SD, xD, M2, MicroSD) with front panel USB 3.0 Port
∙ Ethernet Adapter: On-board Gigabit Ethernet
∙ Operating System: Microsoft Windows 7 Professional 64-bit
∙ Productivity Software: Microsoft Office 2010 Home & Business
∙ Etc, etc.
---
Posted by Cam, July 11, 2012