Since I don't have my car around to keep me busy, I have been scouring the web for other cars (we/ve covered this- it's something that I do).
The most interesting thing I've come across in the last few months has been these "leaked" drawing of the Corvette C7. There's a lot of speculation regarding how the C7 is actually going to look and these – which seem legitimate – provide a pretty good glimpse into many aspects of the car's appearance.
Initially the rear end doesn't do it for me. I miss the iconic circular tail lights and I don't really care for the smaller rear windshield and addition of smaller side windows. I'll try reserve final judgement on the back until I see some better pictures of the car (or better yet, see the car in person). The engine bay looks good.

The overall profile of the car seems fairly similar, if not a little more aggressive than the C6. I like the dash and control layouts, although I'm not a huge fan of the Camaro-esque AC controls. Just another week or so and we'll get some official pictures.

And I thought about it again. Last time it was a 1978 Corvette on eBay and this time it was a gorgeous 1979. I actually placed a bid this time, but the car went for more than I was willing to spend.




Here is a summary of the listing info: This monster Corvette features a 400 small block Clay Smith blue printed racing motor that is bored .20 over with estimated 500+ HP. Aluminum heads, Competition Cams camshaft, 4 speed Muncie manual transmission, 200 HP Nitrous Kit with bottle, side pipe exhaust, fully adjustable road course racing suspension and lots of chrome especially in the engine bay,custom steering wheel, rearview mirror, DVD/CD player, mirrored T-tops, digital dash and old style Cragar rims. Color is black that makes it shine and stand out, freshly painted.  Power windows have brand new motors, digital speedometer & tachometer. Fully rebuilt & tricked out
And another beauty from eBay. At nearly $200,000 this one had no chance of getting a bid from me, but it got plenty of my admiration.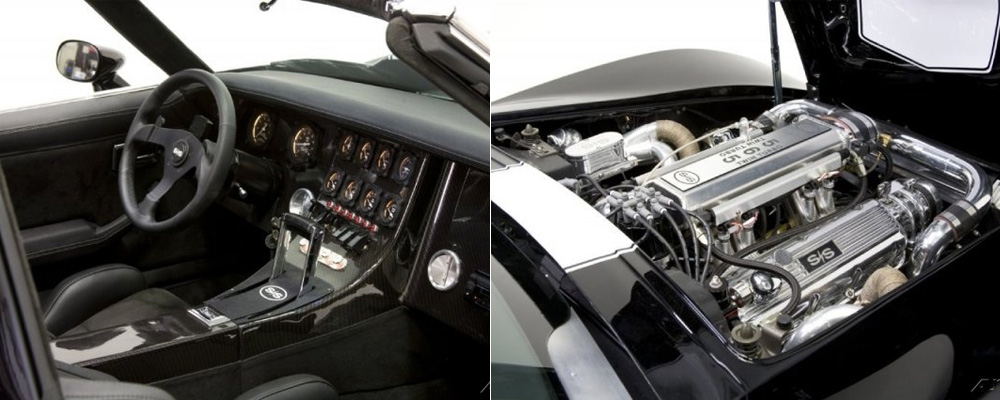 Here are some of the car's highlights: Original 1969 Corvette Donor. C5 Corvette front suspension, independent rear suspension, fully adjustable coil over shock and tube chassis. Seats are premium black leather with suede inserts and have 5-point harness seat belts. Custom 4′ side exhaust, fabricated ceramic headers, paddle shifters, carbon fiber dash & center console, full custom 'Bomber' gauge package, aircraft-style toggle & momentary switches, push button electric start.  In car entertainment includes AM/FM/CD/DVD head unit, navigation w/ In-dash monitor, high-quality sound speakers. Street/track brake system w/ red powder coated calipers and custom wheels (18×9 front/ 18×12 rear). Engine is 1200HP+!!! Runs on pump gas. Custom built 565cid twin turbo dart motor, custom fabricated intake manifold, fuel injected, high-capacity aluminum radiator.
And then something totally off the wall. This is the 813 Customs built King ZL1. This is not my cup of tea, but you have to give the people who did this props for their commitment.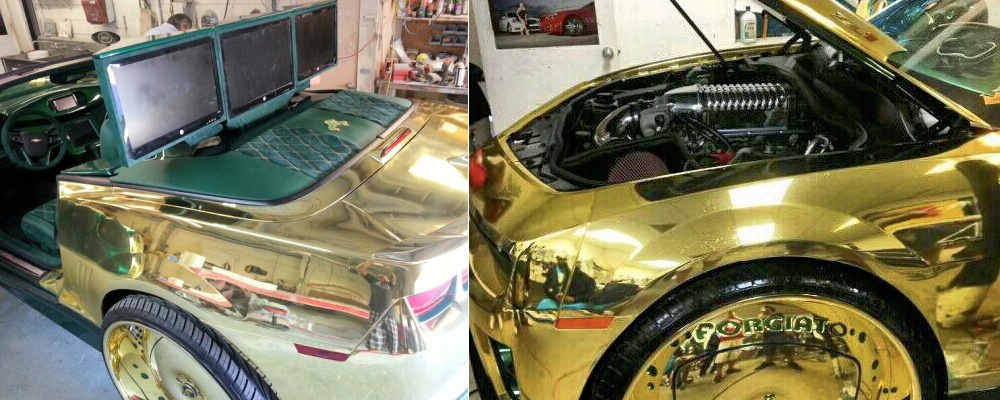 I'm not sure if the car was painted or if this is a gold vinyl wrap, but it would be hard to miss either way. You can see a Whipple supercharger (this custom was actually built out of an SS), 30-inch Forgiato Maschili and more speaker and monitors than I have in my entire hours and vehicles combined. Definitely one of a kind!