The new 2015 Z06 is finally available (customers have started getting their orders as of a week ago)!  Availability doesn't seem as limited as I'd imagined and some dealers have started putting them on eBay. I have to admit this one caught my eye: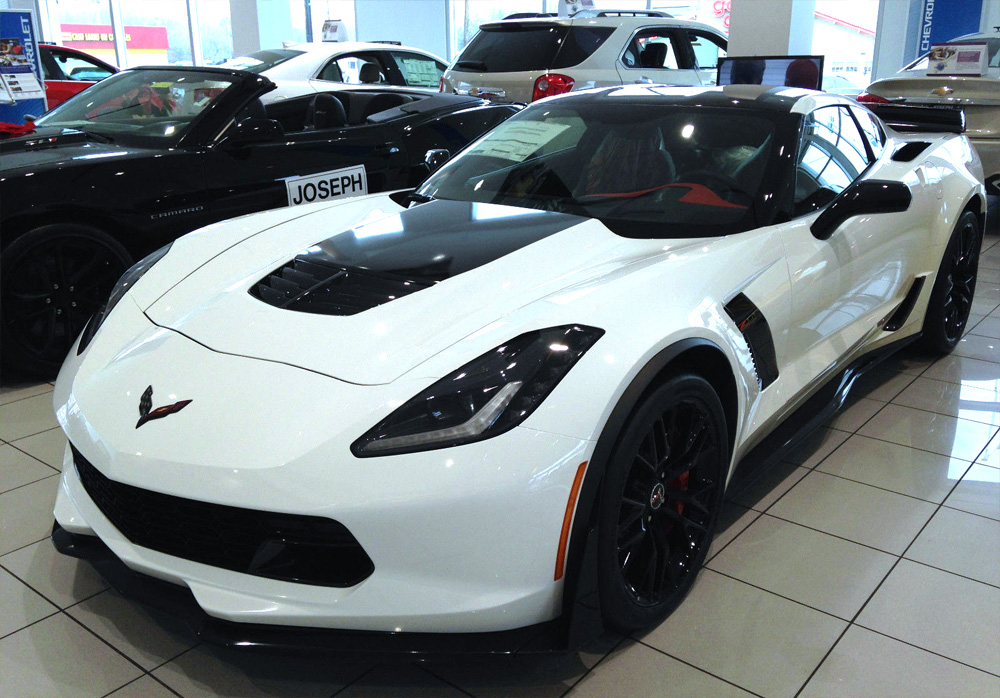 I love the white and red interior / exterior combo. And the black accents really work for me. Very nice. This particular dealer has the car priced way over the MSRP. Part of me understands the desire to make a few extra bucks but I also feel like it's price gouging. I would never pay anything over the suggested retail price just to bypass a few weeks (or months) of waiting. Shady business practices aside I love how this car looks- it pushes all of my buttons. It's fun to see pictures of ready to buy production Corvettes.
Speculated availability on these cars suggested they were going to be hard to come by. However, after poking around a bit, it appears that several local dealers have Z06 models in stock (or will shortly); Their websites are a little unclear on what's available. If they do have access to a Z06, I'm a little surprised that I didn't hear from any of them. Shortly after the new Z06 was announced I visited the two closest dealers to me in person to see if I could secure one. At one dealer the manager told me "I could order you a Z06 but I'd never get it." Regardless I left my phone number and contact info with several sales people. I did the same thing at Another dealership as well. Later I tried several online chats to see if anyone was keping a list of people who were interested in the Z06 (one dealer was extremely rude). I sent several emails as well. Eventually I  heard back from a dealer that I emailed (I had bought a car from them before) but was told it would be about a year before they could order a car. All things considered it was a little disappointing. If (when?) I decide to make a move I guess no one local is getting my business. Note: The Z06 is not the car I mentioned trying to buy in another post. 
I also spent some time looking online at out of state options. From what I can tell getting a 2015 Z06 at MSRP shouldn't be too difficult. In fact, I recently talked with a dealer in Chicago who will have an identical car to the eBay listing I mention for sale at MSRP (the only catch is a short wait). That might just be too good to pass up. If you're looking for some good leads you can try stringrayforums.com. They have quite a few supporting dealers and someone always seems to know where to find a car or two. Be careful as you shop- there's no reason to get gouged or be subjected to disinterest or apathy.
And now I will continue my Corvette wanderlust.