I have dedicated this post to movies that I have watched in 2019 (these have to be fairly current movies from this year or late last year to make the list). Newest movies are at the top. My goal this year is 60 movies, 1/2 in theaters! Bring it!
Final Count: 37 Movies –  It was a busy year… I think I'm actually missing quite a few movies. I was going to try and figure out what I was missing but I'm just going to try and keep better track in 2020.
Jumanji: The Next Level – Not as good as the first, but not as bad as I feared.
Star Wars: The Rise of Sywalker – This movie met my expectations. I think it could have been much worse, but at the same time it could have been much better. It does a fine job of wrapping everything up and it's probably what we needed.
Knives Out – Another great movie. It's got a lot of Clue-like mystery and it's smart and well done. Bravo for original storytelling.
Ford vs. Ferarri – Man, I can't say enough good things about this movie. Everything is polished and solid. Loved the story,
The Lion King – Man, did they rip the soul of out of this one. The animation is impressive and the movie is very much like the original but some things are best left alone (I feel like I'm ripping every movie I've seen lately… guess they should make better movies).
X-Men: Dark Phoenix – At this point I'm having a hard time sorting all the movies in my head. I'm not sure when things happened. Frankly I'm not even sure what's happening at this point.
Terminator: Dark Fate – What a mess. There were certainly parts I enjoyed, but the storytelling was sloppy. I wish they could nail a sequel.
Toy Story 4 [Home] – This was fantastic. The level of animation was incredible to the point that some shots looked like real life. This thing made me tear up at least twice.
Zombie Land: Double Tap – A worthy sequel in many ways. Very funny. I'd do a third.
Joker – Huh. Not as disturbing as I thought it would be. I think the goal here was to try and elicit some sympathy for the Joker. But there's a deeper lesson- find compassion for the mentally ill.
Hobbs & Shaw – I spent a good chunk of the movie asking myself what I was watching. It was so over the top. A two-plus hour assault on my senses and movie making in general. Not bad.
The Missing Link – Certainly cute. The animation was amazing. It's too bad these kinds of movies don't typically do well.
Once Upon a Time in Hollywood – Wicked good.
Men In Black: International – This had terrible reviews, but I thought it was a lot of fun.
Crawl – If I ever get into a situation where I have to evade crocodiles I hope I have a strong swimming background and a shower stall as tough as the one in this movie.
Spiderman: Far From Home – Epic Marvel movie. Lots of good twists and turns in this one.
Child's Play – Thanks Mark Hamill! For nothing. When your creepy "My Buddy" doll murder your cat you just call it a day right then and there.
Godzilla: King of the Monsters – Great news. He's on our side now.
Aladdin – A fun remake. Go strong women!
Ma – For me it all goes wrong when they reveal why she wants to murder everyone.
Brightburn – Evil Superman? Interesting.
John Wick 3: Parabellum – As they expand the Wick Universe things seem to be getting a little stranger.
Pet Semetary – A solid remake.
Shazam! – Great. Funny, entertaining and a great DC entry.
Fantastic Beasts and Where to Find Them: The Crimes of Grindwald [Plane]- Unmemorable.
Mortal Engines – Liked it. I would totally drive one of these little cities.
Captain Marvel: Not necessarily high on my list but I figured I'm in like 20 Marvel movies anyway so I'd better get to the bottom of Carol Danvers (and I mean that in the least sexy way possible). The movie was fine- that's the best I can do. I like when people whip out that latent side of their humanity and it makes them strong. 7/10
Creed 2: Rocky III & Rocky IV mashed together. I'm impressed with how far they can take these movies. Not great, but fun. 7/10
Alita [Theater]: I saw this when we went to Oahu. I enjoyed it so much I decided to go see it again in IMAX 3D. This movie pushes all the right buttons for me. I love the visual effects and the story (it's a little light on some plot elements, but it's not something I'd complain about). 9/10
Glass [Theater]: Plot twist: M. Night is making fun movies again. In terms of what's going on (visual effects, locations, etc) this is pretty basic. But it works really well and the ending doesn't really let you down.  7.5/10
Predator [Home]: Absurd. I don't every understand why I pushed myself through this. Luckily there was the insane clown posse (not the musical group) and they made it a little more fun. 5.5/10
Happy Time Murders [Home]: Wow. Brian Henson helped make this, eh? What a sad end to his Dad's legacy. A few funny moments… but pretty bad overall. 5/10
Adrift [Home]:Props to Shailene- she did a great job. This reminded me of "All is Lost" but they used a plot twist element that makes it a little more interesting and a lot more depressing. 7/10
Replicants [Theater]: This is the one I was waiting for. So bad it's good. "Yeah, I can grow a human in 17 days even though I've never done it before." This has more holes than Swiss cheese. The acting is awful. Nothing makes any sense. I'd watch it again in a heartbeat. 5/10
Spider-Man: Into the Spider-Verse [Theater]: This was fantastic. One of the best movies I've been in a long time. I loved the animation and the entire movies was a non-stop delight. Somehow I lost the email with the ticket confirmation. It just disappeared (maybe it was transported to an alternate dimension). But the Megaplex can look up your tickets via your gift card number. Nice. 9/10
Aquaman [Theater]: What a fantastic pile of epic action garbage. I loved it even though it had bad CG, plot holes galore and some of the weirdest action I can remember seeing in a movie. 7/10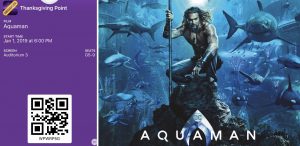 BumbleBee [Theater]: Cute. That's not a word I like to use to describe my robotic alien homeboy. But he really is. Not just cute- scrappy. The dude fights past his weight class. I really liked the Cybertron flashbacks w/ the G1 styling. Classic "bad guy is really a good guy" sub-plot. Fun, bu probablyt for younger audiences. 7/10