I have dedicated this post to movies that I have watched in 2020 (these have to be fairly current movies from this year or late last year to make the list). Newest movies are at the top. My goal this year is 50 movies, 1/2 in theaters! Let's do it! 
Movie Count: 29
This has been an interesting year. Most of the movies I've watched have been at home, for obvious reasons. I've probably forgotten to write down half of what I've watched in the last few months and a lot of the movies have been older releases or things I've rewatched. I feel like there's a fundamental Hollywood shift that's occurred and I'll be curious to see what the future holds.
Soul: I like movies that make you rethink some aspects of your existence. I'm glad there are filmmakers who focus on reentering thinking about how to experience life. Maybe the feelings the movie evokes are fleeting, but they are precious.
Jingle Jangle: A Christmas Journey: A fun Christmas movie with the same old plot- Old man loses joy, kid helps him find it. Works every time. This is a musical and while nothing is hard to listen to there are no memorable melodies floating around in my head.
Ava: Somehow I got in a "tough chick gets revenge" groove and this was recommended. Ah… she's tough and she definitely gets revenge.
Christmas Chronicles 2: It's a cute series. Out of Billions of earth inhabitants it's pretty lucky to help Santa Save Christmas twice.
Borat Subsequent Moviefilm (Netflix): Obviously the first movie was better, but this had some funny moments. As a political commentary I don't know how useful it is.
Okko's Inn: Cute, but ultimately missing the magical elements that make Miyazaki's movies work so well.
Yesterday: I actually don't believe a different artist with the Beatles music would work now.
Bill & Ted Face The Music: So glad they found a way to deprecate these two lovable characters.
Mulan: I thought this live action version was pretty epic.
Extraction: I'm writing this a month or so after I saw the movie. I actually can't remember what this was about. Wait… it's coming to me. Chris Hemsworth rescues a drug lord's kid. I would have to say it was watchable, but unmemorable.
Project Power (Netflix): Was this made specifically for NF? No idea what was going on half the time. But they got the bad guys. I guess.
Palm Springs (Hulu): A fun twist on the "Groundhog day" genre. Overall some funny moments, but there's just nothing like the original.
Hamilton: Having never gotten to see this live I was excited when it came to Disney+ with the original cast. Great music, intense pacing and a wild look into some of our country's history. Three hours fairly well spent.
Call of the Wild: This got bashed pretty hard by critics but I thought it was enjoyable. I wasn't "wild" about Buck being a CG character but eventually I stopped noticing. One of my kids had just read the book and noted several differences between London's classic and the movie (i.e. some heavily updated cultural casting and plot changes) but still appreciated the movie on its own merits.
COVID-19: This whole movie theater shut down is wreaking havoc on new releases. It feels like everything has been pushed back indefinitely. 
Scoob: It was fine, but I missed the original voice cast.
Bloodshot: Standard Vin Diesel fare. I wasn't familiar with the comic or movie prior to watching so I thought there was a fun twist.
Sonic The Hedgehog: Not bad! I think it was a good call to redesign the character to be more familiar. And Jim Carrey made a solid Dr. Robotnik.
Underwater: Ouch. There are some cool visuals in this horror / action mashup. But ultimately it is just sea monster murder mystery mess.
Dumplin': This isn't a new movie (2018) but it's new to me so I included it on this list. I love the message, but it's hard to accept the movie at face value. Some very touching moments. Also: it just occurred to me that I probably won't be seeing too many movies in theaters this year.
Trolls: World Tour: Cute. I never saw the first one, so I didn't really have any connection to the two leads (Poppy came across as incredibly annoying and incompetent) but it was still enjoyable.
Charlie's Angels: This is from last year, but I decided to count it. I love strong women as much as the next guy but this movie was a little ridiculous.
Spies in Disguise
The Hunt: Rich liberals hunting poor conservatives. But it's all parody so that makes it okay. An allegory of people creating the very thing they fear. There is a lot of that in real life, but nothing this ridiculously viscous. Despite social distancing practices we still went to see this movie in the theater. It may our last one for awhile.
The Invisible Man: I didn't see this one. I'll be here all week. Pretty solid thriller overall with a surreal ending.
JoJo Rabbit: Extraordinary well done. The gravity of the movie is kept in check until just the right moment. Heart wrenching, hopeful and hilarious.
The Gentlemen: Outstanding. A solid "who's ahead of who" right up until the end. This is the genre of movie that makes men aspire to become respectable gangsters. Bravo.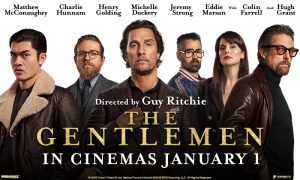 Gemini Man… Ummm. CG is still not good enough to create a character by de-aging an older actor. Fundamentally I think the idea is interesting (and there are some cool action scenes) but the overall story and execution is a bit of a mess.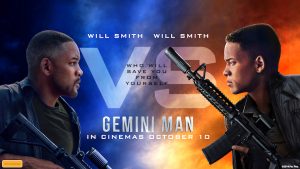 6 Underground [Netflix]: I felt like this wanted to be a bunch of different movies. Michael Bay delivers non-stop and nonsensical action all the way through this very generic spy, action, romantic adventure.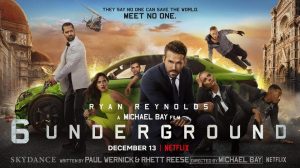 1917: The cinematography on this movie it epic (non stop, real time follows for almost the entire movie). Somber but epic on so many levels.