So here it is- my first blog post. We have Andrew and Greg to thank for making this happen. Andrew came by my place to instruct me in the ways of WordPress. Greg designed the very odd graphic that adorns the website (if someone could rip something out of my mind, it would look very similar). Andrew may wonder why the first post has taken me so long. To answer this question I will post two pictures of a work-related mishap (after the pictures I will expound).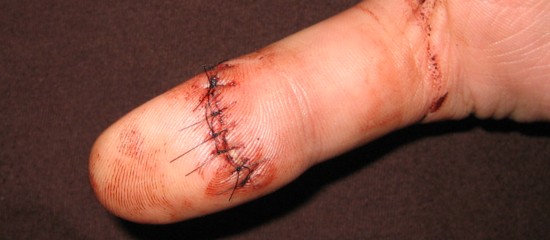 While tweaking a knife something went terribly wrong. One minute I was holding the knife and the next it was on the ground and I was spraying blood everywhere (yes, you can spray blood from your thumb). Luckily one of my guys was there to drive me to the hospital. They stitched me up (as seen above). I probably won't have any feeling in my thumb for a long time, but somehow I managed to miss my tendon. There's always a silver lining. Needless to say this impairment makes typing difficult.
More to come later!
-Cam
PS- Both Greg and I are having a terrible time trying to format things with the WP software. Even the "Code" option is proving quite useless as WP inserts its own "magic tags" into every nook and cranny. It may be a template problem though… not cool.