Recently Fran and I hit Park city for a little time to ourselves (no kids- thank you Nelly!) We stayed at the Hotel Park City. The accommodations were much nicer than I was expecting and the room decoration and feel were outstanding.  We had dinner at Ruth's Chris Grill which was also excellent- easily one of the best meals I've had all year (caesar salad, ribeye steak, creamed spinach and sauteed mushrooms with a chocolate coffee cheesecake for dessert).
Unfortunately the weather wasn't on our side and our plans were cut somewhat short. When we got to Park City it was a tolerable 69 degrees but by the time we had finished dinner and headed toward the pool it had become sub 50 degrees and it was raining (when we left the next morning is was 33 degrees and snowing). We'll have to give it another shot later this year.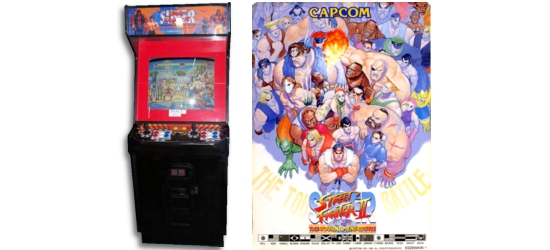 In other news we recently got a Super Street Fighter Arcade machine. I used to play this one at a pizza parlour by my old house in Alpine. Nostalgia aside, it's still one of my favorite games and I've always wanted to own the Arcade. As a kid I always thought it would be fun to have arcade games (I think I got the ideal from Silver Spoons).  Anyway- we got this one for work. Not sure yet if it's a good thing. It doesn't do much to engender good will ("This doesn't block. I can't block.  What the $#%$!?" "You're so cheap, stop being such a %$#@!!" and other gems like, "Be someone else. Don't you know anyone else?  This is lame $@%$!").
Getting Street Fighter makes me want to assemble a MAME arcade. It would be really cool to have some more games.
And finally, GE is out of the the appliance business. Thank goodness! We have GE appliances in our house- five to be exact. We had to have the compressor replaced in our fridge, we had to have the fan motor replaced in our microwave, the "self clean' on our ovens is broken, various pieces of our dishwasher have broken off and our gas stove top has ignition problems.  Kind of unreal – five appliances with five problems. No more GE for me
6/23/2017 Update: I guess GE didn't actually get out of the appliance biz since our new home has almost all GE appliances. And, you guessed it, they have all broken at some point. 
Anyway, got another post coming up soon!