We took the plunge (that might be a pun- we'll have to see). A couple of weeks ago we bought ourselves a boat. We'd been contemplating Jetskis for years, but it never felt quite right.  Then one magical day (which you can read about over here on Fran's Blog) we decided to swing by Taylor's Boats on the way to Ikea. A boat is like a floating living room so it wasn't too hard to convince Fran that it was the perfect thing for family bonding  (and it is!).  We settled on a Cobalt 202, Cobalt's smallest model. The boat is 21′ which, so far, we've found to be an ideal size. We're super picky about colors and so we were thrilled that the boat we liked matched our truck and house (we're not freaks- we just like things to be color coordinated! Okay, it's mostly me! Fine, I'm a freak!).

We've gone out at least twice each week so far.  We generally launch from the American Fork (AF) Harbor. It's a little annoying that we can't get a yearly membership because we don't live in AF. In Provo anyone can get an annual pass for $75.  But the AF harbor is more convenient (and relatively nice) so we deal with it.

We've taken out some of our friends nearly each time we've gone and I think it's a fun way to spend time together.  So far the only thing I can do is tube. Not to hard to flop onto a big pillow and hold on. Well, no- it's gets really hard to hold on when some people drive. I'll probably get skis this week, but save wakeboarding until next year. The kids love the boat. Mike wants us to stop every few minutes so he can jump in the water (the lake must seem like a never ending swimming pool). Claire sits up front in the bow and rocks back and fourth to the music while we cruise. We had a boat picnic the other day too. And I'm finally getting a tan.
As always Utah Lake has claimed a bunch of our stuff. Two pairs of sunglasses and some truck keys so far. Last year we lost a pair of sunglasses, a contact lens and a shirt. I wish the lake was a smidgen less muddy- then maybe we could find some of our stuff.  I know a lot of people who don't like Utah Lake much but it's really pretty nice.  The water temperature is generally upwards of 70 degrees this time of year. And the dirt washes right off….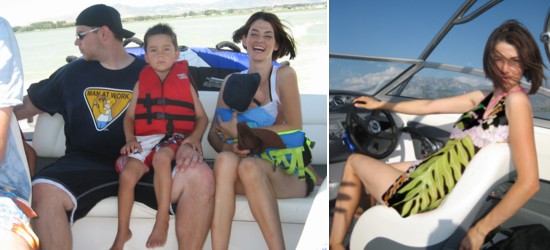 So far the neighborhood reactions have been positive, which is nice since we've had to park the boat on the street (a no no!)  for the last week while our driveway extension dries.  Since I generally leave the truck hitched to the boat people notice that the boat is about twice the size of the truck. Inevitably everyone's' first question is, "Can your truck pull the boat okay?" I've got an '06 Toyota Tacoma– I'm not a big truck kinda guy.  That was one of my first questions too. Despite it's small size the Tacoma can haul 6500lbs (surprise!) and pulls the boat with only some minor picketing and threats of a strike.
We're planning to rent the boat out a few times each week. We're just going to keep it local and provide drop off and pick up services at Utah Lake. If we're do this right we'll end up with a free boat and some gas money! If we do it wrong we'll have a sweet underwater hideout. We were hoping to get our rental operation off the ground this year, but I think we're going to have to shoot for next year instead. Ah well.
A big thanks to Tom Allen who showed us that the nautical life was the life. Tom's rabid sexism, testosterone fueled spirit and and unquenchable urge to speak his mind have made him a Hughes family favorite.