Cars are my hobby. I thought my hobby might have been writing… but I don't really write. Drawing? No… don't really do that either. Maybe my hobby is working? I work alot, but that doesn't do it for me.  Cars. It's cars. For Father's Day Fran got me an awesome 1000+ page automotive textbook that covers everything car related. Beautiful.
A few months ago I bought a newer Corvette, but it was just this past week that I put the finishing touches on her (I named her Vanessa). When you get a car you have to do certain things to make it "yours" (like giving it a name). Some people just need to add a bumper sticker, put on seat covers, or get some new floor mats.  Others have to overhaul their car's physical appearance in one way or another (there's a right way and wrong way to do this -learn more HERE).   Sure I did the floor mats and some stickers, but I did the wheels too.
<img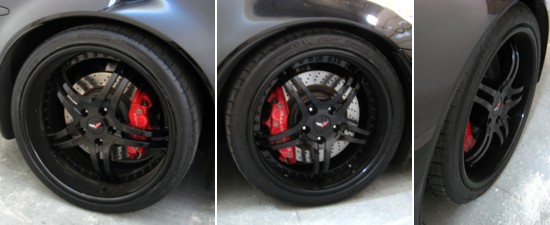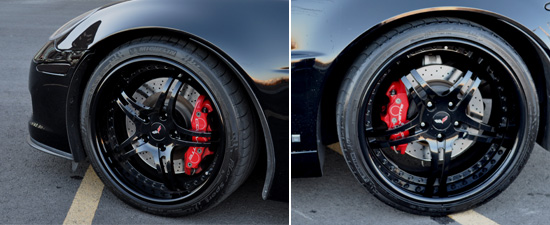 I replaced the stock Z06 rims (18″ front, 19″ rear, flat, kinda boring, generic) with West Coast Corvette's WCC Forged 946 EXT custom series (19″ front, 20″ rear, not flat, super exciting, made by Asanti). For tires I went with Michelin's PS2 series. So far I really like them- good ride & great traction.
As far as cars go I'm having a good time with this one.  It's an actual Z06 (my last car looked like one, but had a secret) with nearly 800 horsepower (an APS twin turbo kit on the LS7 engine is a pretty mean set up). My last car accelerated so fast it made some people scream.  This car is so fast that it will compress the air in your lungs so you can't scream (better for you, better for me). Not that I have ever sped. Mom thinks I should get something quieter. Something safer. Sorry Mom. I like my cars loud and fast.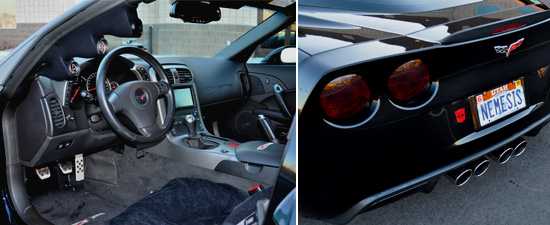 March 28, 2010: Added some updated photos of the car.