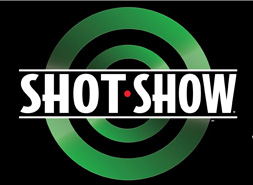 2011 has started out with a bang! I just got back from the 2011 SHOT show in Las Vegas (I covered it on our company blog, knifeblog.com). The show is always a blast (yeah "bang" and "blast" are bad pun references to the "SHOT" show, so sue me). We get to meet with vendors, see new 2011 products and feel out the new trends. It's exhausting though- the show has nearly 30,000 booths and that means a lot of walking. At about 4 pm each day we'd go back to the hotel, flop into the bed and fall asleep. I got a cold on the second day so I was more tired than usual (I'm still trying to fight it off, but it's the first time I've been sick in almost eight months!).
Being exhausted didn't stop us from having fun though. Each night we took in the Vegas stores, sites and atmosphere. We went to see Penn & Teller too (at the Rio). The acts are humorous, thoughtful and well done. Sometimes it seemed like things were dragging and there were a couple of slips, but overall it's something I'd recommend to someone looking for Vegas magic production.
Anyway, here are a few reflections, thoughts, resolutions, etc. 2010 seems like a blur, a memory that's already fading into the background. 2011 is whipping past me at unprecdetended speed. Should I slow down? Do I want to?
My family is growing and evolving. Little people I helped create years ago are now reading, writing, drawing, playing video games, having adventures and surprising me each day. We're still debating about whether to add another family member or not, but I'm pretty sure a sixth isn't too far off. Good thing we've got a mini van.
Likewise our companies are growing and changing. I never would have dreamed we'd be where we are today. 2011 has started off strong and we're building infrastructure to accommodate what we think will be a phenomenal year. We have some great things in store, but I'll discuss that on camoncommere.com in the coming months.
My one and only resolution this year is to focus on my health. That means less work, more exercise and better nutrition. It's my only resolution and I think I should be able to handle it. The SHOT show was a great starting point, since I had to walk until my legs and feet begged for mercy. My goal: lose 60 pounds of fat and run a 7 minute mile. I think getting my body in shape will spill over into other areas of my life too and help me find some of the balance that I've been missing.
A toast to 2011. May it be a year filled with adventure, growth and with things that make life worth living.