Sometimes it's super hard to get into the blogging groove. Something cool happens, you're stoked to blog about it and then time gets away from you. When you finally have a moment to blog you might not be "in the zone" and it's tricky to write when you're not really in the mood (brings back horrible memories from college- I was never in the mood to write).
Right before the end of April Fran and I ran the Thanksgiving Point 5K. I think it was the Sabins who suggested it and Fran made sure I actually went. Going in I had one goal: cross the finish line before Fran.  I prepared myself by eating  many donuts, burgers and chocolate. Probably not a smart move since Fran is such a tough cookie (oh, and cookies- I ate a lot of those too). I did manage to get in a couple good runs before the race so I knew that I could at least run the whole time. But could I run faster than Fran?
At first we both ran at an easy pace. Fran seemed like she was holding back so I told her she could go faster if she wanted. She sped up a bit and I did my best to keep up with her. When we got close to the finish line Fran was about a block ahead and so I put my fat body into high gear and sprinted the last leg. I managed to pass her right before the finish line and ended up one second ahead of her (literally). Pretty exciting. I think if Fran had pushed she would have won- we both ran the race in about 29 mins. Pretty leisurely.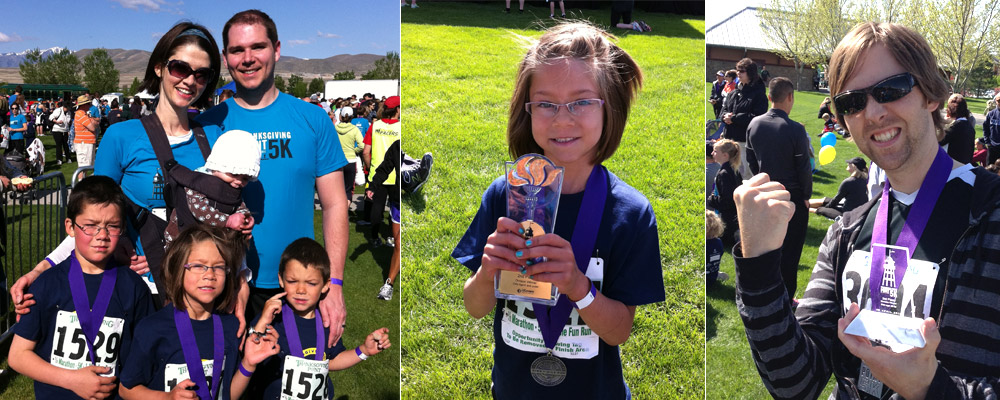 After our 5K the kids ran a one mile "fun run". Michael and Claire took off like little rockets and I ran with Gabe. He was a trooper and jogged the whole way (even after falling down a few times). He clocked in at about 12 mins. Claire ran the mile in 10 minutes. Michael finished in 8:31.
We stuck around for the awards since Jason had won third place in his age division (his race time for the 5K was a zippy 22:40). After the 5k winners they announced the fun run winners and Claire won second place in her age division!
The event was fairly well organized. No weird surprises. And the 5K course was actually pretty nice and took us through part of the gardens. The fun run went through farm country and was also very enjoyable. If you're looking for a good 5K I'd recommend Thanksgiving Point. We'll be headed back next year!