The time has come for a serious project. I'm on a quest for 1000 rear wheel horsepower! That's right, ladies & gentlemen, 700 horses to the rear wheels just isn't enough anymore. I've got the items ordered and hope to do the install & tuning in late July. Here's what I'm doing:
Engine: I'm having a new engine built by LME. They speced out a 427 LSX based engine specifically designed for forced induction and capable of rock solid performance at 1200rwhp. You can check out some of the engine specs below. While the engine is out I'm going to get the headers ceramic coated and stream clean the engine bay. That will feel soooo good.
Transmission: I'm going to do a transmission swap and upgrade the stock T-56 with an RPM level VII TR6060 (should be good for 1000 ft/lbs torque). I want to stick w/ a manual 6 speed and this seems like best option.
Differential: For the rear end I'm going with the C6 Z06  RPM Level III w/ a Quaife differential and the stock gear ratios. I'm also going to upgrade the drive shaft & axles.
Boost Controller: I think I'm going to go with the AMS-1000. Looks like it can do everything I need and then some.
Suspension: In order to get more power to the ground I'm planning to upgrade the suspension as well. I think I'll go with something from PFADT.
Clutch: Unfortunately my ACT clutch isn't going to hold the power I intend to make so I'll have to find an upgrade. No idea what kind I'll get yet. It needs to hold a lot of power but still be streetable.
Forced Induction & Fuel: I'm going to stick w/ my APS kit for the time being. I'm going to try and max it out and see where we get. If I end up needing to I'll upgrade the fuel system and put in larger turbos, but that may be a 2013 project.
My goal with this project is to be as personally involved as possible (and do as much work as possible myself). I'm having Vince over at Lung Automotive do the install (he's going to love having me over at his shop all day "helping"). Vince has been instrumental in assisting me with picking  parts, getting things ordered and destroying my comfort zone. Per several  recommendations I'll have the testing and tuning done by Premier Performance.
So why the upgrades? Believe it or not out of the people I know (and sometimes drive around with) I'm the slowest guy! Last year Rob raced his 1200rwhp Underground Racing modified Lamborghini at RMR and it was inspiring. And seeing his 10 second pass made me want a 10 second pass too. And I get what I want 😉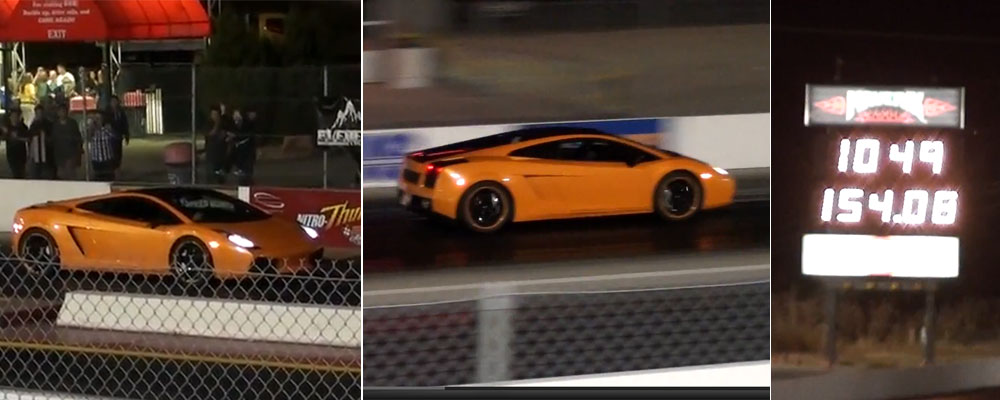 Anyway, really excited about this project. Parts are ordered and now I just have to sit back and wait. Once everything is here it will probably take a couple of weeks to get things swapped out, installed and ready to go. I'll post all of the progress here on the blog as things unfold!
Engine Specs:
427″ LSX/LS7 Twin Turbo Engine Build w/ 9.8-10:0:1 Compression for 1200+ RWHP
+ Balance, blueprint & assemble shortblock: fully deburr block, line hone block w/ ARP main studs deck, deck block to desired deck height w/ BHJ deck true fixture, bore block on 3 axis CNC, hone block w/ torque plates, balance crankshaft to 1/4 oz. in. tolerance, hang pistons on rods, check bearing clearances, file fit rings, assemble shortblock.
+ Assemble longblock & dyno test engine: degree cam, check piston to valve clearance, adjust valve train geometry & lifter pre load, install oil pump & heads.
+ GM Bow Tie LSX race block. Features: priority main oiling, billet main caps, increased cylinder wall & deck thickness, 6 bolts per cylinder (for added improved head gasket sealing). Block comes w/ cam plate, rear cover, all plugs & dowel pins.
+ Callies Dragon Slayer 4340 forged 4.0″ stroke crankshaft 58X-LS7 long post w/ indexed & trued journals.
+ Callies Ultra Billet 6.125″ H beam rods w/ ARP 2000 7/16 bolts (good to 1500 RWHP turbo applications).
+ Wiseco forged turbo duty pistons w/ tool steel wrist pins & anti friction coating on skirts: Includes stainless chrome top ring (for high heat applications), napier 2nd (improved oil control), 3mm oil rings (reduced friction & improved oil control).
+ Upgraded tool steel wrist pins .210″ wall thickness.
+ Clevite MS 2199 H mains, Clevite CB 663 H rods, Dura Bond CH-23 cam bearnnings
+ ARP Pro Series 12pt. main stud kit.
+ GM LS7X LS7 6 bolt CNC ported cylinder heads. Parts: REV titanium 2.200″ intake valves, REV Inconell exhaust valves (for high heat applications), PAC dual hyd. roller valve springs (good to .675″ life), titanium retainers, machined locks, machined locators, Viton valve seals-Heads flow 400+ CFM.
+ Cam Motion custom LSX turbo camshaft
+ Cloyes LS7 4x single roller w/ extended crank drive for dry sumpt oil pump.
+ Morel tie bar high RPM hyd. roller lifters.
+ Manly one piece chhromoly 3/8″ x 7.8xx x .120″ wall LS7
+ ARP 2000 Pro Series 12 pt. head studs for LSX 6 bolt block (offers 40% more clamping force than the standard ARP 8740 chromoly material).
+ GM LS7 oil pump ported w/ thicker scavenge G rotar for 30% increase in scavenge side flow. Pump also has a billet front cover to accept the thicker gear.