Update 5/23/2014
For whatever reason I ended up being sent a Blade Laptop (I was charged for it, don't worry). Since I had the computer in my possession I decided to at least take it for a test spin. I'll do a more in-depth review later but I'll just say that the build quality is amazing, the machine is lightning fast and the screen is gorgeous. A definite keeper.
However, in addition to being gorgeous the screen also had several dead pixels. I almost didn't care enough to do anything but I figured it would be a good chance to test out their customer service. I emailed them and explained the situation. They responded quickly offering to repair the laptop. I was given a postage paid return label and comprehensive return instructions.
A couple of days later Sean called me. He said he had the Blade but he couldn't find any dead pixels. "Oh really?" I said incredulously. He asked if I'd pulled off the screen protector yet? "There was a screen protector?" Absolutely- he'd just pulled it off and anything that looked like a dead pixel came off with it. How embarrassing for me! That had never happened to anyone before. I apologized and felt like an idiot… Luckily he called me back and said he was looking at the wrong computer. He noted that mine had no screen protector and that he saw the dead pixels right away. New computer incoming. I'll write up a review when it gets here.
________________________________________
Update 5/12/2014: Yesterday I got this email from Razer:
Hi Cam,

It looks like your order did not go through correctly. Please try placing another order. We highly recommend you clear your cache and try a using a different web browser.

The error you describe is normally caused by a mismatch of payment information. Please check the information you are entering including the billing address, phone number, and billing name are an exact match with what is on file with your payment provider.

Thank you for your time and support.
Best Regards,
Razer Order Support
So… I guess my ordering efforts (described below) were in vain. Hilariously the ticket they replied to was the one where I told them I had tried different browsers. I will definitely not be going through their checkout process again so it appears that I am not getting a Razer Blade. At least I'll save some money.
________________________________________
Razer recently announced their all new Razer Blade gaming laptop. I had strongly considered the Blade earlier this year when I bought my Maingear Pulse 17 but ultimately decided against it because of the screen quality and resolution (1600 x 900).
While I have enjoyed the Pulse 17 immensely I've decided it's simply too large to use the way I had intended. With the new upgraded QHD screen and and the Nvidia 870M I can't resist the chance to check out Razer's new system. Unfortunately it looks like the ship date is still three weeks away so I'll have to be patient. I'll post a quick review once the laptop comes!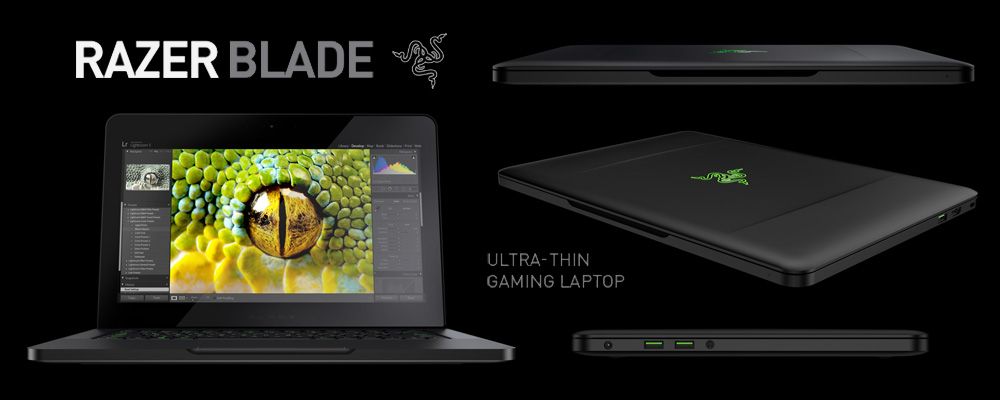 As a quick aside, ordering from Razer's website presented one of the most frustrating experiences I've ever had ordering a product online.Their estore perpetually rejected my emails, address info, password choices, credit card numbers to such an extent that I almost decided to skip the purchase altogether. I tried over a dozen times to submit my and finally succeeded after I created an account independent from the checkout process.
TECH SPECS
Processor: Intel® Core™ i7-4702HQ Quad Core Processor with Hyper Threading 2.2GHz / 3.2GHz (Base/Turbo)
Chipset: Mobile Intel® PCHM 8 series chipset, HM87
Memory: 8GB onboard memory (DDR3L-1600MHz)
Graphics and Video: NVIDIA® GeForce® GTX 870M (3GB GDDR5 VRAM, Optimus™ Technology)
Display: 14.0″ QHD+ 16:9 Ratio, 3200×1800, with LED backlight, capacitive multi-touch
Storage: 512GB SSD (SATA M.2)
Power: Compact 150W Power Adapter
Built-in 70Wh rechargeable lithium-ion polymer battery
Webcam: Built-in HD webcam (2.0MP)
Additional Features
Razer™ Synapse 2.0 Enabled
Multi-point touchscreen interface
Built-in stereo speakers
Backlit anti-ghosting keyboardt
Communications: Intel® Wireless-AC 7260HMW (802.11a/b/g/n/ac + Bluetooth® 4.0)
Size and Weight:
Width: 13.6" / 345mm
Depth: 9.3″ / 235mm
Height: 0.70″/ 17.8mm
Weight: 4.47lbs / 2.03kg
Operating System: Windows® 8.1 (64-Bit)