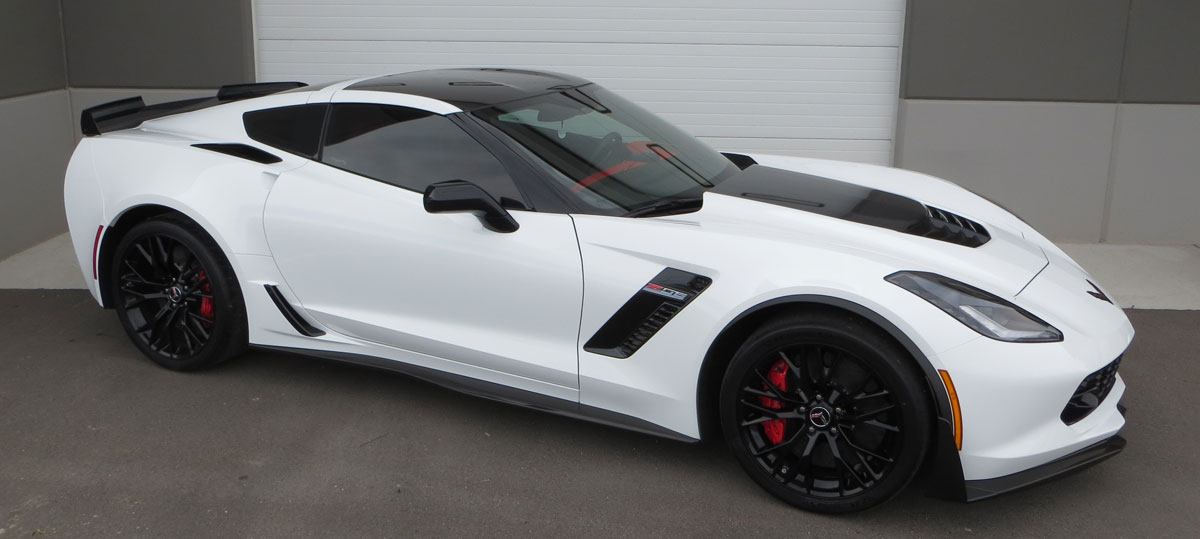 After inadvertently locating my "dream car" a couple of months ago I decided to take the plunge. In a very real sense this represents my last effort to enjoy owning something like this. It's powerful, unmodified, unasbused and fully warrantied. If this car causes me excessive emotional trauma then I know there's no real hope. Right now I'm in the break-in period. That means I keep it under 4K RMPs and I don't really get to experience a lot of what the car offers. Nevertheless, here are my initial impressions of the car, having had it for a couple of weeks (I've put on a whopping 160 miles).
With no love from my local dealers I ended up getting my car through Castle Chevrolet in Illinois. Zach was my sales person and he was fantastic. He kept me updated at every step, answered all my questions and has been responsive following the sale as well. I used Don with Specialty Mobile Transport to bring the car to Utah. He picked it up on a Thursday and had it to me Friday- Overnight car delivery. Unreal. Buying out of state can be a bit stressful but everything went smoothly and was nearly stress free.

Visually I think the car is breathtaking. When the C7 first emerged I had some reservations about how the car looked (especially from the back). The Z06's wider stance alleviated some of my concerns but it wasn't until I was standing in front of (and behind) the actual car that I knew I'd been unfair. It's aggressive, sleek yet refined and it seems to turn heads everywhere it goes. There's just nothing legitimate to dislike. I'm really happy with the Arctic White and I feel like the black accents and wheels go perfectly with it.
And finally some carbon fiber! For some reason I held out and never put any CF on the outside or inside of my C6. But I was thrilled that Chevy offered it on the C7 and the visible carbon fiber package does not disappoint.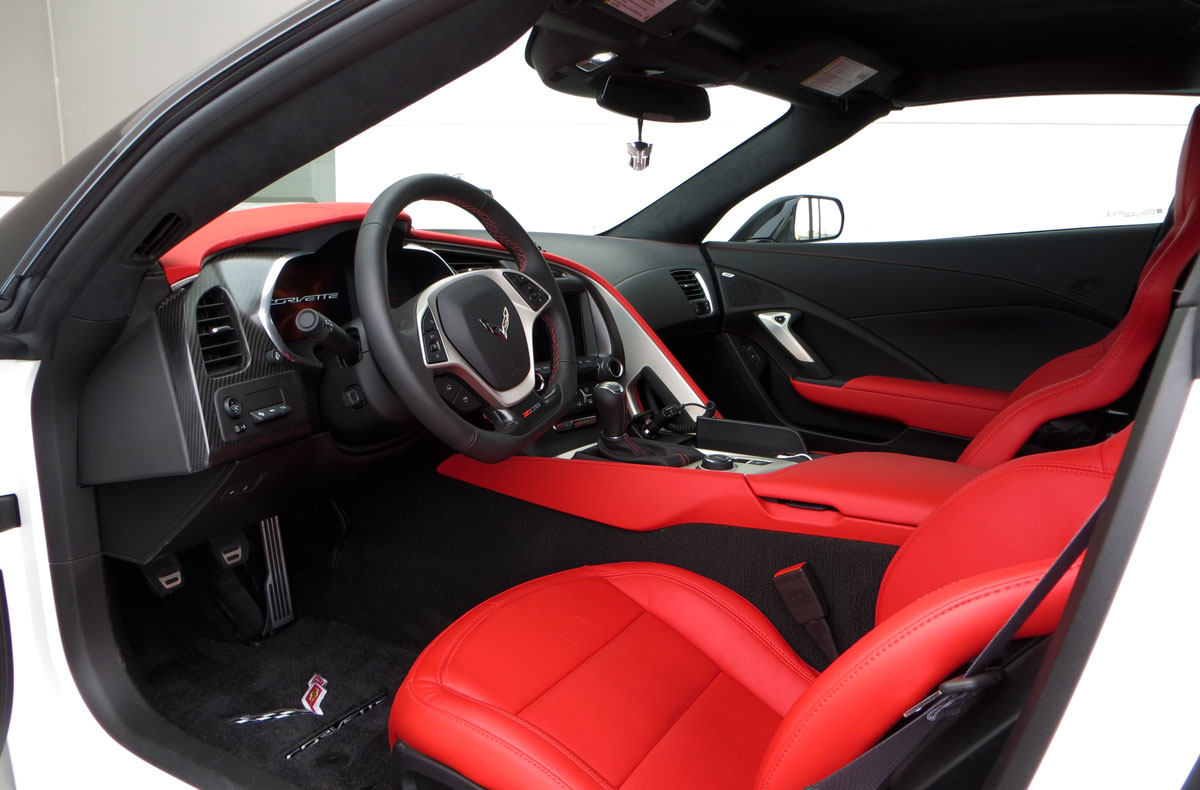 The interior is a huge step up from the C6. The dash has a carbon fiber surround, leather trim and door inserts, microfiber roof lining and a refreshed feel. The red and black interior mix on my car is just right (for me) and the red is gorgeous. I appreciate the little touches like LED map lighting, the multi-colored HUD and the secret compartment behind the stereo screen. People overused the word "driver-centric" when talking about the C7 but I don't know how else to describe it. Nearly all of the interior focuses on the driver's interaction and experience with the car. The seats and interior are comfortable but it does feel like headroom and legroom are diminished. I'm most surprised about the headroom- I don't recall an issue on the C6. And the 911 has a ton of headroom with a sunroof.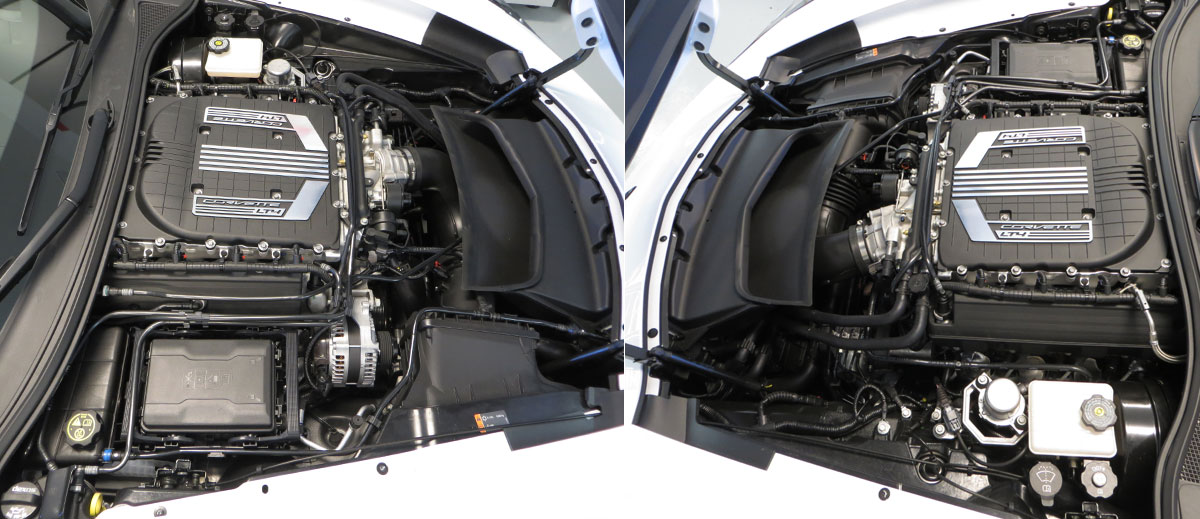 The technology in this car is amazing. Most of the "help you drive better" features I can't really get a feel for yet but the ride control selections are great. The digital dash is a nice addition (if not a little over the top). Want to change the way your display looks? No problem. You can tap into a ton of the car's systems and display real time data. You've even got an option to change the way your car's exhaust sounds right from the headunit. You also get a PDR (performance data recorder) that allows you to record video while you drive. No more need for a dash cam! The system can time your 0-60, quarter miles and even track events. Valet mode records events and locks your car down when someone else is at the wheel. There's just a ton of stuff here and I'm stoked to play with it.
The interface is well laid out (for both the dash and stereo) but the system has a few glitches (I put up a post on www.corvetteforum.com – so far it appears no one else is having my issues). The biggest "problem" I have is that voice recognition doesn't seem to work on my phone anymore (it was working). Frustrating but not the end of the world.

The Bose stereo is one of the better stock systems I've heard. That's not to say it's great but it's on the verge of being good enough not to mess with. Plenty of volume. The base, although a little boomy, is more substantial than you'd usually find. The highs lack some detail, but the system seems well balanced and nothing is piercing or painful when listening. I wish there were more EQ options but overall it's enjoyable.
Thus far I am very impressed with how the Z06 drives (again keeping in mind that I'm putting around like an old man). Steering and handling is tight and responsive. The car feels well planted to the road where my old C6 felt a little sloppy (and I'll be very curious to see how the car compares to my old 911). Braking with the Z07 carbon ceramics seems exceptional too. The transmission seems good- shifting is nice and crisp and and the clutch pressure is okay (it could be a little tighter). I'm not sold on seven gears yet either. I don't know if I'll end up tracking my car at all but I'll bet it would be a blast.
It's not a perfect car, of course. The aforementioned stereo and lack of cabin space is worth noting. Turning at low speeds produces a lot of wheel chatter (the car comes with a tag explaining it's normal but it seems excessive to me). The Michelin Pilot Super Sport Cup tires are super sticky and pick up every little piece of road gravel (these are not the tires I would have picked for daily driving). I realize this isn't a luxury car and while tolerable cabin noise seems excessive as well. Minor gripes so far.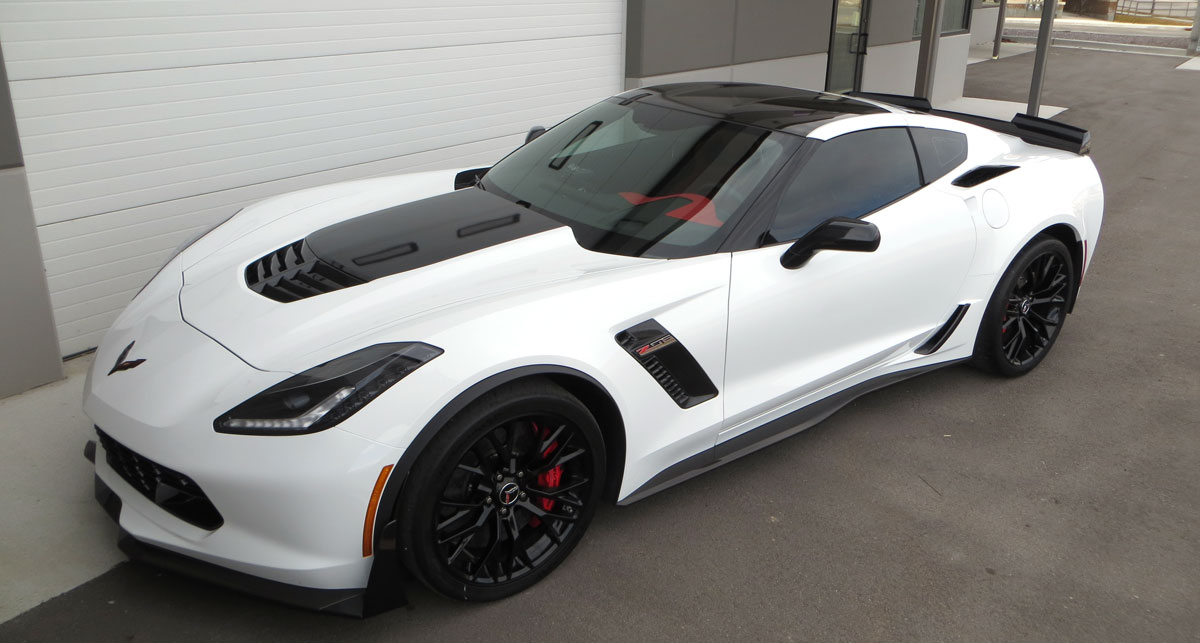 I have noticed the C7 Z06 seems like it's taking a bit of a beating in recent reviews and comparison tests (i.e. versus the Viper, Hellcat, GT-R, Porsche, etc). Anyone who knows me can attest that my relationship with cars has been tumultuous and so seeing the bad press causes me a little worry. Many people point to a potential "heat soak" issue or overly conservative tuning as part of the problem. I will base my opinions of the car on my experiences but I'll be curious to see if the situation ends up affecting me. What I'd like the car to be is a comfortable cruiser, potential daily driver and a weekend track warrior.

Negative press aside I think the C7 Z06 actually represents a great value. When you compare it to the Porsche 911, the GT-R Nismo or even a Viper it's downright inexpensive, And the amount of available features surpass even some of the most expensive model variations other manufacturers offer. So far so good. Just a few hundred miles to go and I'll see what she can really do.
I'm obviously not a videographer but I'll call it a day with a quick walk-around of my car: