The mods were installed, the race tune was dialed in and I had plenty of practice runs under my belt. It was time to go back to the Rocky Mountain Raceway for a "real" quarter mile run. It was time for revenge.
Anyone who knows my history can attest that my quarter mile goal has been to run in the 11's since I saw the Fast and Furious (judge me if you must). I've had numerous cars theoretically capable of running in the 11's but somehow things never panned out. My fastest official time was a 12.1 @ 131mph run. I was sure this time would be different…
I bought some Sunoco 260 GT Unleaded 104 octane racing gas (I picked this up from Keller Strauss in SLC). I knew I'd also need a helmet and I found this Snell 2005 compliant beauty for $30 on KSL. Go Speed Racer!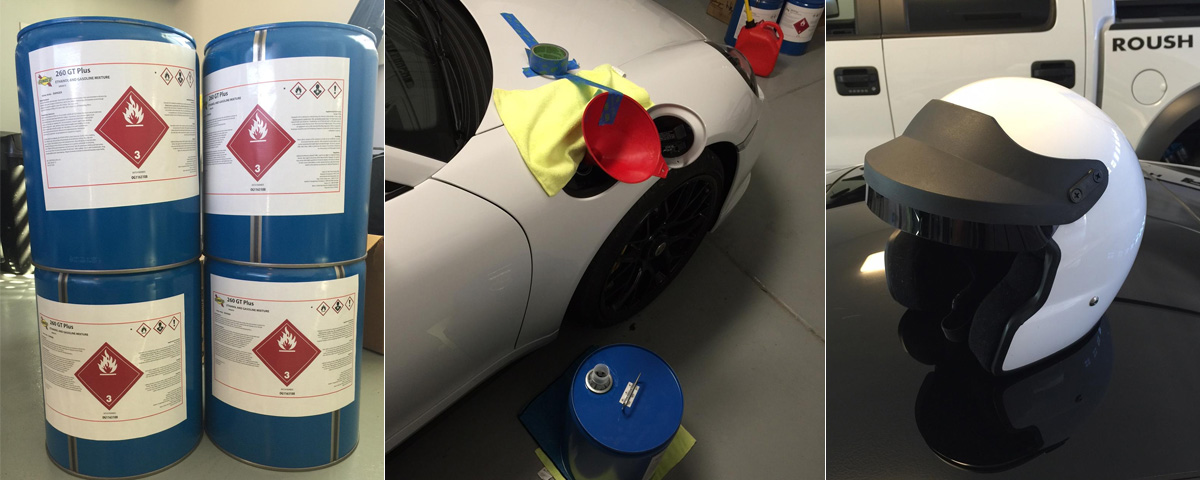 My Vbox said I was a shoo-in for a 10-something quarter mile but no one believed me (I bet a friend a steak dinner I could do 10.9 or less). I actually called Rocky Mountain before I went up to make sure there wasn't going to be an issue if I ran in the 10's. The track manager said he thought that would be unlikely but told me to "bring your car up and go for it." Admittedly I started to have some doubts. My priority going in became to test the Vbox results against the actual track time.
Jim and I got to RMR around four in the afternoon and were some of the very first cars in line. That meant that we would run as soon as the races officially started- around six. My family was on their way up but wasn't going to be there in time for my first run. Since it was warm out and the DA was around 6100 I figured it would be my slowest quarter of the day so it wouldn't be a big deal. No tricks on my first run- street tires, same tire pressure I came up with, no ice on the intercoolers. I was focused on testing out my Vbox. My turn came up and I was off:
Below is my time slip (a close up and then the full slip). I ran the Vbox concurrently during my quarter mile run and the results were shockingly similar. More than a few people became Vbox believers that day. I was pretty happy I'd hit a sub eleven given the time of day, my mediocre 60′ time and the altitude handicap I was facing. It was a solid first run… sadly it was also my last quarter mile run of the night.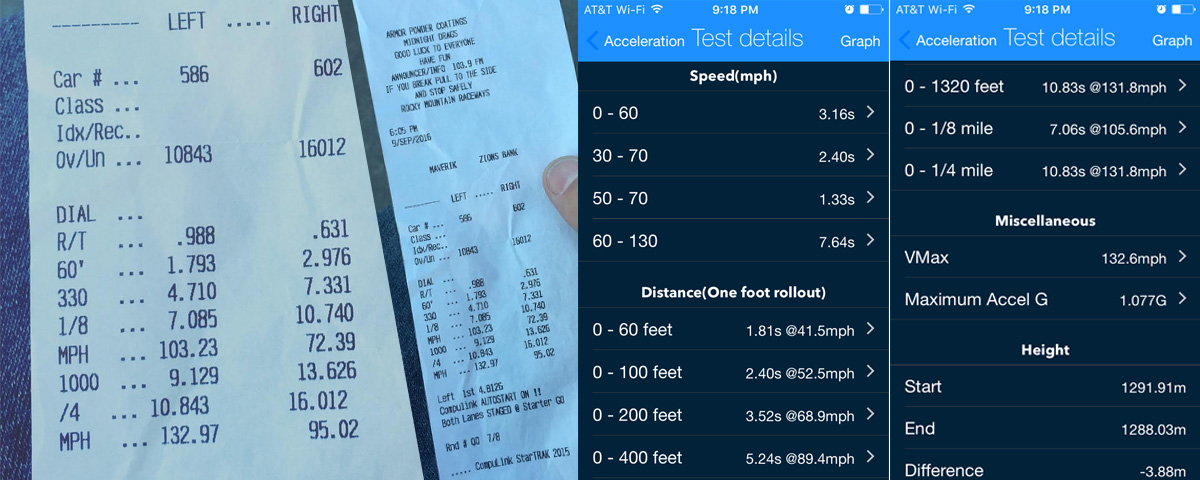 If you finished the video above then you heard the track staff telling me I'd be limited to 1/8 mile runs. That was very frustrating. RMR's posted rules for midnight drags only state that the car has to be under 135 mph. As I mentioned I had called the track manager to make sure there were no surprises. He said "if" I ran a ten something under 135 mph they'd work with me. I was assured they wanted everyone to have funand show the audience a good time.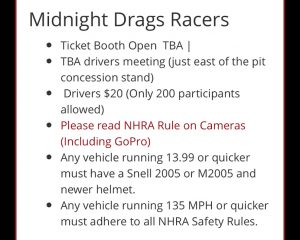 Apparently an elapsed time (ET) under 11 seconds requires additional safety measures (which another track employee said he wouldn't ever do to a car like mine). I found the situation extra frustrating because the guy telling me I was too fast was the same guy I'd talked to when I called the track (I cut the video short because it turned into a bit of an argument). I could have easily dialed my car back and saved a faster run for later. That would have given my family a chance to see me race a quarter mile. But there was zero recourse- it was 1/8 mile or nothing. He wouldn't even let me slow the car down and said if I did the quarter again I'd be banned. Ah well. I had my Vbox so I wasn't too bummed.
Later I decided to run in the 1/8th so my family could see me drive something:
Taking my foot off the accelerator after and eighth mile felt like castration (okay, I don't really know- but it felt bad). On the upside the track had become very slick- I'll explain why that's a plus in a sec. Let's get the facts out there: On the street my 60′ time is consistently around 1.6 seconds. Even though I was one of the first guys on the track at RMR my 60′ time was nearly 1.8. Track prep at RMR doesn't seem to be much of a priority. By the time I ran my 1/8 mile (maybe an hour later) my 60′ dropped to over 1.9 seconds. Had waited to go "all out" until later in the night my time may have been worse than 10.84 due to the track degradation.
All things considered I had a lot fun. I got to hang out with Jim, meet some new (and very interesting) people and see a lot of sweet cars. I ran a quarter in the tens, made an awesome video and confirmed Vbox accuracy. My family got to watch me do an 1/8 mile run and I got to spend time with them and many other friends while we watched the drag race. Overall a great night.
I'm at a little bit of a loss now… Without access to the track I'm not sure how much faster I'll make my Turbo S (side note: how the hell are these forum guys running 10's and 9's on their local tracks with no safety equipment – no NHRA certification or something?). I don't see a point in making my car too much faster for the streets. Maybe it's time to build a "real" racecar. Whoa- almost forgot. I tried that already. Hopefully I'll think of something.