This is a mostly silly thing, but I want to have it recorded somewhere.
I have achieved the 500K Gold Level on Bejeweled. It's taken me years (I can't even imagine how many hours I've blown on this game) but I only spent about $10 total. My strategy was always collecting as many coins as possible (spin the prize machine, play daily challenges, even watch videos for coins). When I played actual rounds I would buy & use any good gems they offered (sometimes even winning the money I'd spent on the powerup back during the bonus at the end of the round). And of course you have to be fairly good at the game. Anyway! Took forever. I'm out.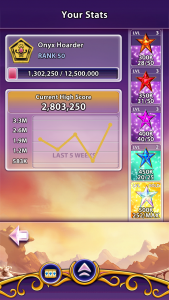 8/20/2017 – They added some new levels for nut jobs like me! Even I can't get that many points though. I tried, but it's too hard. I'm still out.