The absence of the earphone jack on my new iPhone 7 has been troublesome. For whatever reason I have earphones / headphones in various parts of the house and frequently switch between them. In lieu of buying 6 "lightning to 3.5mm jack" adapters I decided to try and find a pair of good Bluetooth headphones. I was sick of cords anyway so I figured this would the perfect opportunity for a change.
I tried a couple less expensive brands like this set from Senso. The drivers in the Senso (and comparable $30 models) was miserably underpowered. Still, they sounded okay and they fit on my ears quite well. The deal breaker was that they lost their connection with the phone when I went outside (intermittently, but frequently).

Eventually, almost in desperation, I picked up a set of the Bose QuietControl 3.0 ear buds. I have a couple other pairs of Bose headphones that I really like so I figured I had nothing to lose. Well, except some money- the QuietControls are pricey, running around $300. To their credit, they have a profusion of features, some not present in other Bluetooth models.
For starters the battery is situated in a comfortable neck band, as opposed to being in the actual ear piece. In addition to increasing the battery life this makes the portion that sits in your ear much more comfortable (the earpiece also has Bose's "stay hear" fitting which is very effective). The on and off button is situated in this neck band. Syncing with your device is very simple and pressing the button multiple times lets's you cycle through up to three connected devices (I use it with my phone and laptop). In my opinion the best feature is the noise cancelling technology. While not perfect, it's effective enough at muting background noises that I was able to mow the lawn while listening to an audio book. There are several levels of noise-cancelling- I think I would have opted for on/off as cycling through 10 levels (or whatever) is cumbersome. In addition to noise cancelling controls, there are the standard volume and pause buttons as well as a microphone for calls.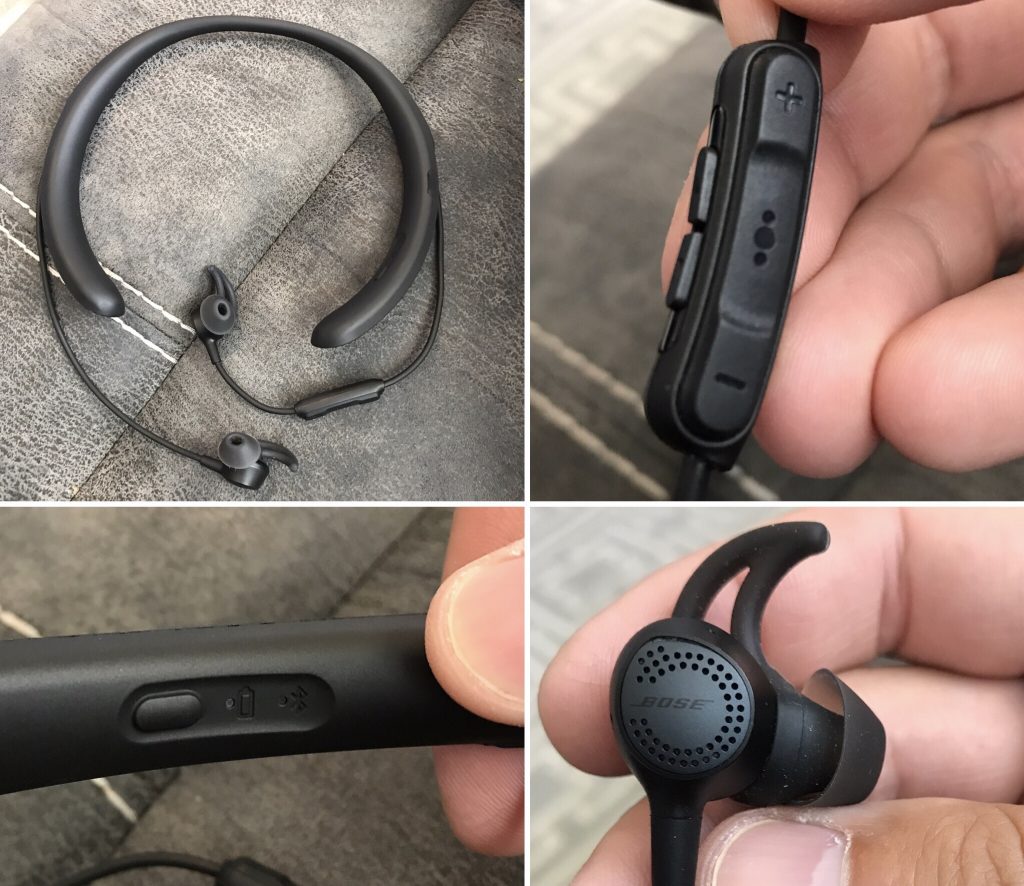 Audio quality is excellent. Compared to the other models I used the QuietComfort's sound is deep and full of detail (excellent base, considering this is really a set of ear buds). Drop out is minimal and I have used the headphones mowing, biking, running and shopping with very few problems.
The QuietComforts are not perfect, by an means. Here are my gripes:
When you turn your head left and right sometimes the earphones can actually get pulled out.
The neck band will periodically rotate and become uncomfortable (it's very easy to readjust it).
When the noise cancelling feature is turned down the headphones almost seem to amplify ambient sounds and there is a strong "white noise' present in the phones.
Even the QC's Bluetooth occasionally cuts out.
A little more expensive that I think they should be.
The built in microphone seems to do a poor job filtering out background sound.
And here's what I like:
Battery life is very solid and the charge quickly.
Neck band is comfortable and allows for smaller more comfortable ear buds.
Noise cancelling feature is a welcome benefit.
Audio quality is excellent.
Good solid construction.
Pairing is effective and the connection is generally very solid.
With all that being said it's probably not clear where I stand on the QuietComfort 3.0 line. You might even be thinking that I don't like them all that much. But such is not the case. Despite a few limitations (negative quirks) these have become my go-to headphones. I typically have them on all day and they have literally replaced every other set that I own. I would recommend them to anyone who'd looking for a pair of solid Bluetooth ear buds and who's willing to settle for very good, but not great.
Overall Initial Impression Score: 7.5/10
I'll follow this us with a long term usability score  after I've used the headphones for a few months.