Razer knows how to make a sexy laptop- this is an indisputable fact. Over the years I've owned many of these laptops and, for the most part, I have enjoyed them all. Razor build quality is second to none and they cram an amazing amount of power into a very tiny frame. There's no question that my Razer Pro was still getting the job done (well- minus a battery issue), but the Razor 15 was too intriguing to pass on.
Aesthetically the new design is much boxier than the past models. Personally I like the squarish design and the simple elegance of the laptop's layout. The reduced bezel is a welcome relief (it feels "right" for lack of a better description) and the 15″ 4K screen is exceptional (bright, no dead pixels and great consistency). Build quality is as high as ever and the laptop feels exceptionally solid.
Performance is on par with my old Pro. The graphic GTX 1070 Max-Q Design in the 15 can't keep up with the Pro's GTX 1080 but the 15's newer CPU easily outperforms the Pro enabling a comparable 3D Mark score (both had scores right around 14,000 with the 15 edging out the Pro by a few points).
I opted to upgrade my 15 by expanding the RAM to 32 GB and upgrading the 512GB SSD to a 1 TB version (the same specs as my Pro has). The upgrade process was straightforward and relatively inexpensive. Interestingly, after my upgrade my 3D Mark score dropped into the mid 13500's. This is probably a driver or configuration issue – I had to reinstall Windows 10) – and realistically we're talking about a single fps loss at the moment.
The Razer 15 doesn't necessarily represent a good value- I don't think that's the market they're after. But as a high quality ultra-portable boutique gaming laptop they remain king of the hill for another year.
Things I like;
Smaller bezel and larger 4K screen
New square design and ultra-compact form factor
Expandable RAM and hard drive
Redesigned heat management (runs cooler than the Pro)
There aren't a lot of things to complain about on the Razer 15 but there are still a few things that could be a bit better:
Shift function symbols are not backlit
Touch pad is finicky (misidentifies my palm as a finger and result in gesture misrecognition)
No backlighting around the touch pad (I liked the feature on the Razer Pro)
No SD card reader or Ethernet jack
Razer 15 System specifications:
Operating System
Windows® 10 Home (64-Bit)
Processor
8th Gen Intel® Core™ i7-8750H processor, 6 Cores/12 Threads, 2.2GHz/4.1GHz (Base/Max Turbo), 9MB Cache
Mobile Intel® HM370 Chipset
Display
15.6″ 4K, 3840 x 2160
IPS, 60Hz
100% aRGB, 16:9 aspect ratio, capacitive multi-touch
Custom calibrated at the factory
Graphic Card
NVIDIA® GeForce® GTX 1070 Max-Q Design (8GB GDDR5 VRAM, Optimus™ Technology)
Memory
16GB dual-channel SO-DIMM (DDR4, 2667MHz),
Upgraded to Micron Ballistix dual-chanel 32GB SO-DIMM (DDR4, 2666MHz)
Storage
512GB M.2 SSD (NVMe PCIe 3.0 x4)
Upgraded to 1TB Samsung 970 EVO (NVMe PCIe M.2 2280 SSD)
Battery
Built-in 80Wh rechargeable lithium-ion polymer battery
Size (Approx.)
13.98″ / 355mm (W) x 9.25″ / 235mm (D) x 0.68″ / 17.3mm
Weight (Approx.)
Communication
Intel® Wireless-AC 9260 (IEEE 802.11a/b/g/n/ac, and Bluetooth® 5 connectivity)
Input & Output
Precision glass touchpad
Built-in webcam (1MP/720P)
Anti-ghosting keyboard with Razer Chroma™ backlighting
Thunderbolt™ 3 (USB-C™)
USB 3.1 port x3 (SuperSpeed)
Mini DisplayPort 1.4
HDMI 2.0 audio and video output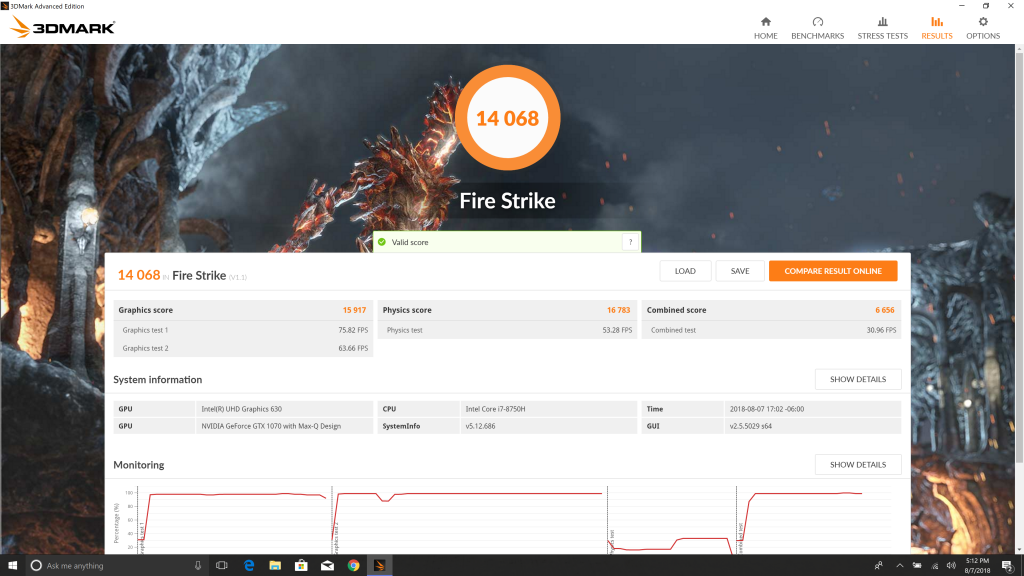 Other Laptop Links:
Review: Pulse 17
Review: 2014 Razer Blade
Razer Blade Pro