Once in awhile we wish we could go back in time and change a few things. A light switch here. Speaker wiring there. An additional electrical socket, a few more bedrooms, a whole different house. Just sometimes. But the truth is, we'll be here for awhile (it would e a shame to uproot our kids). So, may as well make the best of it! We've done a lot o little makeover projects this year. Forgot about the return on investment- these improvements are just things to make us more comfortable.
Fran enlisted our neighbor, an interior decorator named  Stacy Slaney, to redesign our Master bedroom. I'll let the pictures speak for themselves. The redesigned room is warm, comfortable and elegant.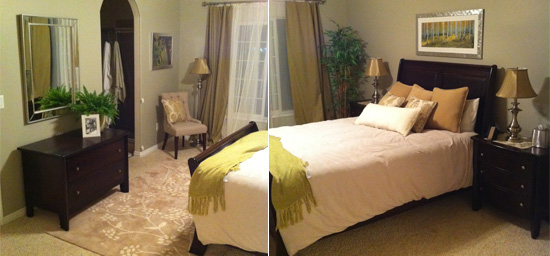 Here are some pictures I borrowed from Stacy's website. I like them better because they show the before & after. It's a definite improvement!


Stacy also added  highlight walls in the kid's rooms (pink in the girl's, blue in the boys').  She  also painted a wall downstairs in the kitchen/dining area with a dark sage.  The new colors really add a depth to house. Who knew painting a few walls could feel so good?
And heat tape. We did it for you. Each year water freezes in our gutters and starts to drip onto the entry walkway. This results in a thick patch of ice affectionately dubbed "the porch of death." We finally did something about it. The heat tape melts the ice on the front portion of our roof and runs all the way through the front gutter system. Fingers crossed. We also had and electrical socket added on the eve so we could plug in Christmas lights. We should have done that when we built the house…
We also fixed our driveway (again). Around here most of the driveways were poured by Hadco. With a few exceptions they are all falling apart. Initially we complained so much that Hadco re-poured our driveway at cost (I think that was supposed to be a secret, but it was still a rip-off  so who cares?). Within a year it was falling apart again (not to mention sinking). So, this time we used a company called RepairCrete to resurface and seal the driveway. Fran had them do the front porch in red with a snazzy texture. It really turned out great. Now we're anxious to see how this holds up during the winter. Is it too much to ask for a good driveway?

Also of absolute riveting fascination:  ceiling fans!  The red one went in the basement (in place of a can light).  The other fan is in the office. It's always too hot or too cold in there so a fan helps us regulate the temperature.  Man, I love ceiling fans.

In an earlier post I mentioned how my "man room" had become the new laundry room. Well, the laundry room finally became a mud room. Classy Closets came by and whipped us up a set of shelves that would put Ikea to shame (and don't get me wrong- I love Ikea). It's really nice to have a place to come in and take off shoes  and jackets. Plus there's a ton of storage space for tools, cleaning supplies and what not.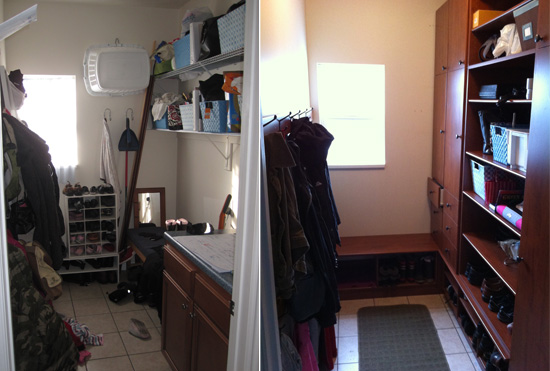 And here's a fun little side project. We redid our floors in granite. Okay, you got me. It was granite laminate. And it was Claire's dollhouse. Fran disassembled it and moved it into the basement. Before reassembling it she wanted to recover the floor (you can clearly see why!). The project ended up taking three hours and I did my usual grumbling and complaining. This is a big dollhouse. Now we need to paint the  roof red. Or maybe just "lose" the roof.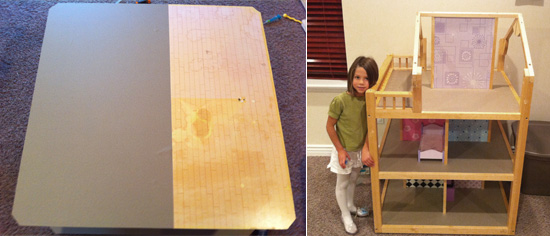 And that's about it for 2010 home improvements. In some ways it's nice to stay in the same house for so long- you get settled in and you can start to make changes you want. And if you're going to stay for a long time you don't need to worry about resellability as much. Do things you like becuase you want them.
---
Posted December 05, 2010