Mechanical watches are cool.  These fascinating little devices keep time (or attempt to keep it) with no battery. Instead they have a spring that gets wound by either manually turning the crown or by movement of the wearer.
Some of the mechanical watches out there have an exhibition feature. This feature allows part of the watch's inner working to be seen through the dial or caseback. I've been collecting these watches for the last decade or so and I was delighted to see that they have finally become trendy enough for Walmart to knockoff!
I was at Walmart and I ran across this little gem on the left. What at first appears to be a nifty peek inside a mechanical watch is actually a static composition designed to fool the casual observer. This is a quart watch and the visible gears and jewels are fake! I have included a picture of a real mechanical watch with an exhibition back for comparision. And yes, I was being sarcastic when I called the Walmart watch a "gem."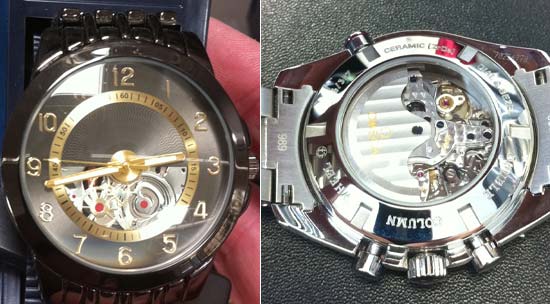 As an aside I have always loved watches (any kind of watch).  When I was little (think late 1980's) I probably had a dozen or so watches. My prized pieces were a watch shaped like an Oreo, A Nintendo Zelda watch (you could actually play the game), a Timex sports watch with a light, a FM radio watch from Boy's Life and a Casio Databank. I was living the good life. I have no idea where those watches disappeared to, but it would be fun to see them again…or maybe not.