I really enjoy running. Sometimes it almost feels like I'm floating along and as the runner's high washes over me everything seems perfect. But some days each step feel like an impossible trek through shin pain and mental exhaustion. I decided that if I was going to keep up my rigorous exercise campaign I needed some variety. After some research I decided that a rowing machine was the way to go. And after more research I chose the Concept 2.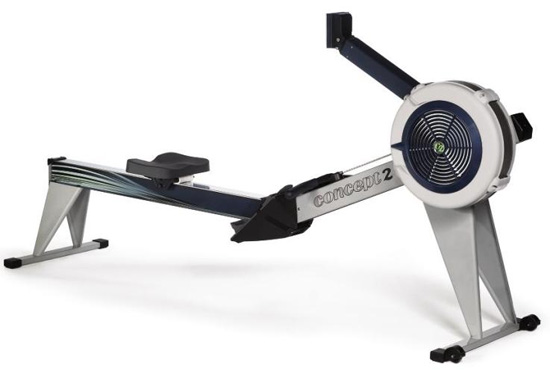 My Concept 2 shipped from Massachusetts the same day I placed by order and took about 6 days to arrive. My unit shipped in two parts. The larger box was well packed  but the smaller box (which contained the legs) had parts protruding. Nothing was broken so it wasn't a big deal but it could have been packed better.
Setup was really easy. Most of the machine is assembled and you only have to put on the legs, the monitor mount and make some small tweaks. The unit is composed of two parts that lock together where the feet strap in. The two pieces can be taken apart and reassembled in just a few moments (great for storage, if needed).  The overall quality of the Concept 2 machine is excellent. All the instructions and illustrations are clear and easy to understand- which is good, since there's a fair amount to learn.
There are a bunch of different rowing machines types- some use hydraulic pistons, other use magnets and even water. The Concept 2 uses air resistance against a flywheel. The rowing motion is quite smooth and the workout can be as hard or easy as you make it (based on rowing intensity). The flywheel is reasonably quiet and I'm able to comfortably hear my television.
The Concept 2 computer is also well designed (mine came with a PM4- the computer you get depends on the model you purchase). The PM4 keeps track of all your rowing sessions and gives you details about your distance, calories and even watts that you generate. There are preprogrammed workouts and even games where you can link up with other players and race. What I like most about the PM4 is being able to keep track of my workout and then re-row them to try and beat my old time. My only regret with the computer is that you can't directly input your weight; the PM4 will give you a calorie burn benchmark and you have to enter that, along with your weight, into a calculator n the Concept 2 website to get your actual calorie burn.
As I mentioned the overall quality of the machine is great. The adustable stirrups and straps lock the feet securely into place and the assembly is rock solid.  The seat is pretty comfortable, although during longer rowing sessions I sometimes wish I had a bit more padding. The rowing bar is very comfortable although I have gotten a few blisters on my hands and fingers (the instructions tell you not to hold the rowing bar tightly and I don't think I have, but my fingers seem to disagree). My only real complaint with the design is this: If you're rowing withyour shirt untucked it can get caught in the seat rollers when you're sliding back. Be sure to tuck it in!
As for the actual workout- it's fantastic. Initially it's a little hard to get the rowing technique just right. And rowing can be hard on the back at first too (my back complained mildly for about a week). One you get into the swing of things though you realize that rowing is nearly a full body workout. As much as I love running, it doesn't do much for my upper body. With rowing I can get a solid arm, chest and back workout in addition to hitting my core and legs. And because you're sitting and pushing and pulling there's very little impact and it's not as jarring as running.  Sometimes I stand up after a rowing workout and it just hits me all over.
I don't burn as many calories on the Concept 2 as I do when I run (it's close though), but I really like the variety. And more importantly I like the ability to workout my upper body and give my legs a break from running. Bottom line, if you're looking for a low impact exercise, a full body workout and a way to quickly blast calories then I can wholeheartedly recommend the Concept 2 rower.
And as a quick follow-up, I am now well into the 230's. Success is close at hand!
---
Posted by Cam, May 30, 2011