Anyone else play Plants Vs. Zombines on the iPhone? It's incredibly addicting!  I love tower defense games to begin with but Popcap's version has so many extra elements and such polished gameplay that it outshines it's rivals. If you haven't tried it yet I'd suggest you get a copy (it's only $2.99 in the app store).
For those of you who aren't familiar with the game the premise is simple: Zombies are trying to eat your brains. They attack by making their way across your lawn (and later your back yard and roof) toward your home. If they get inside your house you're done for. Luckily you have plants you can use to stop the zombies from reaching your brain. You strategically place your plants on the lawn and they attack the waves of zombies. If the zombies are successfully repelled then you win! That's fun, in and of itself, vut Popcap has loaded Plants vs. Zombies with power ups, achievements, mini games and even a Zen garden in their latest update. Lots of replayability.
Luckily there hasn't been a update recently so I've got things under control. That means I've completed all the achievements, won all the mini games, bought all the powerups and even completed my Zen garden. I confess that I spent a fair amount of time on the garden. I actually did a lot of Googling to see if I could find a few pointers and tips about the iPhone Zen garden, but I came up dry (in fact I didn't find any completed iPhone Plants vs. Zombies Zen gardens). That being said, I wanted to post pics of my Zen Garden and answer the questions I had. Maybe it will help someone else.
Q. What is the Plants vs. Zombie Zen Garden?
A. One you have beaten Plants vs. Zombies  it unlocks a Zen garden where you can collect plants from the game. There is a section for regular outdoor plants, a section for mushrooms and a section for aquatic plants. The mushroom and aquatic gardens must be purchased.
Q. Where do I get plants?
A. You can occasionally buy plants from Dave (the gifts) but they also appear randomly while you play the regular game or bonus games.
Q. Which plants do I need to get?
A. Take a look at the images below to see what plants you need to complete your garden. There are extra spaces in all but the mushroom garden. If it's not in the picture don't expect to get it. As an aside, you can make a ton of money growing plants and them selling them to Dave (check out my moola cache!).
Q. Is there a faster way to get plants? I'm sick of waiting for the present to respawn.
A. Patience is Zen virtue. But yes, there is a faster way…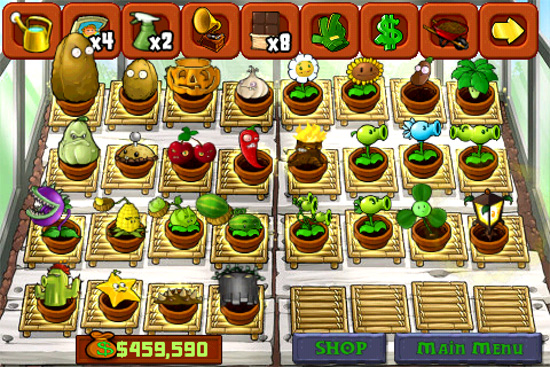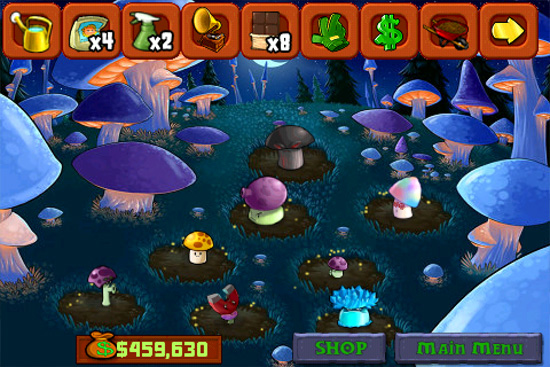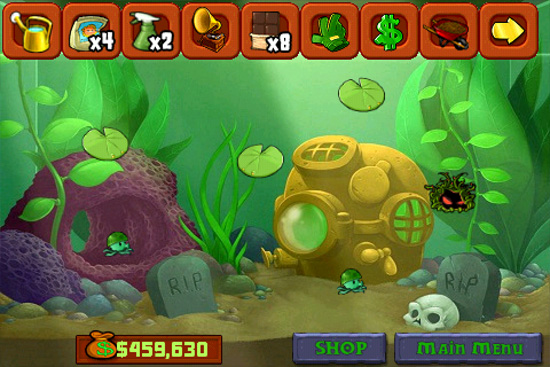 Once you have all the plants you can get you're rewarded with the "Enlightened" achievement. I don't know why I care, but getting this made me really happy. So there you have it- my Plants vs. Zombies Zen Garden for the iPhone. Check it out!
---
Posted by Cam, July 7, 2011