This is pretty much the coolest thing ever: A fully functional vintage 1994 Apple Powerbook 520C. And it's mine. All mine!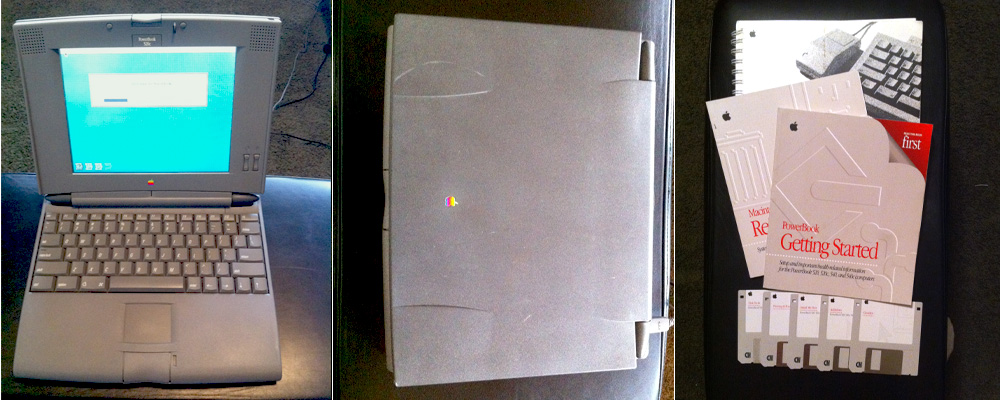 I have always loved laptops. When I was a kid I'd force my parents to take me to the bookstore where I would buy a copy of "Computer Shopper." One day in the early 90's while reading the magazine I came across the first Dell color laptop. I knew (knew) that a color laptop was in my future.
Around this time we inherited a Macintosh IIx from my Uncle. I loved that Mac. The interface was simple (remember, people were still using DOS back then), there were awesome games (Prince of Persia) and productivity software (Claris Works). I was totally hooked.
Fast forward maybe a year. Apple released their new laptop line- the 500 series. A Macintosh color laptop- it was my destiny. I bought up every magazine with a review of the 500 series I could find (I actually still have one- you can read the article if you'd like). There were four models: 520, 520C, 540 and 540C. The "C" was for "color" so I knew it had to be one of those two.
The 520C had a dual scan passive matrix screen and the 540C had an active matrix screen. I'd read enough to know that the active matrix screen would be substantially better than any passive matrix counterpart. The 540C also had a faster processor. But the 520C was nearly $1500 cheaper than the 540C and so I decided I'd have to settle for the lower end model. I made many trips to the BYU bookstore to handle the Apple laptops and "test" their trackpads (although standard now, these were a big deal back then).
But my destiny would have to wait. I schemed, plotted and planned but, as a teenager, I simply had no access to the $3000 I'd need to procure the 520C. The model was discontinued in 1995 and a few years later I bought my first color "PC" laptop from a now defunct company called ProGen (side note- I have always used a laptop since). But I never forgot about that 520C…
Years passed and I finally decided it was time to buy the Apple Powerbook that haunted my dreams. I scoured eBay looking for the perfect model. I scoured… and I waited. Years passed. And then I found it. A 520C in good functional condition with all the user manuals and even the installation disks! I knew it was going to be mine.
I placed my bid for $20 and waited for the onslaught of other bidders. But they never came. I scored this beauty for $20 (I've seen broken models go for more). Sure I had to wait 17 years, but I saved $2980! Destiny fulfilled.
It finally arrived a few days ago. It was in surprisingly good shape given how old it is. I gave the exterior a good cleaning and then sat down to turn it on. As the screen lit up nostalgia consumed me. It was just like I remembered. The eBay listing had noted the trackpad was finicky, but it worked perfectly. I browsed around the 520C, cleaned up the desktop a bit and discovered a copy of Claris Works was installed! I made sure the disk drive worked and then ordered an 8 megabyte RAM upgrade ($10) and a couple of games that I had enjoyed on the Mac IIx when I was younger (Scrabble & Where in the USA is Carmen Sandiego). I am stoked!
So that's my story about the Apple Powerbook 520C. I'm delighted that I finally have one. Sure I bought it to satisfy some unresolved emotions, but the weirdest part is that I'll probably use it frequently. So, one last thing: Who else? Who else has bought something they missed out on when they were younger? I'd love to hear some more stories.
Update: I upped the RAM on my 520C to 12 MB (my current laptop has 8 GB… kind of blows my mind). I also installed Scrabble and played it for a bit (lost). Can't wait for Where in the USA is Carmen Sandiego to get here.  I'm also looking for a good copy of Sim City 2000. This is living.
---
Posted by Cam, September 10, 2011