I saw this mod mentioned on CorvetteForum.com and it looked like a fun project. I actually had no idea there was an accent LED!  The light is located on the clip that holds in the passenger sun visor (it's a super dim orange bulb). Taking off the visor clip is cake. Just use a Torx 15 on the screw and carefully pull out the harness.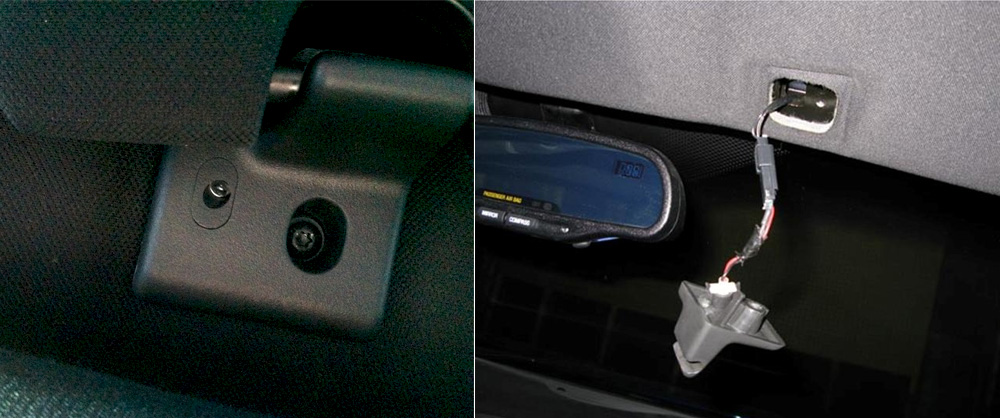 Now the fun part: Pick out your new accent LED. You'll need a 5mm sized LED. You can find these at Radio Shack or online from websites like SuperBrightLEDs.com. LED color choices are plentiful and the accent light can be as dim or as bright a you want. Light output is measured in mcd's (millacandelas). The more mcd's your LED has the brighter it will be. For reference I used a red 3000mcd LED from Radio Shack. The bulb simply pops right of the plastic harness. Just cut the contacts on your new LED and pop it right in.
The voltage going into the accent LED (from the car) is about 7.6 volts. Depending on what LED you pick you may need to replace the resistor. You can find online calculators (such as www.led.linear1.org/1led.wiz) to help you figure out which resistor to buy. If you decide to use a new resistor simply snip out the old one and solder the new one in its place. I used a 220 Ohm resistor with my LED. One you make the mods just put your LED harness back in and try it out. If it's too dim or too bright you can try different bulbs until you find just what you're looking for.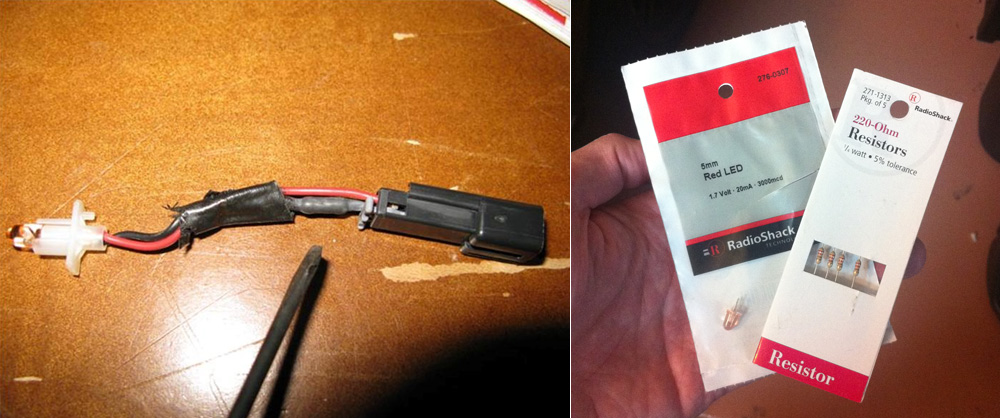 And here is the finished result. My goal was to produce a good amount of red light to illuminate my center console. Overall I'm really pleased. I just put in some Autometer ES series gauges and this is a great way to balance the the red interior lightning. Even though the light is fairly bright it's not distracting at all. Other people have done blue but I haven't seen any other pics of red yet. This is the cheapest ($3), fastest (10 min) and proportionally satisfying (9/10) mod yet!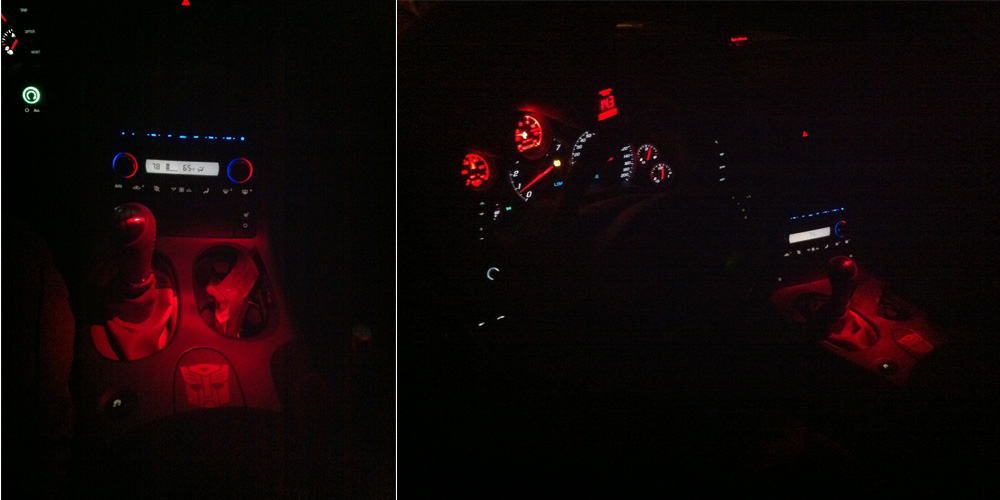 This might be my last post for a bit- we just had a beautiful baby girl and the holidays are coming (I'm in retail and this means way more work). Time will probably be in short supply for the next few months.
---
Posted by Cam, October 20, 2011
This project was originally suggested by DSteck over at CorvetteForums.com. He posted a great tutorial about how to swap your C6 Corvette accent LED. I used a couple of his pictures here in my blog post (with his permission). The source post has some interesting info that's not included here so it's worth a look.