First a "thank you" to all our soldiers who have served and helped to shape this great country.
I decided it was important to spend the day with the family- moving tires and boxes to a storage unit could wait until another time. We started the day off with a trip to Fran's favorite restaurant, The Sweet Tomato. It's a buffet with salad, soups, pasta pizza and some desserts. The pasta is lackluster, but everything else is really good.
After lunch we visited the Living Planet Aquarium. What a cool place!

My wife and kids have been there before, but this was my first time. When I was on business in Georgia I visited the Georgia Aquarium in Atlanta. The Living Planet Aquarium is much smaller, but I thought it was just as fun.
The Jelly Fish are so weird, but they are mesmerizing:
The Lion-fish are beautiful but extremely poisonous:

All kinds of cool underwater life:

You can pet a Manta ray too:

And they even have penguins! These guys are adorable. You almost want to take one home with you:

And the otters. These guys were as cute as the penguins. I'd probably take one of each home. Wonder if they would fight?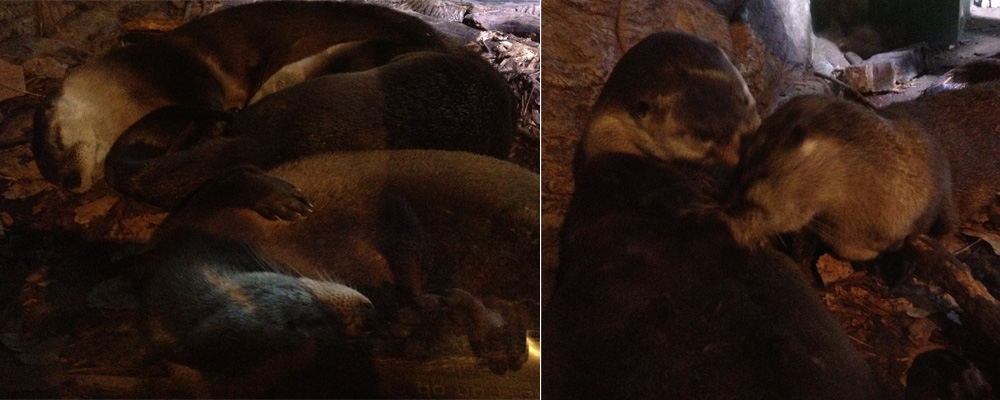 The aquarium is absolutely worth visiting. In additions to fish, sharks, turtles, otters and penguins they have a spiders, snakes, frogs and other really cool underwater life. Now I'm excited to visit the zoo later this year.
One the way home we swung by REI to get the kids hiking shoes (kids grow- really aggravating). I've never seen the store that crowded. I should have taken a picture of the line we stood in.
I took the kids with me to run some errands (well, Gabe was asleep at this point) and they "helped" me wash the truck. I love my kids, but I got so sick of hearing "I want a turn" and "Let me try" every single time I switched the wash settings.
After we got back Fran too the kids hiking with her sister. And I got those tires and boxed moved. A fun day, if ever there was one.