I recently got a set of Lloyd Mats for my Camaro– really happy with them! So, I decided to get a set for my Vette too. Tthe driver-side mat was in pretty bad shape and years ago I had quickly cut the old trunk mat to fit around my sub & amps and the sloppy job had bothered me ever since.

I picked black for the new mats. After reading that the Lloyd ebony mats weren't a good color match I decided black would be a nice accent.  When I pulled the old mats out I was actually surprised to discover that the old driver and passenger mats were black and that they didn't match the old trunk mat. Huh. Never noticed that. The new front mats look just like the old one and went in without a hitch. But the new trunk mat was going to need some work. And this time I was determined to do it right.

I tried to be extra careful, measuring things so many times that it made me crazy. You need to cut carpet like this just a touch too big do you can tuck it against the other carpet so it appears to be seamless.

This is so much better. Now it looks like someone cared.

Before & After. The colors on the pictures are somewhat messed up. In real life the mat on the left is ebony with a hint of olive green and the mat on the right is a nice solid black. The iPhone camera seems to have some consistency problems when photographing different shades of black.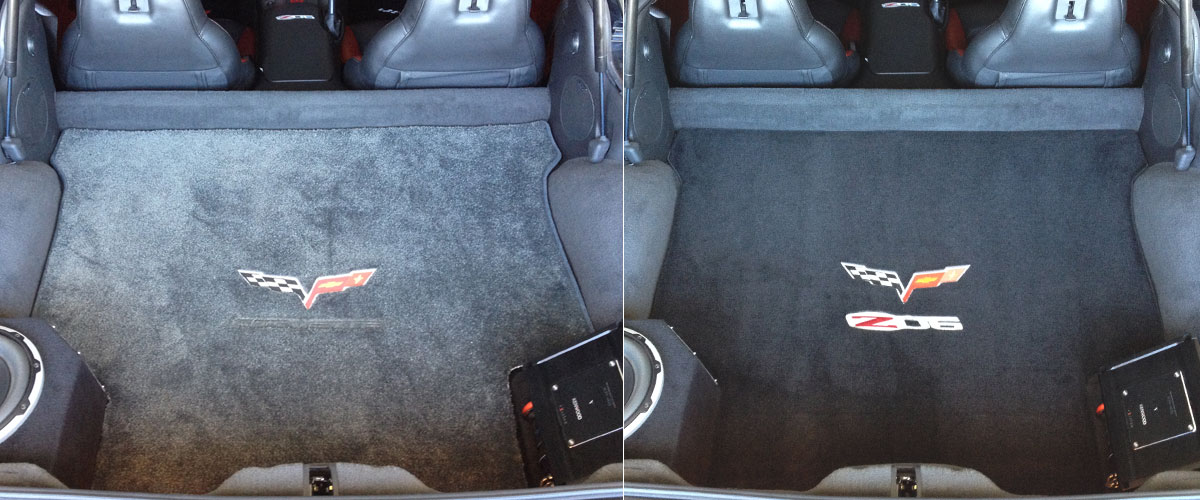 Anyway- one more cosmetic issue resolved. In fact, cosmetically I'm really happy with the car. I do think I might put on a ZR1 spoiler though.
---
Posted by Cam, July 15, 2012