I bought a Ford Raptor. That's right- I'm a Ford man now. My apologies to all the Ford people I have teased and hurt over the years. I thought it was my unspoken duty since I didn't actually own a Ford… I see now that I was wrong (so wrong). The Raptor is an amazing truck and I am thrilled with this purchase.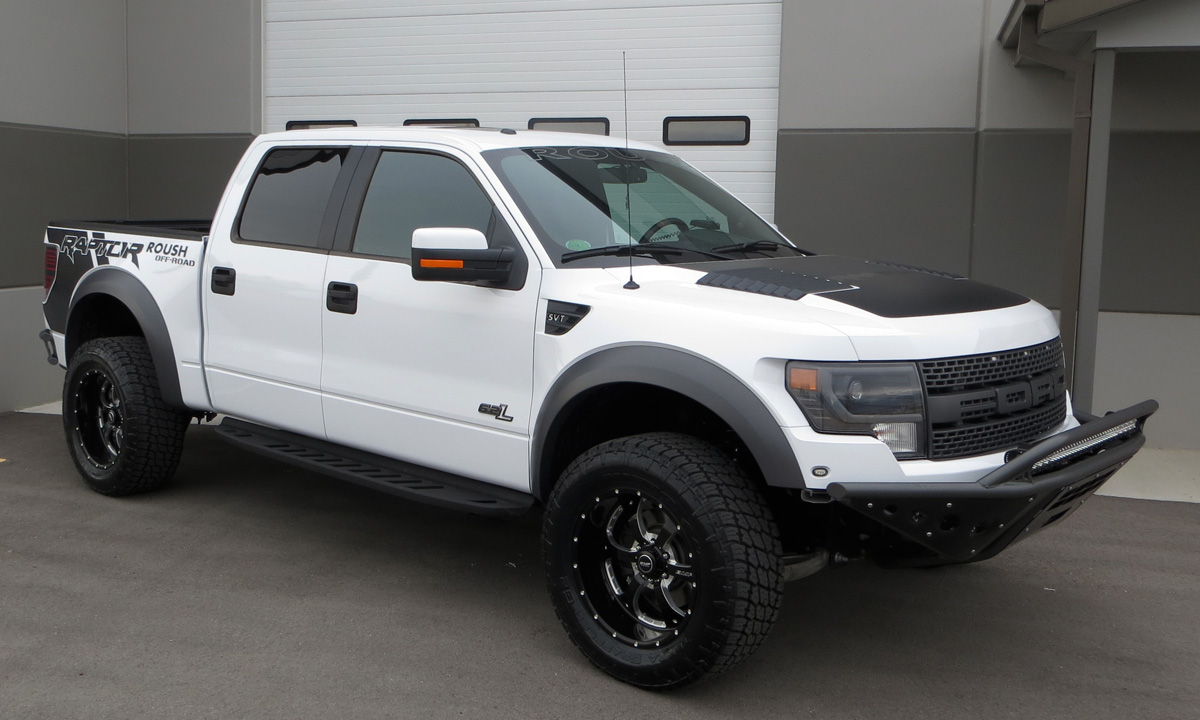 I've actually wanted a Raptor for a long time. After I sold my first Tacoma I looked at them seriously and even test drove a couple. Ultimately I went with another Tacoma due to size restrictions (a Raptor would not have fit in my last garage). Later after selling all my cars I looked at Raptors again but decided to stick with my Tacoma and get a new car. And that's what I tried to do.
Confession time. Back in early July I actually ordered a really nice car. "Two to three months," they said. I was okay with that. And so I waited. And waited. And waited. After nearly four months I wasn't any closer to getting a car (due to "allocation decisions" the manufacturer hadn't even picked the order up from the dealer for manufacturing). I was pretty turned off and so I started to look around again. And that's when I came across the perfect Raptor…
White, Roush off-road package (supercharger!), sweet upgraded bumpers, massive light bars- it was the one! I know from having watched Raptor listings on dealer websites that they typically don't last long so I jumped on it ASAP.
I bought the truck from Ken Garff Ford and I have to say that I had a fairly pleasant experience. Everything was super laid back- no pressure (maybe a little too laid back). Everyone was helpful and friendly and they made the negotiations, trade in process and paperwork fairly painless. I was even able to purchase a official Roush warranty through the dealership for extra peace of mind. So far I've had my truck to the dealer twice for service issues and modifications and things have gone pretty well (I did run into a couple of issues on my second trip but they got things nicely resolved).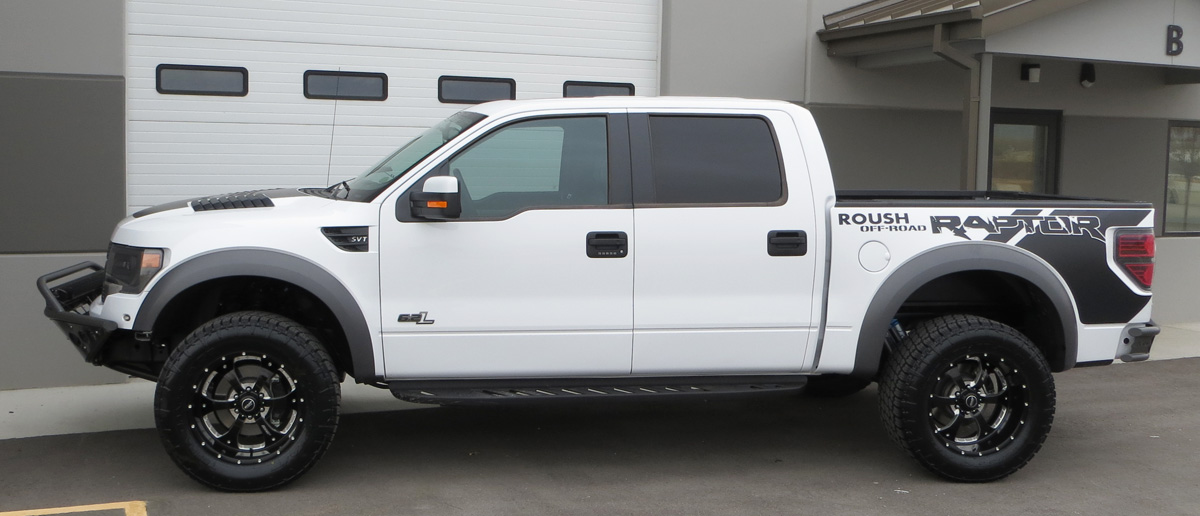 Visually there's a lot here to enjoy. I love the look of the Raptor's exterior- it's big, aggressive, sporty and to me the front grill and wider stance looks way better than a regular F-150. I had the front end on my Raptor raised to level it out a bit. I'm not totally sold on the bed graphics but I think they will grow on me.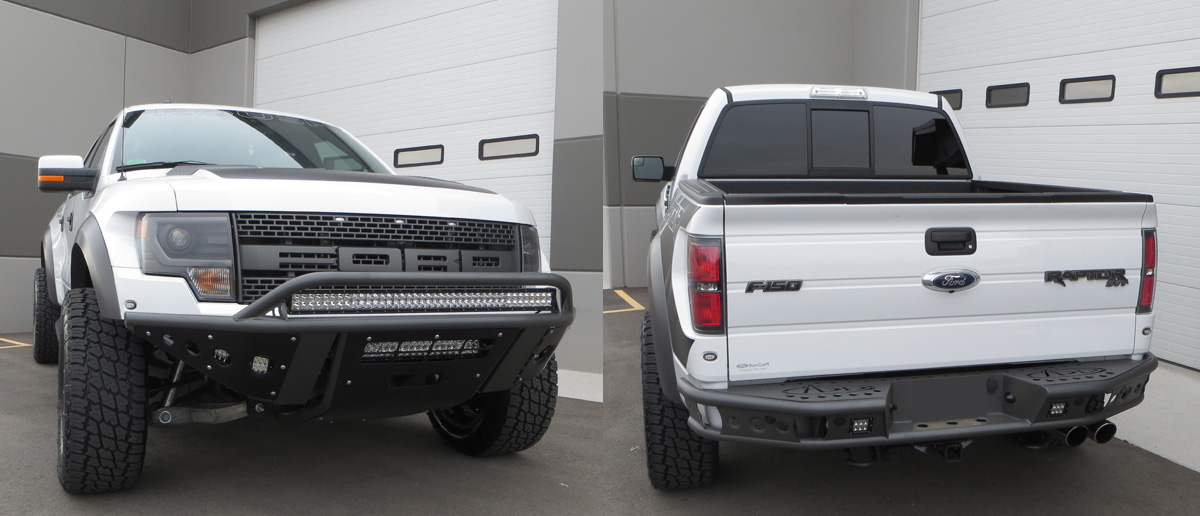 I think the Addictive Desert Designs bumpers and Rigid lights in the front (and back) kick the visual appeal up a notch. And the bumpers make me feel like if I get in an accident I'm driving home and they aren't. The LED light bars are super bright- probably a little overkill (total lumen output is rated at 25,000+). I'm really excited to take this truck off-roading (Baja 1000! Just kidding).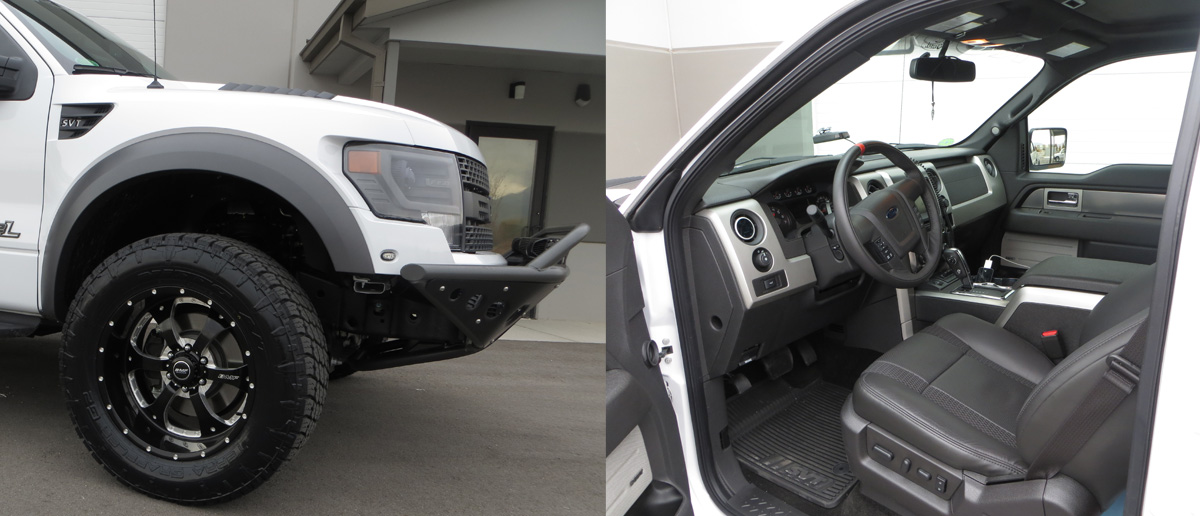 I had Ken Garff Ford put on 20 x 9 BMF Novakane rims & 35 x 12.5″ Nitto Terra Grappler G2's. Originally I'd wanted the rims blacked out but the wait time was 3-6 months. I opted to get BMF's "death metal" two tone finish and I really like it. The offset on the rims pushes the tires out a bit past the bumper which I like as well.
The interior is classic black (with some silver trim)- in some ways basic, but very functional. Nice layout, comfortable power seats (heating and cooling!) and lots of cabin headroom even with a sunroof! I don't know why but I love sunroofs. The gauge cluster and the interior technology are light years ahead of my Tacoma. The stereo isn't bad either- I think it just needs a better subwoofer (I'm on it!).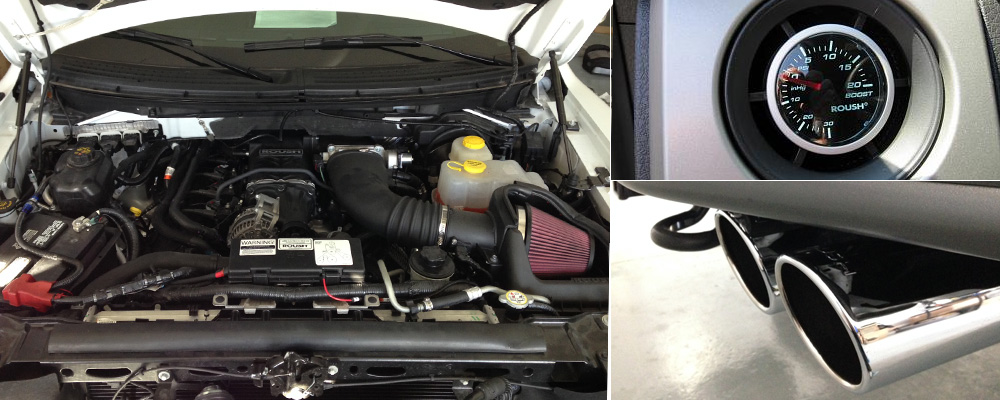 And of course the Roush Phase 2 kit. The supercharger bumps the power output to 590 HP and 590 lb ft of torque (crank- and probably not that much at Utah's elevation). I am wary of modifications like this after what I've been through but having a warranty helps me feel okay about it. The kit also includes a cat back exhaust system that enhances the audible rumble from the truck (and creates a small amount of drone at certain RMPs), a boost gauge, embroidered head rests and window and bed decals.
I haven't had the truck too long at this point but my initial impressions are almost all positive. The handling is exceptional- much better than my Tacoma. Given it's size the truck feels surprisingly agile and solidly planted to the ground. After changing wheels and raising the front suspension the ride is a bit stiffer but that suits my preference perfectly. Very happy with the drivability.
And, for a truck, the the Raptor is fast (owing that, in part, to the supercharger). I had to pull off to the side of the freeway and when I merged back on I was impressed by the acceleration. It's not a race car, but it might just be a race truck.
There are some little things that bother me. For example the 12V power plugs are always on so I can't leave any accessories (i.e. a radar detector) plugged in. And even though the car keeps track of nearly every operating parameter there is no easy way see some things (i.e. a digital speedometer or tire pressures). I also wish the truck had side collision detection. As I said, all little stuff.
Overall I'd put myself deeply in the "fanboy" camp. At some point – after I've owned it for awhile- I'll do a more in depth review (I'm probably lying). Bottom line: this is a great truck with some exceptional features. For now it's going to be my only vehicle (I cancelled my car order) and that's just fine with me.
First Meeting: