The Racelogic VBOX Sport is a must have for any driving / racing enthusiast. If you're like me you want to know your 0-60 and you need your quarter mile time and trap speed to compare with your friends (okay, not really). Sometimes it's hard to get out to a track and the VBOX is the next best thing. Using GPS signals it logs your acceleration, braking and speed data for predefined and user designated parameters.
The construction quality is excellent and the unit feels solid and is well designed. The Sport is water resistant so it's possible to take it on a boat or jetski and it would fare well off road (in a dusty environment). I purchased the optional suction cut windshield mount and it is similarly well constructed and has worked flawlessly. Although the VBOX sport doesn't have an integrated screen it connects to an iPhone or iPod via Bluetooth where the information is displayed.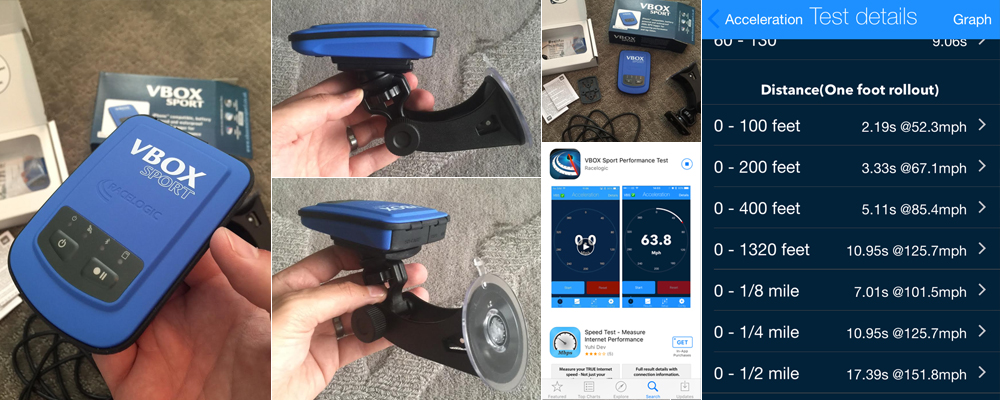 The unit's operation is pretty straightforward: Once the Sport is turned on it acquires the necessary GPS signals. From there you simply pair it with your phone allowing you to start tests and review results. I've only had one pairing issue and it was easily resolved.
Accuracy should be quite good given the technology employed by the VBOX Sport. Users report that times and speed are fairly close to what is run on actual tracks (less than a 1% margin of error). I've posted the best results I've gotten in the Turbo S (so far) below: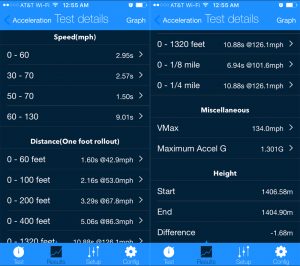 10.88 at 126mph! I know the times shown by the VBOX are in the right ballpark since I have actually recorded a few of my quarter mile runs (prior to having the Sport) but I'd be really curious to see what the car would run at out local track. I have also tried the VBOX Sport out in my truck and the results seem spot on.
As I said, this is a great unit. It's not cheap but I think it's absolutely worth the price and is a valuable tool that any modder, tuner or racer will appreciate (check it out at Racelogic's website). If anyone in Utah wants to use my VBOX please – especially if you're planning to go to the track- please hit me up!
Overall Rating: 9/10