This is a post I've spent six months contemplating. I still don't really want to write it, but I feel the need to chronicle parts of my car's resurrection. Let' start at the beginning (I'll make this quick)…
Back in September of 2019 I crashed my Porsche Turbo S. It wasn't a bad crash- I was driving in on unfamiliar county roads, didn't realize the road turned, hit a sign and rolled off a small hill. No one was injured. The police decided to get involved and my car was impounded. I was charged with several crash-related crimes. Not my best month.
Eventually I got my car back. It was taken to Alpine Auto Renovations, in SLC, to assess and repair the body damage.
I hired a lawyer, Stephen Fraizer, and worked to get get my charges sorted out.
On 12/12/2019 I got word that that my car would be fixed. The total damages came in around $70,000. Ouch. That's quite a bill for hitting a sign (although rolling off the hill didn't help).
In January of 2019 Stephen let me know that the court had agreed to drop the reckless driving charge if I agreed to plead guilty to leaving the scene, pay the fine and take an online traffic course. I made the plea in abeyance; So long as I'm not found guilty of  additional crimes in 2019, the charge will be dismissed. I took what ended up being a six hour online course (admittedly, one that I needed). With the legal troubles out of the way my focus returned to the car.
Time passed. Parts were ordered, installed and painted. And in between each step it felt like an eternity. Even now, looking forward, all I can see is an endless tunnel.
The car is now up at Lehi Porsche for airbag replacement, suspension component replacement and some power-related goodies. However, I don't even know when we'll be able to start on the rest of the work. Currently there is a raging COVID-19 pandemic. One of the companies I'm working with, ByDesign, is in California and they are dealing with a lion's share of the corona virus difficulties. The state is under a "shelter in place" order, businesses are closed, things feel bleak.
Here at home I just got word that my mechanic, Dagan, will be out of commission for six weeks following back surgery. No one else can touch my car though so that will have to wait. People over projects and parts.
I'm hoping to start work on my YouTube "Resurrection" series next month (really in just a few days at this point). I don't know if there will be a happy ending in time for the Limitless event, but hopefully it will make for some good entertainment. (7/11/2020- I've had zero time to work on my YouTube channel)
Maybe I'll email my insurance company and see if there's any kind of relief from this situation. Knowing what I know right now,  I might have opted to total the car instead of pushing for a repair. Hindsight. On the other hand, waiting won't kill me, and good things come to those who wait, right?
Update 4-25-2020: We're working our way through the crisis here in Utah pretty well. I think, overall, we've managed the corona virus appropriately. There is nothing my insurance can do for me at this point; My only option is to move forward. Dagan is recovering well and parts for the car's next transformation have finally arrived. Let's see if we can bust this out before Limitless in June. If there is a Limitless…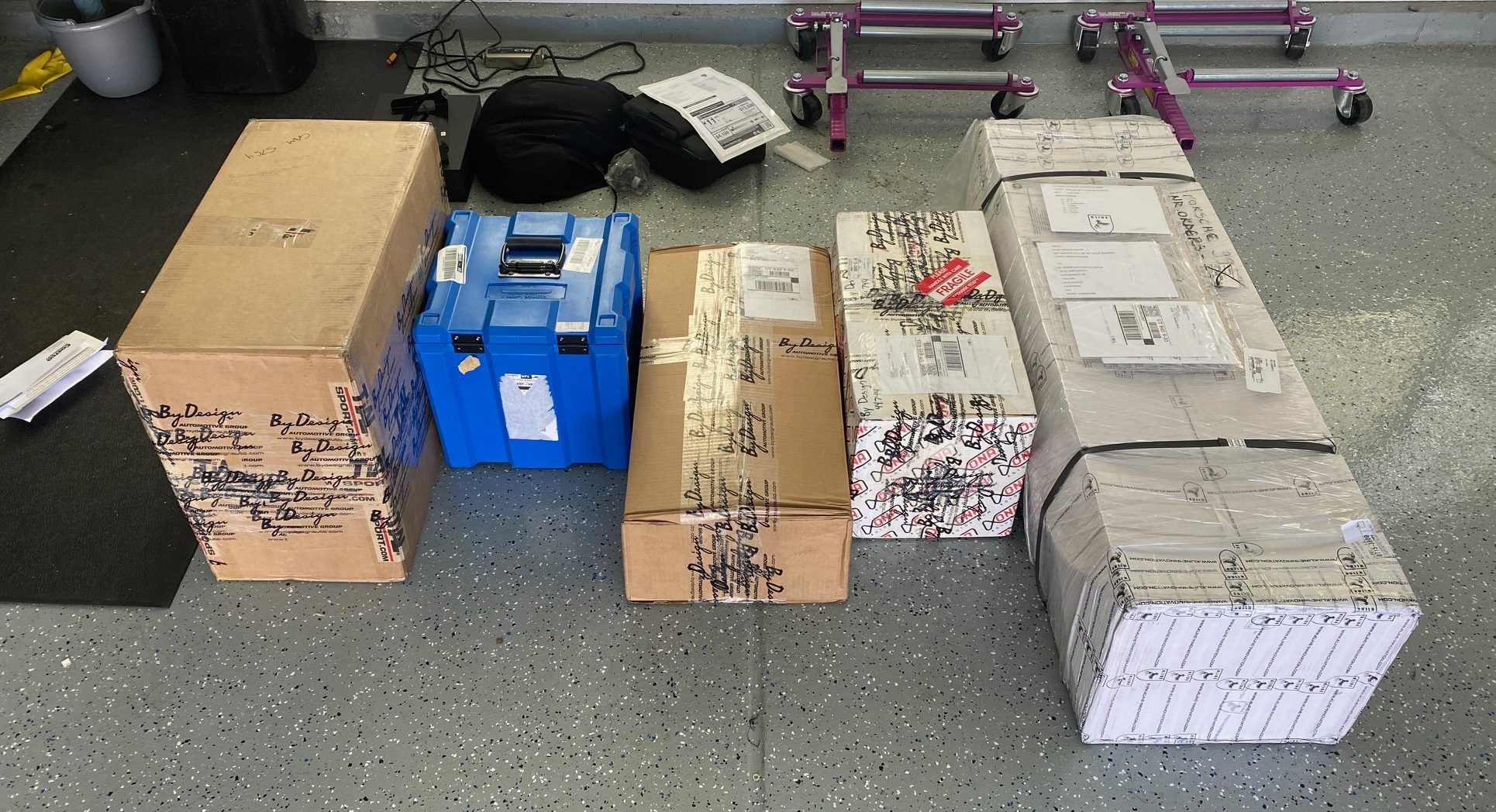 Update: 5/22/2020 – Dagan can come back to work on June 10th (he actually wasn't able to come back until the end of June). I don't think there's any way to get the build done before the event. It doesn't help that there's really no Limitless audience this year- it's not worth it to push hard to run a car that no one will get to enjoy. So… I'm okay to wait on the build and do it right. She's nestled safely at Lehi Porsche for the time being. I miss this girl… but she'll be back, better than ever.
July 15, 2020: We had a little scare / hiccup. Dagan was able to start working on the car last Wednesday and discovered we're missing some parts to get it put back together (some not bid out, some not ordered and some returned by mistake). Some of the missing items were interior pieces (i.e. dash) so there was some concern that they might not be immediately available. In the worst case we were worried that insurance wouldn't cover additional costs and the car could still be totaled.
However, it sounds like the insurance authorized the missing pieces and labor costs and the repairs are moving forward 😅