Here's the reality: The new Razer Blade 15 4K OLED model isn't much different from the last model I owned. The "only" changes are a better GPU, a slightly newer CPU, the 4K OLED screen and a small, but not unimportant, cosmetic upgrade. These revisions do not necessarily represent a good reason or value if you're moving from the laptop I previously used (and for the record, that's not why I migrate). However, if you're fascinated with emerging technologies this is a laptop worth checking out.
Let's start with the big one: The OLED screen. In a word: Wow. I have been watching television on a 60″ LG OLED TV for the past couple of months and it's breathtaking. The 15″ 4K Samsung screen on the Razer is no less breathtaking and it's difficult to believe how far screen technology has come (for some reason I've had the image of a CRT laptop stuck in my head for years).
The level of color richness is intense- maybe even a little exaggerated (which you could always adjust if you hated the insane level of beauty). To be fair the color on some LCD screens comes close, but in terms of contrast there's just no contest. The Razer's screen has no edge bleed and, when watching HDR content, the black screen is nearly indistinguishable from the bezel (this is an excellent OLED screen demo). Color evenness and brightness are excellent and my screen, so far as I can tell, is defect free (pixel density is so high I doubt a single dead pixel could be easily seen with the naked eye). Overall, a very solid win.
It's not completely perfect thought. Past OLED panels have suffered from screen burn in. That's a TBD issue at this point, but a computer screen has many static components (hey Windows bar, I'm looking at you). Also, while OLED screen are more energy efficient when showing black (as the pixel is effectively off) they consume more power than LCD counterparts when showing white. Thus far in my testing the new OLED Razer has shorter battery life than the my previous model. Finally, there is a strange, almost unnoticeable flickering effect when scrolling through dark images on a white background and even sometimes while typing or selecting text (I changed my screen to 59hz and turned off the screen refresh in the Intel graphics control panel- this seems to have eliminated the typing flicker which was my biggest concern).
Out of the box the Razer 15 ran a respectable 16463 in 3DMark's Firesrike. After a RAM upgrade (16GB to 32GB) and an SSD swap (512GB to 2TB) the computer managed a 16108. This drop may be a software (driver) configuration issue – I had a hell of a time getting everything loaded back onto the computer and working so there's a chance I messed something up somewhere. Still, this is a fairly mild performance drop and not something I'll worry about too much while I work to sort it out. I ran the Firestrike test several times and, oddly, the score was better with the Razer Synapse performance modes set lower (follow up: after more tweaking this was not an ongoing issue).
Based on my very limited 3DMark testing the GPU is a solid step up (the RTX 2080 scored an 18912 vs the GTX 1070's 15917). However the CPU-intensive physics score seems to take a significant hit compared to my previous computer's performance (the i7-9750H posted a 14348 compared to the i7-8750H's 16783). I definitely have some questions about what may cause this performance drop (I know Razer is undervolting the CPU but it shouldn't affect the score this much). Overall the performance on this new Razer is more than sufficient for my needs. I'm not a huge gamer but I tried out my go-to favorite, Doom, at 4K and it played well and looked incredible- that contrast!
3DMark Follow Up: I changed a couple quick settings and I came up with this new run. The surprising thing here is that g-sync is on (or, at least, it thinks that it is). What's even more surprising is that there's no way to enable / disable g-sync in the Nvidia control panel (the "display" portion of the menu isn't there). After fiddling with a few more setting I ended up with the following run. Bizarrely I didn't get a g-sync warning and the while the graphic portion of the score is higher the CPU side of things has tanked a bit. I would love to understand what's going on (tell me, dammit!).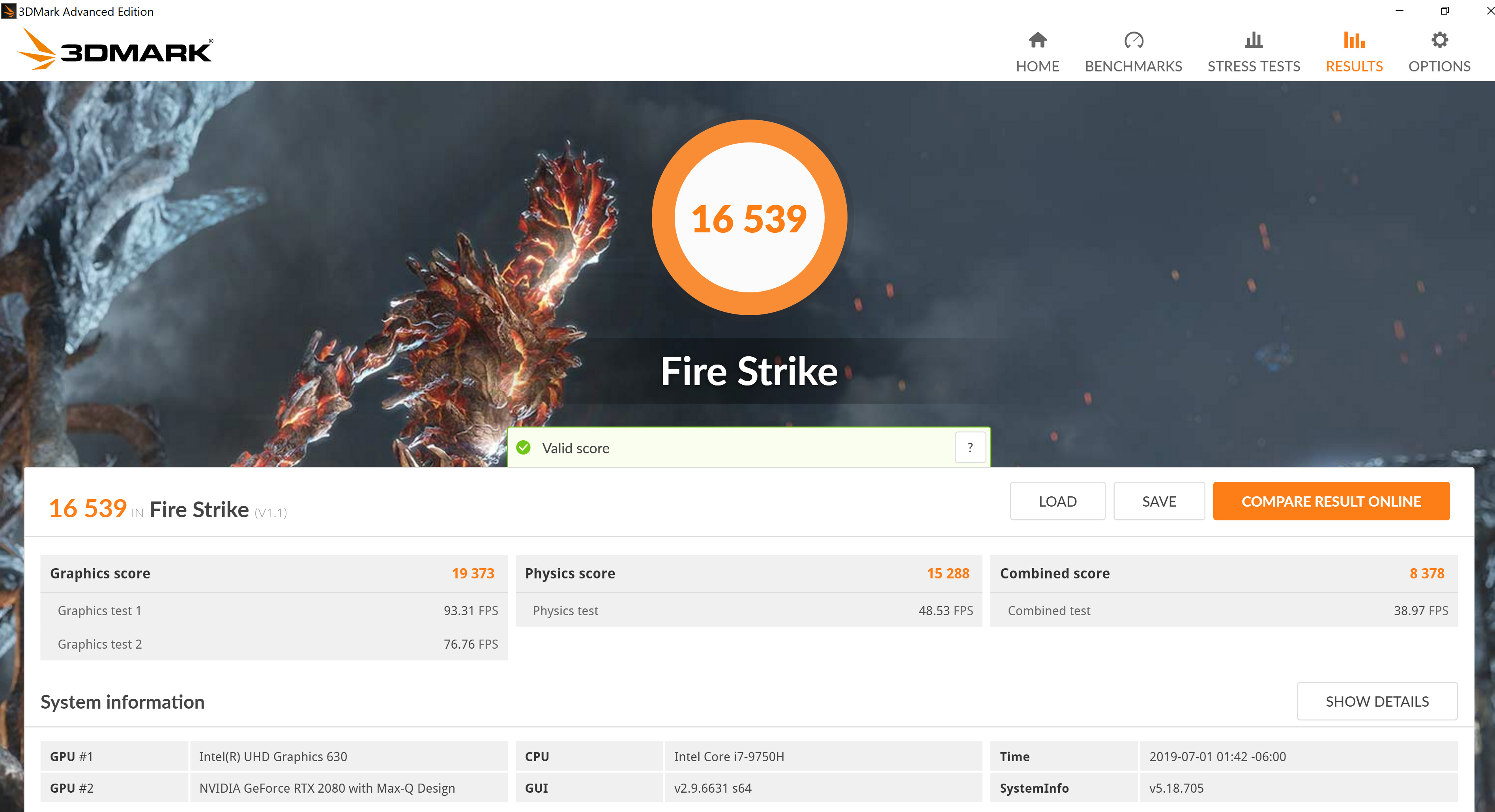 So… what did Razer get right? It's a big one for me because I work in the dark so often (physically and metaphorically). All of the keys are their respective functions are now backlit. It's small modification but it will make things so much easier in low light situations.

Aside from the keyboard illumination this new Razer is nearly identical to it's predecessor. Scratch that- it is identical. There's very little point in covering it's appearance, build quality, etc., because none of those aspects have changed. I will restate that it's a beautiful looking laptop.
My gripes with the model are still the same as before. I'd like an SSD card reader and a network jack. I'd also like to see some better thermal control on the left side of the palm rest. When doing day to day tasks it heats up a bit warmer than the right side. This is not to say it's uncomfortable, but the inconsistency is off-putting.
We've come a long way from my first Razer. In my opinion, the new Razer 15 4K OLED  (2019) is exceptional and, for the time being, about as close as you can get to a perfect portable workstation. The performance increase is respectable and the OLED screen is something you have to see to believe. No regrets on this one.
Model: Razer Blade 15 – Advanced Model
OS: Windows® 10 Home (64-bit)
Processor: 9th Gen Intel® Core™ i7-9750H 6 Core (2.6GHz/4.5GHz)
Graphics: NVIDIA® GeForce® RTX™ 2080 with Max-Q Design (8GB GDDR6 VRAM)
Display: 15.6″ OLED 4K Touch 60Hz, 100% DCI-P3, HDR400, factory calibrated
Storage: 512GB SSD (NVMe) / Upgraded: 2TB Samsung SSD (NVMe)
Memory:16GB Dual-Channel (8GB x 2) DDR4 2667MHz / Upgraded: 32GB (16GB x 2)
Battery: 80Wh
Keyboard: Per-key RGB powered by Razer Chroma™
USB 3.2 Gen 2 (USB-A) x3, Thunderbolt™ 3 (USB-C)
Wireless: Intel® Wireless-AX200 (802.11/a/b/g/n/ac/ax), Bluetooth® 5
Webcam: Windows® Hello built-in IR HD webcam (1MP / 720P)
Finish: Black with backlit green logo and green USB ports
Dimensions: 0.70″ x 9.25″ x 13.98″ / 17.8mm x 235mm x 355mm
Weight: 4.83 lbs / 2.19 kg
Other Laptop Links:
Apple 520C
Apple 540C
Review: Pulse 17
Review: 2014 Razer Blade
Razer Blade Pro
Razer Blade 15 (2018)
Razer Blade Stealth (2019)