Cellular phones have come a looooong way. Fran was the pioneer in our family, adopting one when they were still brick-like and cost two small fortunes. Her phone made and took phone calls… and that's it.  Kind of unreal. Then there was the whole Pocket PC craze (remember the ipaq- why?!). Then the cell phone and Pocket PC were merged into one mostly harmonious whole and we achieved "nerdvana" (that term was coined by Scott Adams in his Dilbert cartoon strip).
Nearly eighteen months ago I got the Sprint HTC Mogul (below left) and I wasn't sure how things could get any better. Then along came the Apple iPhone (below right, as if you didn't know). It was sleek, easy to use, versatile, and inexplicably it was only available on the AT&T network.  I was still happy with the Mogul… I had high speed Internet. Then along came the 3G iPhone. Now they had high speed Internet too! Meanwhile my phone began to slowly die. One day after the seventh reset I decided that maybe an iPhone was in my future after all.  But I still had 7 months left in my Sprint contract… what to do?
Initially I was pretty determined to pay the early cancellation fee for Sprint and hop on the AT&T iPhone train. I even went to buy an iphone…twice. After some extensive research, price comparisons and a good deal of persecution I decided to stick with Sprint and buy a new phone. Right now I have a great deal- 1300 mins, unlimited night & weekend, unlimited texts, unlimited data, and all the other good stuff for $56 a month. That's the final statement price, including all the taxes. Hard to beat. It would be almost double with AT&T. The Sprint phone I ended up buying was the HTC Touch Pro (below center). Following is my review of the Touch Pro.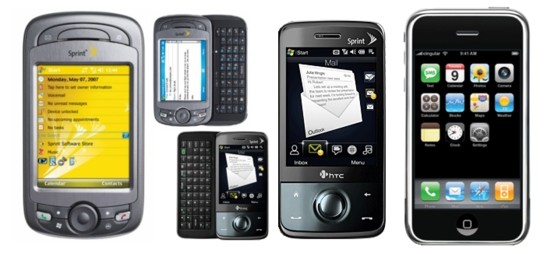 On of my biggest gripes with the iPhone is the that you have to type on the screen with the phone in a vertical position. I'm sure that I would have gradually gotten used to it, but I really love the slide out keyboard on the HTC Touch Pro (and on my old Mogul). The keyboard gives you five lines (one more than the Mogul) of typing real estate and the tactile feedback is exceptional. The keyboard is backlit which is another nice feature. Granted, the keyboard makes the Touch Pro a bit on the thick side, but the phone still has a very nice feel and it isn't nearly as bulky as its predecessors. Given the amount of typing I do on my phone I'm not ready to give the keyboard up… yet.
What impresses me most about the Touch Pro is the screen. The resolution is stunning (640 x 480 on a 2.8″ screen). When I was growing up we had the Atari Lynx, the Sega Game Gear and other color hand held games. You could clearly see the red, blue and geen of the pixels. It drove me nuts. LCD screens, like phones, have come a looooong way. The iPhone screen looks great, but when I look at the Touch Pro screen I'm floored every time. The pixels are so small they aren't even visible to the naked eye which makes the Touch Pro screen the sharpest I've ever seen. A huge problem with the Mogul was that the screen became virtually invisible in bright light. The Touch Pro screen is clearly visible in direct sunlight and from every angle. It's a little on the small side, but I can deal with it.
Speed-wide the Touch Pro is adequate. I still find myself waiting for things to load occasionally, and sometimes with too many applications open everything crashes. It amazes me to think that this little phone is more powerful (and in some cases much more powerful) than my first five computers. The Touch Pro runs Windows Mobile 6.1 which seems pretty stable for the most part. HTC has created an interface they call Touch Flow 3D which runs over Windows and makes it a little easier to use (you can actually avoid the stylus altogether for most functions). Truthfully I think the iPhone's interface is more intuitive and better thought out, but HTC has taken a step in the right direction here.
Functionally I really like the Touch Pro. Email is easy to use, text messaging has been improved (and again, I really like the keyboard) and Opera is the default browser now (it works very well). The 3.2 megapixel camera takes passable pictures (the color seems a little off), but I do like the fact that I can take videos with the Touch Pro. Window's Mobile gives me access to Windows Live which is a pretty comprehensive information tool (maps, directions, traffic, movies, shopping info, etc). Applications aren't as easy to get (the iPhone store is something to behold), but there is plenty of software available if you don't mind a little digging.
The Touch Pro isn't perfect- I have a few minor complaints. The touch screen seems to require more force than my Mogul did (I have to push a good deal harder to get the same results). HTC uses a proprietary input jack so you need an adapter for headphones. Touch Flow 3D isn't as customizable as I'd like either. Still, all things considered this is a great phone and I'm really enjoying it. For the time being, my phone is not an iPhone.
I'm going to poke Fran and see when the next Hughes Family Blog update will be. I may have to start posting some of our activities over here! We've kept pretty busy this past week (the first week I've really felt up to doing anything) with movies, food, family activities (I finally went to the Dinosaur Museum at Thanksgiving Point) and friends. I've really cut back on work these days and I'm taking it easy. Sometimes life is really great.