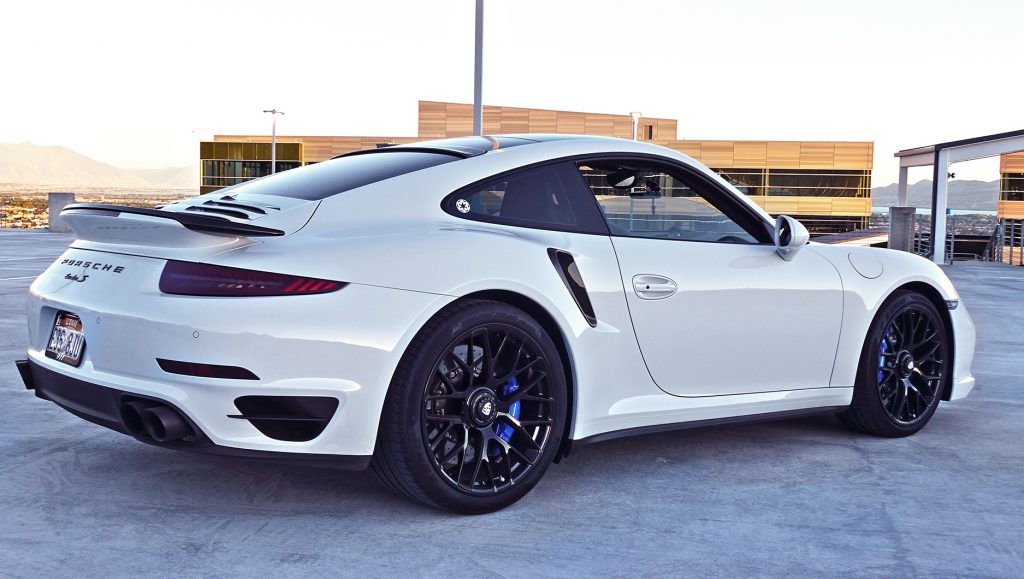 I have now owned my 2016 Turbo S for over a year. I thought I'd do a quick update after a year of ownership. If you're not interested and want the quick version then here you go: Still the best car I've ever owned. Incredible to drive. Very reliable. Love it.
Reliability: My car has over seven thousand miles on the odometer and its performance has been, for the most part, very solid. In the interest of full disclosure I will mention the following:  I had to have a leaking windshield wiper reservoir replaced (under warranty). Periodically I hear some strange noises I can't explain (an intermittent groaning noise under the dash – although it's been awhile since I've heard it). There are some little rattles here and there (dash, squeaky seat).  A few other quirks pop up now and then such as the stereo restarting or the passenger thermostat not working for an evening. I would say, however, that the amount of issues is on par with or less than most other vehicles I've owned. The aforementioned aside, all the electrical and mechanical systems seem to be working correctly, no [other] leaks, emissions tests run (with the right tune) and the car seems very happy. I would say the reliability thus far has been excellent.
One thing that's noteworthy is that the service at Ken Garff Porsche over the past year has been outstanding. That makes me feel more comfortable when something goes briefly amiss- I feel like they have my back. Their proximity has also been a huge bonus. They happily give you a loaner car or provide pick-up/drop-off services but I love dropping the car off and walking home along the trail.
Projects: While I've undertaken a few modifications myself (i.e my center console, carbon fiber additions, etc) I have left some cosmetic and electrical changes to the professionals. I think it's safe to say that I feel less confident tinkering around with this car than I have with previous cars. That being said there are still tons of cool (non-invasive) ways to customize the 991 series.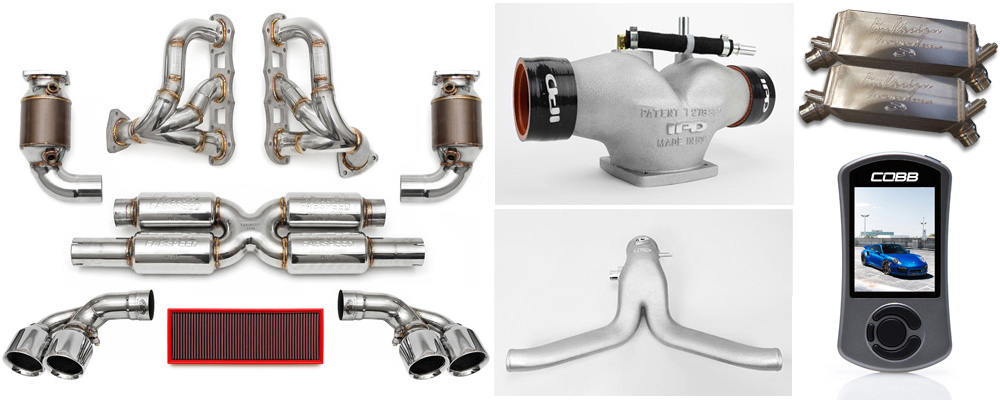 Modifications, Mechanical: So far I've really just stuck to the time-tested modifications I've mentioned before on my blog: Fabspeed 991 Turbo Supersport X-Pipe exhaust w/ the quad-Style Tips, sport headers, , HJS 200-cell racing sport cats, BMC F1 air filter, ByDesign intercoolers, IPD plenum & Y-Pipe and then a tune via the 991 Cobb Accessport Port. Obviously I haven't pushed any boundaries or ventured into uncharted territory but for the most part I'm pretty happy with what I've done. The only thing that I'm not totally satisfied with is the drone that the Fabspeed makes at certain speeds / RPM ranges. However, aside from the periodic drone I do love the sound of the exhaust.
At this point I still don't actually know how my modified car compares to a stock Turbo S (I haven't made too much of an effort to find out). Once upon a time I had plans to upgrade the Turbos and add meth injection. However, I think I'm nearly over that infatuation. I like how the car performs right now so I don't want to go further down the rabbit hole. As thing stand I can't run quarter miles at RMR (I'm not adding a roll cage) and there aren't a lot of places around here to max out the car so I don't see the need for more speed (wha- whaaaaa whaaat??).
Modifications, Cosmetic: I've really been happy with everything I've done so far. Most of the gold is gone. I've added lots of carbon fiber (from Techart & MACarbon). I love how the blue calipers turned out. The back being blacked out (vinyl, tint, letters, etc) really gives the car a nice look. No regrets on my cosmetic changes yet. I do wish upgrading stuff wasn't so expensive…
Performance: Still top tier in most respects (not much has changed from any of my other reviews so this section will be pretty short). I think I've definitely gotten comfortable with the car's handling and in some ways that makes the car more enjoyable to drive. I took a drive through the AF canyon recently and pushed pretty hard. Previous cars have always made me feel nervous but the Turbo was so planted and handled so well it actually surprised me.
I'd also say that I've gotten used to the car's speed; it's still fun, but the adrenaline rush has definitely diminished a bit. I think that getting used to your car is inevitable and, for many, it's part of what compels people to keep modifying their car. I find myself carelessly close to the siren mod-reef on many occasions . But the bottom line is still the same: I've never never had a car that's more fun to drive.
Ownership (attention): The car is fairly nondescipt, as far as cars like this go and I am generally ignored by other drivers. As I have modified the car it has gotten a little more attention. That's not necessarily a positive thing for me as I'm certainly not making any changes to garner additional attention. Whatever you own- house, car, clothes, jewelry- you open yourself to some level of public scrutiny. Generally the reception to the car is positive. There are a few detractors now and then and I will admit that owning the car occasionally feels uncomfortable.
Dislikes: There's just not a lot to dislike about this car. I've hit on things in my blog from time to time but it's little stuff. No volume indicator- just ridiculous. I have gotten blasted so many times… at the very least there should be a volume level indicator when there's no input. Not a huge one, but the sunroof doesn't open all the way. It opens enough but I feel like I've been robbed of a few inches. The exhaust drone is not my favorite (truthfully I almost never notice it when I'mm by myself- only with company). Not totally keen on the placement of the only USB port although this really isn't an issue since I got my Rennline Phone mount.
I don't mind the inconvenience of center lock wheels. I don't mind the tiny back seats (I love that they are even there). No objection to the lack of storage in the frunk- it's always been plenty to accommodate what I'm doing in this car. I can't even think of anything else that I might dislike.
Likes: Where do you start on a car like this? I love the look. The feel. The smell. When I get in the car I feel transported to another world with only two rules: Feel good and go fast. So much headroom. So much space in general. I'm a 6′ 4″ 260 lb guy who feels like the car was built for me. The visibility is so good. The seats are so good. The stereo often blows my mind- the Burmester offering is so outstanding that sometimes I just go for a drive to listen to music (to be absolutely fair- the subwoofer has a hard time on some bass-heavy songs).
Cost of Ownership: This could really be its own blog post but I'll cover the basics here. Cost of ownership is something a lot of people really don't consider when they are buying a car (any car). What does it cost you to own your car each day, to drive it each mile? Here's a breakdown of my Turbo S. While I won't hand out all the specifics in this post rest assured that my math is pretty accurate. There are a couple of different ways to approach this but I'm just demonstrating the "cash costs" of owning this vehicle. There are several components of real cost that I will outline below:
Purchase Costs: The base price for a 2016 Turbo S is readily available online and that's about what I paid (you could say I got my option upgrades for "free"). I traded in my '15 Corvette on this car which reduced my taxes on the new car by about $6,000. I paid title and registration fees and I purchased, a service contract and some additional warranties (after a year of ownership I have concluded I can sell back two of these for a prorated refund). I don't have to take into account any costs of interest because I don't have a loan. If I sold the car right now I think depreciation would hit me to the tune of 18% or so.
Upgrade Costs: I have spent a ton of money on upgrades (many of which are listed here). I could probably recoup 1/5 of the money I've put into my upgrades when I sell the car so I can pull those from the cost, but the rest is stuck in that car. Granted, I didn't have to do the upgrades, but I did and they are part of my personal ownership costs.
Insurance costs: $2000. Gas costs (7000 miles at 17 mpg average at $2.90/gallon  + $400 of racing fuel & additives): $1600. 
Gas Costs: Total cash cost (as in cash I can't get back from this car) of ownership for year one: $212 / Day or $11 / mile. Totally insane, right?
Now, if I keep the car another year and don't do any modifications it gets much better.
Taxes, tiles, registration, warranties, and the upgrade costs were all paid for in year one so we don't have to worry about those (you do have to count modification costs moving forward – I'll probably spend about 5K a year on those). I'll get hit with some depreciation from year one to year two (and so on), but it won't be as bad- say $10,000. I've got the racing out of my system so fuel is just $1200 (7000 miles again). Insurance will be about the same. No maintenance costs yet because I have a service plan and my car is still under warranty.
Total cost of ownership in year two, three and four (depreciation, fuel, maintenance, insurance):  $50 / Day OR $2.60 / mile. Obviously the smartest thing you, as a savvy car buyer could do, is let someone else take the financial hit in year one. Maybe I'm not so savvy, but I've gladly taken the bullet for someone down the line.
FYI: By the end of year four the warranty expires and maintenance that is no longer covered by an existing service agreement. Depreciation is still going on and maybe a bit faster since the car is out of warranty. It's very possible that year five and up costs will be similar, but it's more likely they will be higher than two though four.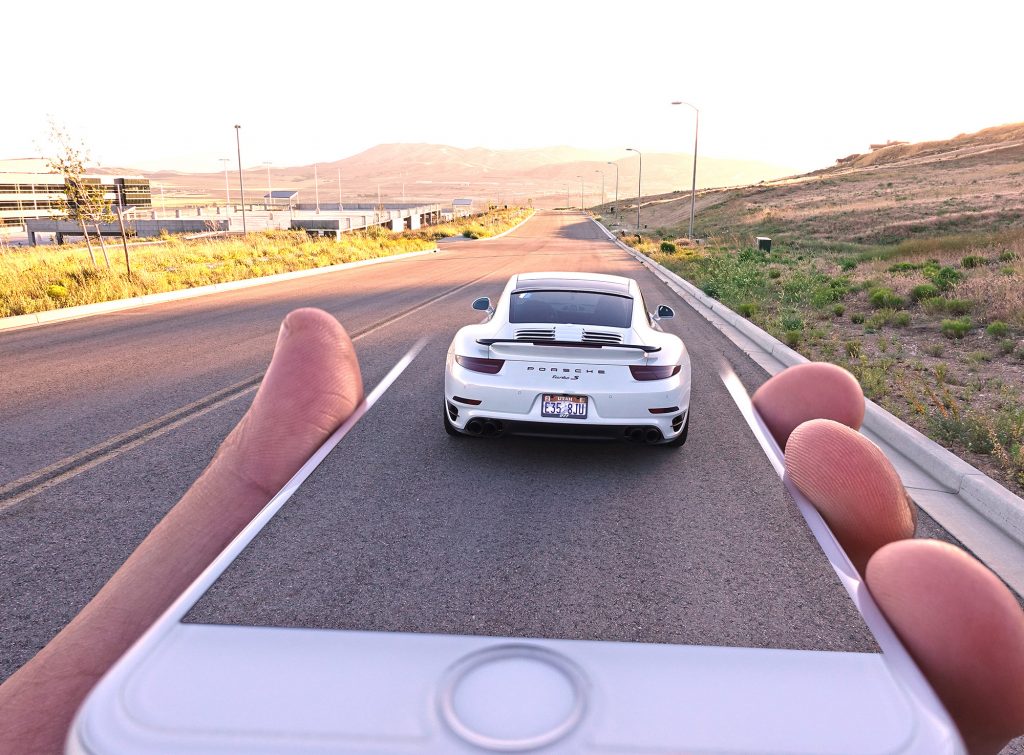 Final Thoughts: I am really sold on the Porsche brand. I think any car in their line up would be fantastic but I have a special affinity for the 911 series and, in particular, the Turbos. I'll conclude the way I started: Best car I've ever owned. Incredible to drive. Very reliable. Love it.