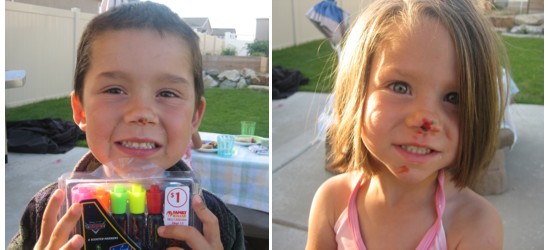 You can always tell when markers are scented (you don't get the full effect unless you shove them up your nose). Berry blue, green apple, black licorice, cotton candy pink- truly irresistible! I've got many a happy memory involving scented markers. I'm not sure what brand we had when I was in grade school, but I've idealized them in my mind as the pinnacle of perfumed pen perfection.  I think I may have licked a few.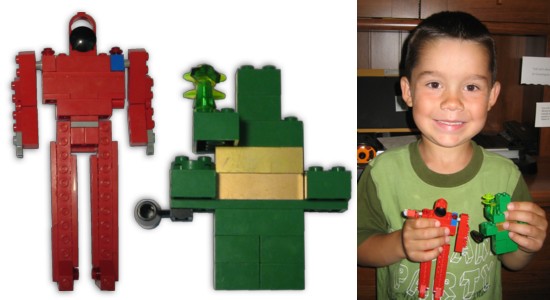 When I was little my Mom and Dad used to tell me bedtime stories. Dad's adventures usually involved Chip & Dale, "boom juice" and trips to outer space in a tree rocket. Mom's stories were about Shiny, a little robot who lived in our house. Since he's fascinated by robots, I've been telling Mike stories about Shiny. I also mentioned once that Shiny's had a brother – Rusty – who did mining work on the moon.  Mike has become obsessed with these two robots. We've talked endlessly about them, drawn them, and now, more recently, made them out of Legos.
Obviously I'm thrilled that Mike likes Legos. He's made a bunch of cool things that I wish I'd taken pictures of, so this time I seized the opportunity. I had told Mike that Shiny was painted green and so he collected a bunch of little green Lego parts and whipped up the robot above. The piece next to Shiny's head is his "treasure shelf." Mike told me to make Rusty and I obliged. Claire helped us build a fortress for the robots and Gabe threw up on it.
Speaking of Claire and Gabe. Fran got Claire a tea set and we've had several tea parties together. She's quite the little hostess. And Gabe finally stared walking! Who would have thought that these little people could bring me so much joy?