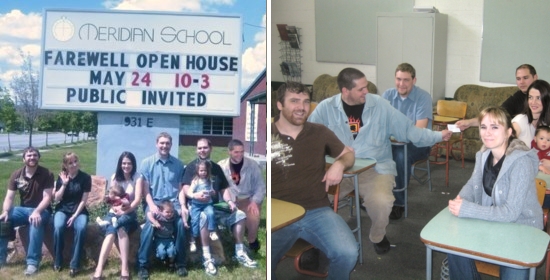 Meridian School. I don't really know where to begin and I don't want to ramble on (I'm not feeling very eloquent at the moment) so I'll make this short and sweet.
On the 24th of May we visited the school building before it was torn down. In many ways visiting the building was like attending an open casket viewing. The body is not what defined the person, much like the building is not what defined the school. But it's the last tangible thing that remains, and so it is to that shell that we say goodbye.
It was nice to be able to visit the old classrooms one last time and reminisce about all of our experiences there. Much about the school was still the same as I remember it, but many other things had changed and the school was in s state of disrepair. Each time I drive along 900 East in Provo I'm sure I'll feel a little sad when I don't see the old school building, but it was time for it go.
I'm glad I had the chance to attend the school in, what I would consider, its prime. I made friends I still have. I met my future (and current) wife. And I got a "real" education to boot. I often think back to my time spent at Meridian and I can't help but smile.
And yes- I edited Andrew into the picture on the left. He was MIA when the picture was taken but he deserves to be in it.