I don't generally blog about family stuff (it's on Fran's blog, remember?) but I did a couple of fun things with the family this month that I thought posterity would be interested in so I have included them.
Fourth of July Weekend
Each year we go to BYU campus and sit and watch the fireworks. We've gone to the Stadium of Fire before, but we decided we like watching the free fireworks more than being inside.  We have a fun little tradition these days. We actually rent a hotel room (this year we hit Best Western) and go live it up up in the afternoon (relaxing, pool, some TV, whatever). Then we go eat dinner while everyone else scrambles to get inside the stadium. You can eat anywhere, no wait. We went to Saigon Cafe this year- love that place.  Around 9:30 we walk over to BYU and find a spot where we can see the fireworks. The show usually starts around 10:15. This year it seemed extra awesome. The kids are old enough that they can almost make it though the show now without crying. Almost.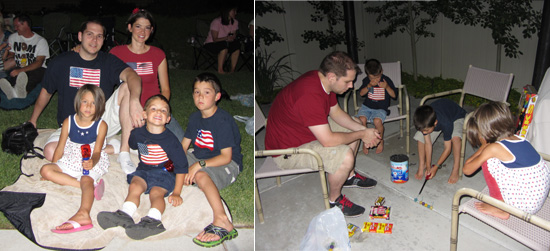 And then over the next few days we lit off fireworks at home. The kids love the smoke bombs, snakes, crackle balls and snap pops so I loaded up on extra boxes at WalMart (they actually have an okay selection of fireworks). My family came over for a Fourth of July BBQ (hot dogs, hamburgers and lots of chips & dip). Later that night we lit off our own fireworks. It was actually raining, so we sat under our gazebo and lit them on the concrete pad in our backyard. It worked really well and we had a fun time. The kids are all big enough that they they want to take turns lightning thing (well, to clarify – they all want to light everything, but we make them take turns).
Side Note: Aerial fireworks are now legal in Utah. I didn't get any myself (it is my cheapness? I don't know), but we got to enjoy them anyway (many neighbors invested). They are awesome.
New Trampoline
Our old trampoline had been mangled, cut, repaired, slashed, and the springs died sometime last year. It served us well for over five years, but it was time for a new one. Luckily, I just happened to have one at my work and luckily I had to remove it because we needed the space.

I brought it home over the Fourth of July weekend and finally got a chance to set it up a few days ago. Our trampoline hole is in pretty bad shape, but we cleaned it out, rearranged the rocks, pounded in some rebar and then put the new trampoline mat, springs and pads on the old frame (there was no way it was coming out and it's still in good shape). What a difference a new trampoline makes! I played with the kids for a couple of hours and then spent the next few days in serious old man pain. 
Side Note: I highly recommend Regal Trampolines. Their trampolines really are top quality and have superior components. The junk you get at places like Toys R Us or Walmart just doesn't compare.
Herman's Hermits Concert
Last weekend we went to see Herman's Hermits at the Sandy Amphitheater. My Dad has a longstanding love for 60's bands, (i.e. Turtles, Paul Revere and the Raiders, etc) and he graciously extended the invitation to see Herman (who's real name is Peter Noone) with him. He prepared the kids by having them listed so some of the Hermits greatest hits (Henry the Eighth, There's a Hush, Mrs. Brown, You've got a Lovely Daughter and the like). They were pretty exited to see "Herman." My Dad scored us some seats in the first section of the lawnchairs. They were right in the center, they were comfortable, and we had a great view.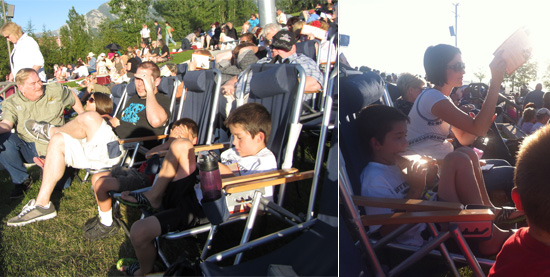 The show was really good. Peter is 63 this year but he's energetic and very entertaining.  The Hermit's songs have a timeless quality (I grew up listening to them) and I really enjoyed myself. The crowd consisted of mostly people Peter's age, but there were a fair number of younger fans as well (I think I can count my kids as "fans" now too).  Hopefully we get a chance to see another concert in the near future. Thanks Dad!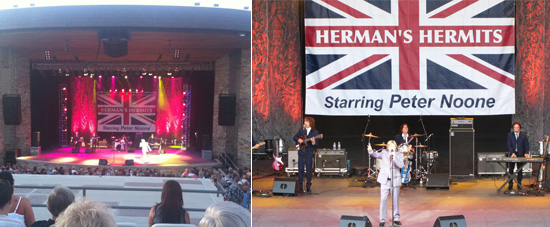 Moving Stuff
We've also done a fair amount of "terraforming" at our house. Besides my garage project (see it @ utahcorvette), we spent a good deal of time rearranging our basement. We moved the video games out of the rec room* and  into the basement family room. Stuffed into a corner by the pool table our rec room gaming center  was awkward and very cramped (we had to sit in folding chairs). Our new setup is neat, comfortable (we have a couch to sit on now) and  feels spacious. Check out the before & after pics below and click here if you want to see the new set up in more detail. I love moving stuff around!

I keep reading online articles about people who saved thousands of dollars a year by not doing things. "We saved $3,000 this year! We were going to take a vacation, but we didn't!" or "We saved $1500 this year by not repainting our deck and letting our lawn grow into a jungle." Some of it comes off as ridiculous. Well, I'm pleased to report that by this logic I saved $1370 on this game room project. I had budgeted $1450:  A flat screen TV ($1000), a new entertainment center ($300), and a Blu-Ray player ($150). Instead we used our old TV ($0), I got a wall shelf ($36), some hooks ($4), two framed posters ($40), and we decided to make due with no BluRay player ($0). Wow! By Internet standards we are super frugal.
* We're turning that into more of a library- still a work in progress, so more on that later.
Pioneer Day
This year we celebrated Pioneer day with the Browns- both sets. The men stood around the grill doing and saying very manly things. Jim & Cindy had to take off early, but Tom & Aimee stuck around for fireworks. We exploded them dangerously close to our home to heighten the sense of pyrotechnic excitement.  I think Fran will blog about Pioneer day in more depth.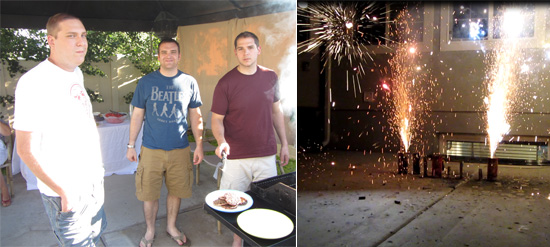 Oh, and of course the most important part of any get together: the show of bravery, stamina and general lack of common sense. With a aforementioned trampoline now place we had everything we needed. We each took a turn inverting ourselves, playing "back to front" and then "spin to win." Ultimately we were forced to conclude that we were not as young as we used to be.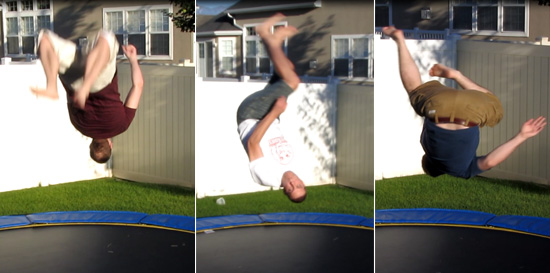 10th Anniversary!
On July 28th, 2011 Fran and I celebrated our 10th wedding anniversary! We went to Ruth's Chris (kind of our anniversary tradition) and spent a quiet evening together. We had planned to go to Hawaii, but with a little one on the way (yes, number four is seven months along) we decided to postpone it. I got Fran an anniversary band with ten diamonds (I got something too, not to worry). I don't get to buy Fran jewelry very often (her choice) so I think I was as excited as she was. Needless to say, Francoise is my best friend, a wonderful wife and a stellar mom and it's been a wonderful ten years!
Other notable July events:
Rachel's Birthday
Jason's Birthday
Erin's Birthday (she turned 30!)
The Jorgensens move to Seattle (Andrew needs to blog about this!)
---
Posted by Cam Hughes, July 30, 2011